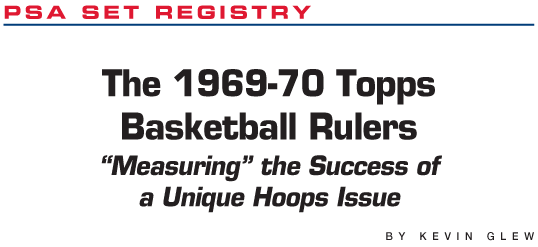 This set rules.
Or at least that's what a growing number of basketball collectors will tell you. Showcasing caricatures of 23 standout NBA players, the 1969-70 Topps Rulers set has become increasingly popular over the past year.
"A bit more than a year ago, only two rulers had been graded by PSA," noted Marc Bran, who owns the No. 2 set on the PSA Set Registry. "Today, almost 400 have been graded."
Measuring 2-1/2" by 9-7/8", each of these inserts features a player caricature to the right of a ruler design that highlights the player's height. The player and team name can be found in an oval, along with the insert number and copyright information. The backs of these inserts are blank.
Topps spokesperson, Clay Luraschi, indicated that the company no longer has information on file as to who the artist was for this issue.
"I love the look and bright colors of these rulers," said Bran. "The animated art of each player and bright colors are classic to the time period of 1969 and the early '70s."
David Edgerton, who has assembled the registry's No. 3 set, expresses similar sentiments.
"I like the set because it's something that's completely different than anything else out there," he said. "The appeal for me is the uniqueness of it."
One "ruler" was included in each 10-card, 10-cent pack of the regular 1969-70 Topps Basketball cards.
Renowned vintage basketball collector, Christopher Sanchirico, says it wasn't until a Topps auction held by Guernsey's in 1989 that collectors discovered why there was no No. 5 ruler in this set. A business partner of Sanchirico's, William Schonsheck, purchased the artwork for the Russell ruler slated to be No. 5, plus the artwork for a few other rulers at the Topps auction. The Celtics legend's ruler was never produced because he abruptly retired in August of 1969.
"The Russell artwork was already created and it was meant to be No. 5 in a 24-piece set and, for 20 years, it was not clear as to why No. 5 was skipped, but the Topps auction enlightened the entire hobby," said Sanchirico.
But while the story behind the Russell ruler is now relatively well known, Sanchirico also notes that Topps created artwork for a ruler of San Francisco Warriors star Rudy LaRusso. Like Russell, LaRusso retired in the summer of 1969. It's unclear, however, if a number was ever assigned to LaRusso in the set.
"He could've been No. 25," said Sanchirico, who owns the original artwork for the LaRusso ruler. "We don't know if it was supposed to be a 25-count set or a 24."
Over the past 20 years, Sanchirico has acquired the artwork for 15 of the 25 players that Topps originally planned to feature in the set. The savvy hobbyist says that original artwork for all of the rulers, with the exception of the Hal Greer ruler, was sold in the 1989 Topps auction. If you visit Sanchirico's website, you can view the original artwork for the Russell, LaRusso, Jerry West, John Havlicek, Oscar Robertson and Wilt Chamberlain rulers.
Hobbyists agree that the most coveted ruler in this set is the Lew Alcindor (#10). Of the 19 Alcindors evaluated, just one has been deemed a PSA GEM-MT 10 and there are three PSA MINT 9s. Michael Watchorn, owner of the registry's No. 4 set, says the last PSA 9 to hit the market sold for close to $700.
The Jerry West (#2) is another sought-after ruler. Bran believes that the West was printed next to the Wilt Chamberlain (#11).
"In some cases, when they were cut, somehow the shoulder of Wilt Chamberlain bleeds onto the Jerry West," said Bran. "Chamberlain and West have the same color background and I noticed that a lot of the Wilt Chamberlain rulers have part of his shoulder cut off. So, it made sense for me to look at the Jerry West rulers and, sure enough, it often has this little piece of brown, which is probably Wilt Chamberlain's shoulder."
The sole PSA 9 West – the highest graded example – fetched $674.91 on eBay in November 2010. There has been one PSA 10 and one PSA 9 Chamberlain. A PSA NM-MT 8 Chamberlain sold for $260.55 on eBay in November 2010.
"There's a pretty impressive array of players in this set," said Watchorn. "I'd certainly stack them up against the players in any other set."
With just 12 submissions, the Lou Hudson (#14) has been evaluated by PSA the fewest number of times, while Dave Bing (#16) and Willis Reed (#19) are the only two rulers that do not have PSA 9 or PSA 10 examples.
When grading these rulers, PSA takes into account that they were folded and inserted into packs, but the paper stock they were printed on is fragile.
"It's really thin paper, not card stock-type material, so they're easy to damage," said Edgerton. "Back in 1970, when kids were getting them, they were hanging them up as mini-posters."
Watchorn shares similar insights.
"By virtue of what these were, there was a greater likelihood that these ended up being stapled to a cork board or something of that sort," he said.
Bran has also seen a lot of miscut rulers, and he believes their size made them difficult to preserve over the years.
"They're oversized, so there wasn't a holder to put them in to keep them in good condition," said Bran.
Some collectors feel that this set is more difficult to assemble in high grade than the regular 1969-70 Topps set.
"The rulers are actually 10 times as rare as the cards because they were an insert in the pack," said Sanchirico. "You would get 10 cards in the wax pack and just one of these rulers."
But the relative rarity and condition sensitivity of these rulers hasn't stopped collectors from pursuing them.
"The number of people bidding for these rulers in high grade has certainly increased," said Bran. "The dollar value of these rulers in PSA 9s and 10s is pretty significant."
Edgerton agrees.
"I think some of the competition comes from the fact that they are part of the Master Player sets on the registry," he said.
Watchorn shares similar observations.
As glad as I was to see them appreciated more broadly, it has obviously driven a lot more attention to them, so it makes it more difficult to pick them up on the cheap," he said. "In fact, I've been rather amazed at some of the prices that high-grade copies are commanding."
---
Please contact Kevin Glew at [email protected] if you have any additional information or comments. Marc Bran provided pictures for this article. Thanks goes out to Steve Taft for his assistance with this article. Please note that the Population Report figures quoted and Set Registry rankings reported are those as of press time.