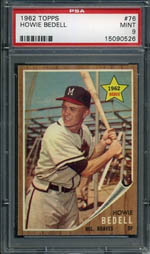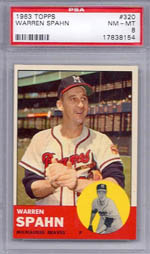 A number of high grade sets and low pop vintage cards from the 1900's through the 1960's highlight MnM Sportscards' March Internet auction. MnM Sportscards' Auction Preview begins Wednesday March 2nd at 8pm. Bidding begins Sunday March 6th at 8 PM and ends Sunday March 20th at 10PM. Autographed T206 Lean Blackburne card, he is the founder of the company that supplies the mud for rubbing down the baseballs before games.
Among the dozens of lots on the block are over 20 graded M101-2 Sporting News Supplements. The oversized cards were issued as incentives for fans to buy The Sporting News a century ago.
Also offered are higher grade partial sets and groups of Topps baseball, a number of highly graded and pre-War single cards and vintage baseball memorabilia.
Other highlighted lots available include:
Babe Ruth 1930's Multi Signed Spalding Match Ball W/Gehrig, Dean, Martin, Medwick
Lena Blackburne Autographed T206
Ron Guidry New York Yankees Original Robert Simon Art
Scarce Cassius Clay Early Studio Portrait 16 x 20 Color
1963 New York Yankees Clock attributed to Clete Boyer
1948 Detroit Tigers Team Signed Ball
Many PSA Graded Cards and PSA/DNA Autographs
Game Used Bats, Game Used Uniforms, and Memorabilia
To view the auction, visit www.MnMSportscards.com. The auction will open on March 6th!
The company has also been a fixture on eBay since 1998. Those listings can be found here along with more information.
MnM Sportscards is currently accepting new consignments for its next auction in June.