Dallas, TX – A perfect storm of single signed baseball consignments will make the Heritage April 22 Signature® Sports Memorabilia Auction the most important event of 2011 for autograph collectors. Three of the most extensive and carefully curated collections in the hobby will be up for bid, forming the foundation for what looks to be one of the strongest events in Heritage history.
"This is an auction that no autograph collector will be able ignore," said Chris Ivy, Director of Sports Collectibles at Heritage. "The rarity and condition throughout is astonishing. I think it's safe to say you'll never see another offering like it."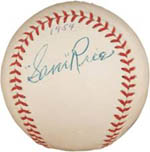 The roster of Hall of Fame signers, the widest assortment of such signatures on baseballs ever offered in a single auction, reads like a who's who of Cooperstown rarities:
Sam Rice
, among the many.
Even those legends whose autographs are comparatively more common provide something extra, as is the case with Roberto Clemente, who notates his single "Last Game at Forbes Field." Napoleon "Larry" Lajoie remarks upon a memorable long ball along with his autograph, writing "Greatest Thrill Home run with bases full."
Babe Ruth Jimmie Foxx and Ty Cobb are represented by high-grade examples, as well.
"We want to get the word out to collectors now so they will have time to budget and plan," said Ivy, "but we also want to reach out to potential consignors interested in participating in this auction. They have until Feb. 27 and should contact Heritage immediately."
Heritage Auctions, headed by Steve Ivy, Jim Halperin and Greg Rohan, is the world's third largest auction house, with annual sales more than $600 million, and 500,000+ online bidder members. For more information about Heritage Auctions, and to join and gain access to a complete record of prices realized, along with full-color, enlargeable photos of each lot, please visit HA.com.
Want to get the up-to-the-minute updates and breaking news stories about Heritage Auctions? Get them as they happen at: www.Twitter.com/HeritageAuction www.Twitter.com/HeritageAuction; Facebook: www.HA.com/Facebook. To view a compete archive of Heritage press releases go to: HA.com/PR. T To link to this press release on your blog or Website: HA.com/PR-1976.