If you're a hockey card manufacturer, just "Howe" do you top a set that boasts the Mr. Hockey rookie?
Add in the cardboard debuts of Rocket Richard and Terry Sawchuk and the 1951-52 Parkhurst set is rightfully considered one of the best hockey issues ever released.
But the 1952-53 Parkhurst set harbors a respectable rookie crop of its own. No, there's no Howe, Richard or Sawchuk rookie, but this sophomore Parkhurst issue does offer the inaugural singles of Dickie Moore (#10), George Armstrong (#51) and Tim Horton (#58).
"People just undervalue the 1952-53 Parkhurst set," said Paul Sacco, who owns the No. 2 Current Finest set on the PSA Set Registry. "For some reason the '52s just don't get their share of attention."
But it's hard not to link the 1952-53 set to its vaunted predecessor when the cards from this series were distributed in packs constructed from 1951-52 Parkhurst sheets.
"I saw a 1952-53 pack that had Gordie Howe's rookie right in the middle on the back," noted Sacco.
Bobby Burrell, author of Vintage Hockey Collector, questions why Parkhurst would release packs that didn't showcase any advertising or pricing information. But Harvey Goldfarb, owner of the registry's top 1952-53 Parkhurst set, says that the Toronto-based card manufacturer probably didn't put much thought into how they distributed their cards.
"Parkhurst was not a sophisticated company," he said.
Burrell has seen an example of a second type of 1952-53 Parkhurst wrapper that showcases a sketch of a Toronto Maple Leafs player, alongside the wording "Parkies – NHL Hockey Bubble Gum" and the company name.
"Maybe when they ran out of uncut sheets from 1951-52, Parkhurst started putting the cards into these Maple Leaf packs," said Burrell. "The pack has a poor drawing of a Maple Leaf player on it. It was definitely done in haste. As with the 1951-52 set, these cards were likely collated in a cement mixer and a cut with a guillotine."
The renowned hobby expert has also heard that 25 million Parkhurst hockey cards were produced in 1951-52, and that an average of 18 million were produced for each of the following years.
The 1952-53 Parkhurst set consists of 105 cards. Measuring 1-15/16" by 2-15/16" each, the cards are slightly larger than the 1951-52 pasteboards. Card fronts flaunt a player picture and facsimile autograph, while the backs showcase the player name, card number, biographical information, the player's 1951-52 stats and details on how collectors could send away for a special album.
The "Parkies Photo Folio" album consisted of 13 pages that housed slots for eight cards each. The inside cover boasted a spot where collectors could glue their favorite player's card. To obtain an album, collectors had to mail 25 cents to the Toronto address listed on the back of the cards.
"I've seen the albums for sale at card shows," said Greg Zwick, who owned the registry's No. 1, 1952-53 Parkhurst set until he sold it in April 2010. "It's not that hard to find the album."
Collectors contend that the 1952-53 Parkhurst set is one of the most challenging hockey sets to assemble.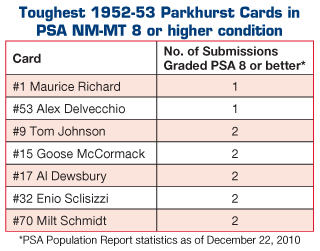 "I think it's the toughest Parkhurst set to put together, period," said Sacco.
Goldfarb agrees.
"It's probably the toughest hockey set of any to put together," he said.
If this is one of the toughest hockey sets, then the Maurice Richard – the set's first card – has to be one of the most difficult hockey cards to track down in top condition. Of the 97 submitted, there's just one PSA NM-MT 8 copy, with no examples grading higher.
"The Richard card is notoriously off-center," said Goldfarb.
Zwick agrees.
"I've seen several of the (PSA NM) 7s of the Richard and there are lots of sharp ones, but the centering always seems to be a problem," he said. "I think that Richard card is still really quite underappreciated. As I think back on it, that's the one regret I have in selling my set. I think the Richard card I had might prove to be a very good investment, because I had the (PSA NM-MT) 8."
If a PSA MINT 9 of this card is ever uncovered, it's likely to spark a bidding war.
"If a Richard card showed up in a (PSA) 9, you're probably talking $30,000 easy, maybe even more," said Sacco.
Another coveted card in this issue is the George Armstrong rookie (#51). Of the 61 evaluated, the three PSA NM-MT 8s are the highest graded examples. This was one of two cards that Zwick still needed when he sold his set.
"The George Armstrong is a very, very popular card," said Zwick. "I never bought one and there were lots that would come up for sale, but I would constantly get outbid. And I think that was probably because he was the captain of the Leafs for so long and there are just so many Leafs fans that somebody always wanted it more than me. I can't remember how many times I saw an auction for a George Armstrong PSA 8 and I had just about finished the set, so I was bidding fairly aggressively, but I never got it," he said.
A PSA NM 7 Armstrong sold for $422 on eBay in August 2008.
Another desirable rookie in this set is Tim Horton (#58). Now known as much for his donut stores as his on-ice heroics, the late defenseman was elected to the Hockey Hall of Fame in 1977.
"The Horton is an extremely popular card," said Zwick.
With four PSA MINT 9 examples and eight PSA NM-MT 8s, this card is not difficult to uncover in high-grade. A PSA NM-MT 8 fetched $2,458.10 in a Memory Lane auction in September 2008.
A card that is elusive in top condition is the Alex Delvecchio (#53). Like the Richard single, there is just one PSA NM-MT 8 example (with nothing grading higher). Centering problems often hamper this card. A PSA NM 7 sold for $318 on eBay in February 2008.
The second-year Gordie Howe card (#88) in this set is also highly sought-after.
"It's got problems with centering as well," said Zwick. "I've seen lots of sharp ones and cards that could potentially be (PSA) 9s based on the corners, but it's just hard to get one that's centered anywhere close to 50/50."
Of the 169 submitted, there has been just one PSA MINT 9 and 16 PSA NM-MT 8s. The PSA MINT 9 sold for $17,977.50 in a Mile High Card Co. auction in June 2010.
A number of condition issues plague cards from this issue. Some cards were damaged when collectors tried to insert them into the albums.
"You almost had to bend the card to get it into the album," explained Goldfarb. "You had to put a crease in the card to get it into the album. And when you get a collection of these cards, usually they come with the album and they're all creased."
Goldfarb adds that the paper stock for these cards was "pretty dreadful" and that there are widespread centering issues.
"The cards are somewhat prone to discoloration too," added Zwick.
These condition woes can make competition for high-grade copies fairly heated.
"When high-grade pieces come up, there is a lot of competition," said Sacco.
That said, these cards still generally sell for a fraction of what most high-grade 1951-52 Parkhurst cards do.
"I think the 1952-53 set is an underrated set," said Sacco.
---
Please contact Kevin Glew at [email protected] if you have any additional information or comments. Paul Sacco and Mile High Card Co. provided pictures for this article. Please note that the Population Report figures quoted and Set Registry rankings reported are those as of press time.