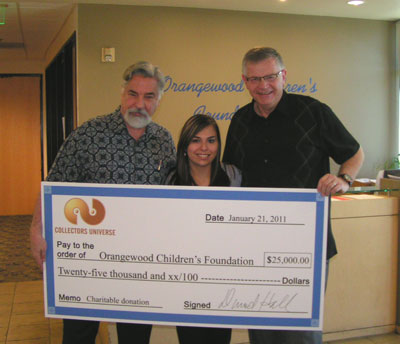 Collectors Universe President and PCGS founder David Hall, Orangewood scholarship student Alexis Abbott, and Orangewood CEO Cal Winslow.
Santa Ana, Calif. – In today's economy, no company is immune from fiscal downturns. But as a company that specializes in authenticating and grading collectibles including rare coins, trading cards and stamps, Collectors Universe of Santa Ana is better positioned than most.
As a reward for their hard work and a solid financial performance in 2010, Collectors Universe employees were given the opportunity to vote on the charity they wished to be able to award a charitable donation of $25,000. The main criterion was that the company had to be local (Orange County). The CU employees voted overwhelmingly to contribute to Orangewood Children's Foundation, also of Santa Ana.
"We are pleased and privileged to be able to make a gift to Orangewood Children's Foundation," said Mike McConnell, CEO of Collectors Universe. "The difference they have made in the lives of deserving children and their families is a source of encouragement to us all."
Orangewood Children's Foundation is a well-recognized, non-profit foundation that has done amazing work in the Orange County community since 1981. Orangewood Children's Foundation programs offer hope and support for children of all ages who are at-risk for or victims of child abuse, and for their families. Even after they turn 18 and become "adults," the Foundation continues to provide the guidance and resources needed to help them become independent, self-sufficient, happy adults.
Orangewood Children's Foundation's focus is on the ongoing needs of children in the foster care system, providing a wide range of activities, scholarships, support and programs to give every child every chance to succeed. Programs start right from infancy with the Orangewood Children's Home and other community programs, progress through the years leading up to adulthood with transitional youth services, on up to scholarships and financial assistance to open up the dream of a college education to former foster youth.
In 2010, Orangewood's Children's Trust Fund provided nearly $1 million in scholarships to 322 young adults for college or trade school. With its commitment to providing detailed historical and technical information about thousands of coins, cards and other collectibles and encouraging collectors to learn everything they can about their favorite hobbies, Collectors Universe also places a high value on education. It was therefore appropriate that the major share of CU's gift would be used toward funding college scholarships.
According to Carlos Leija, Chief Development Officer for Orangewood Children's Foundation, "the $25,000 gift from Collectors Universe will cover four years of college for one of our deserving young adults. We are grateful to Collectors Universe for their support and look forward to maintaining our partnership in the years to come."
Collectors Universe, Inc. (NASDAQ: CLCT) is the leader in third-party grading and authentication services for high-value collectibles. The Company brands are among the strongest and best-known in their respective markets. CU authenticates and grades rare coins, trading cards, tickets, autographs, memorabilia and stamps. Collectors Universe also compiles and publishes authoritative information about United States and World coins, collectible sports cards and sports memorabilia and collectible stamps. Visit www.collectors.com for more information.
Orangewood Children's Foundation is a private, nonprofit organization founded in 1981 and one of the leading providers of services to children in foster care. Through financial assistance, mentors, daily living skills workshops, transitional housing and college scholarships, the Foundation gives these innocent victims of child abuse a chance at happy, productive lives. Last year alone Orangewood scholarships helped 322 former foster children attend colleges and universities throughout the United States. In its 28-year history, Orangewood has helped over 74,000 kids find their wings and soar. Beyond its programs, for thousands of foster children Orangewood means "family," "opportunity" and "hope." Learn how you can help at www.orangewoodfoundation.org.