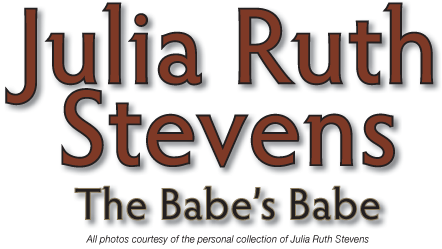 Nancy Sinatra, Caroline Kennedy, Lisa Marie Presley, Christian Brando, Laila Ali, and Chelsea Clinton, – each one of them has an intimate knowledge of something that only a minuscule percentage of people will ever know – what it is like to grow up as the child of a legendary parent. The members of this exclusive click are the rare individuals who know the real person behind the celebrated veneer that the rest of the world thinks they know. These are the scant few who harbor the most personal memories, thoughts, and feelings about those who have left an indelible mark on our world.
One of the members of this club entered the world on July 17, 1916, in Athens, Georgia and was given the name of Julia. Born into what she calls "a typical Southern family home," Julia's earliest days were spent with her mother, grandmother, and two uncles. Her biological father had taken off and died shortly after Julia was born. Her mother, Claire, in search of a career as a model, was well aware of the fact that the opportunities in Georgia were fairly limited. Realizing that if she was going to make a go at a career she would have to leave the shelter of her Athens' home, Claire packed up her mother and toddling baby and headed off to New York where she eventually met and married one of the most legendary men to ever roam the globe – Babe Ruth. Sports Market Report recently spoke with Julia Ruth Stevens while she visited her summer home in Conway, New Hampshire and asked her to share some of the memories, thoughts, and feelings she harbors about her life and her legendary father.
Sports Market Report: Throughout your entire life you have been asked just about every imaginable question about your father, so, we thought we would like to start this interview by asking you to tell us something about your mother.
Julia Ruth Stevens: My mother was a beautiful woman who was also a wonderful mother. She had been the youngest of three children and her two older brothers lived with us. She split up with my biological father shortly after I was born, so I never knew him at all. He died not too much longer after they broke up. Well, when I was a baby, my mother took me to New York with her so that she could pursue her modeling career. That was 1918, and she did quite a bit of modeling work and also worked on the stage as a dancer and actress. At that time, my two uncles had gone off to serve in the military and my grandmother was living with us. There was a great flu epidemic that hit that year and my grandmother and I both became quite ill. My mother took care of both of us while she still continued to work. She was a small person, but a very strong person. She had a lot of inner strength.
SMR: How did Babe Ruth come into her life?
JRS: I can remember I was about seven-years old when she first met Babe Ruth. I remember him coming to our house, which is where I met him for the first time. Even though I was very young, I could see after a few visits that his relationship with my mother was more than just a casual one. I could see that she had found the man she wanted to spend her life with. But he was married, and he was a Roman Catholic, so he would not divorce his wife. But they continued to have a nice relationship until his wife died in a fire in 1929. After her death, my mother and Babe Ruth married. The following year, he adopted me and gave me his name. He and his first wife had adopted a little girl name Dorothy who then became my sister. Dorothy was five years younger than me. She had a rough life before she was adopted. She had been moved around a lot and spent time in a boarding school. My mother adopted her but Dorothy did not get along with my mother at first despite the fact that my mother did everything she could for her. Finally, Dorothy came around and adapted to our family life. Then there were seven of us. When my uncles returned from the service, they came to live with us so my daddy married into a ready-made family – my mother and grandmother, my two uncles, Dorothy and me.
SMR: What were your thoughts of him back then?
JRS: Oh, I loved him! He was a wonderful father and a wonderful husband and it was evident to everyone that mother loved him so much. She thought the sun rose and set on him. If anyone ever said anything degrading about my father, well oh my goodness alive, she didn't let them get away with that. She was a real fireball. She really changed him – slowly and gently. She rounded off his rough edges. She traveled with him on all of his road trips and took care of him. She saw to it that he was eating properly.
SMR: What was it like for a young girl to be growing up with a father who was one of the most famous men on the planet?
JRS: I truly enjoyed it. People really loved him and that made me so happy. He also loved people. He was so wonderful with people. He never refused an autograph. Even after double headers, when he would be tired, he would sign whatever was put in front of him, especially for kids. I remember my mother would always stand by his side and, after awhile, she would eventually tell him we had guests coming for dinner or something so that he could get away. But even then he would tell everybody around him to come back tomorrow and he would sign anything he didn't get to that day. He was really great with the fans and he loved the fans. I think a lot of players today forget that their salaries are paid by the fans. I believe that players owe their fans a debt of gratitude for giving them the chance to do what they are doing. My daddy knew that. He loved to play baseball and he was grateful to the fans that came out to watch him play. He loved playing baseball more than anything and after baseball it was golf. He loved to play golf and he was a very good golfer.
SMR: He was also quite a showman huh?
JRS: Absolutely! He played to the crowd. There is no questioning the fact that he was a true showman. What player today would point to the bleachers and indicate that he was going to hit the next ball out of the park? He had a great flair for doing things out of the ordinary.
SMR: He also had a great capacity for compassion when it came to children.
JRS: He loved children. I'm sure you know of the story of when he and my mother went to see a young boy named Johnny Sylvester who was in the hospital and very sick. Daddy was always visiting children in hospitals and orphanages. When daddy went to see Johnny, he signed a ball for him and told him he would try to hit a home run for him hoping that would help him to get better. Well, daddy went out that afternoon and didn't just hit one home run for Johnny, he hit two! Johnny ended up getting better and I remember when daddy was sick with the cancer that ultimately killed him, Johnny Sylvester came to see him and said that he wished there was something he could do to make daddy better.
SMR: Everyone of your father's era seemed to have a story about him or something he did. Do you have any personal special memory of him?
JRS: Oh my, I have so many I don't know where to start. I traveled with my mother and daddy quite a bit and those trips are very special memories for me. But, I guess I really have two memories that are the most special to me. The first was that he had always promised me that no matter where he was, he would make it home to be at my high school graduation. Well, when my graduation day arrived he was in St. Louis. My mother had been with him and she had taken the train home the day before to be with me. Then daddy did something he wasn't supposed to do – he flew home so that he could be there for my graduation. Dorothy and I went out to Newark Airport to meet him and, when we got to the airport, we found out that his flight was delayed and would be in very late. We had to come back home so that I could get ready for my graduation. I was very disappointed and sad as I got dressed and ready to go. Later, when we were all in the room where the graduation took place, I heard a murmur in the audience and, when I looked up to see what the commotion was, there he was with my mother walking through the door.
SMR: What was your other special memory?
JRS: My other special memory was when he walked me down the aisle on my wedding day. He was dressed up in a mourning suit and a top hat. For weeks before my wedding, he kept asking me if he really had to dress up formal like that and I told him that he did. I also have another memory – I remember one time when I was about twenty-years old. I had come down with a very bad streptococcus infection. Now back then they didn't have much medication to treat such things and I was in the hospital. The doctors were not happy with my lack of improvement and they decided they wanted to give me a blood transfusion. When they told my parents, daddy asked that they check to see if he would be a compatible donor. He was and I remember we laid side-by-side on two gurneys and he gave me a blood transfusion. That made me feel closer to him than I had ever felt before. I had always felt that he was my real father because he was the only father I ever knew – that is a very special memory for me.
SMR: As the child of a famous ballplayer, you were able to meet people, do things, and go places that other kids your age could only dream of. What are some of your memories of the things you did with your father?
JRS: The year my father died, he went out to Hollywood to be an advisor on "The Babe Ruth Story" and I went with him. We met Spencer Tracy, Betty Grable, Dana Andrews and many other stars of the era. That was thrilling for me because we got to actually go the studio and see them shooting the film. I had always been a tremendous movie fan – I loved movies, and I loved the whole Hollywood atmosphere. I remember I had a little box camera with me and I was always snapping pictures during that trip.
SMR: Did you ever work outside of the home?
JRS: No, not really. I did assist daddy with his mail for a while and when I married, my husband owned a ski lodge in New Hampshire. I was the hostess and I was also the salad girl. I loved the lodge. There were so many great people who I got to know during that time and some who are still close friends to this day.
SMR: Julia, what is it like for you today when people meet you? What sort of reaction do you get?
JRS: It is so amazing to me that people come up to me and say that it is an honor for them to meet me. I realize that I am the last of the immediate family and I think people feel when they meet me they are touching a part of daddy. I know it is really him that they admire and it is a wonderful feeling for me to know that they are feeling a part of him through me. Now I don't go around telling people I'm Babe Ruth's daughter. But if they know and they bring it up then I start talking about him and I can't stop.
SMR: As you know, our magazine deals with sports collectibles. Are you a collector of anything?
JRS: No, I have never been a collector of anything. Believe it or not, I actually have very little memorabilia relating to daddy. I do have a few things, but not much. I have no autographed baseballs. I did have one that I gave to my son. I also had a picture that was signed by him that I gave to my grandson. What I do have is lots and lots of family pictures from our trips. As I mentioned earlier, our trips were wonderful experiences for me. Our trip to Japan, and then on around the world, was one of the greatest experiences of my life. I chose to take that trip with mother and daddy instead of going to college and have never regretted that choice.
SMR: Who could blame you! Anyone can go to college, but very few people would ever have the chance to travel the world with Babe Ruth!
JRS: (laughing) Isn't that the truth! I learned so much during that trip. It was 1934, and the world was a very different place than it is today. It was prior to World War II and everyone was getting along in those days. The people we met were all so great. I loved Japan. The people were so gracious.
SMR: Speaking of collectibles pertaining to your father, how do you feel about items that have been used or signed by him now fetching prices in the multiple of thousands of dollars?
JRS: It's totally mindboggling. It really is. I just can't believe the prices people pay for things. I know people who have balls signed by daddy that they keep in their safe deposit boxes. My goodness alive, it amazes me. When he was sick and in the hospital, which he was most of the time after he was diagnosed with cancer, he was still signing autographs. He didn't know that he had cancer you know. He kept asking why he was being brought to Sloan Kettering Cancer Center and they just told him it was where he could get the best care. They kept him sedated quite a bit of the time to control the pain. But during the two years that he fought cancer, he tried to carry on with his life. He did make some trips during that time, but he tired so easily. It was difficult for him, and excruciating for us in the family to see him in such pain. He had some days in the hospital that he was able to sit up and he would look out the window at kids looking up, hoping to get a glimpse of him. He would get out of bed and go over to the window and wave at the kids. Then he would ask the nurse to bring him paper and he would sign autographs and ask the nurse to bring them down to those kids. He was an incredible man – there will never be another like him.
SMR: Do you have any specific memories of his funeral?
JRS: I really don't. It was like a dream to me. I can't remember much. I do remember it was a hot steamy day and it had started to rain just as we walked into the cathedral. The ceremony at Gate of Heaven Cemetery is also like a dream. I don't really ever think about that. I just like to remember all the marvelous times.
SMR: We know that you do not like talking about the breaking of records that were once held by your father. It seems like this past season everyone has had something to say about that, but you chose not to talk about it. Why is that?
JRS: As far as I'm concerned, no one will ever really break daddy's home run record. Remember he got 714 home runs even though he pitched for six years. I'm just not interested in taking about anyone else.
SMR: Is it amazing to you how much your father is still revered today and how he is still loved by people who weren't even born during his lifetime?
JRS: A whole new generation of kids know who Babe Ruth is and I am so happy about that. I always want him to be remembered, not just as a great player, but as a great man.
SMR: Are you a sports fan?
JRS: I am absolutely a sports fan. I am different in that way from my mother. My mother was really not much of a sports fan except for baseball. She went to all of my father's games. I don't think she ever missed one game from the time they got married until he retired. I myself am a big baseball fan, and I love the Boston Red Sox. I really became a big Red Sox fan back in 1990. At that time, the Yankees kept winning pennants and the Red Sox kept coming close but never winning and I finally said by George the Yankees have won enough World Championships! That's when I decided to pull for the Red Sox.
SMR: What would your father have thought of that!
JRS: (laughing) I honestly don't know. He may have rolled over in his grave, or perhaps he would have understood. I pulled for the Yankees for so long that I felt it was time that someone else deserved a chance. But yes, my switch to the Red Sox caused quite a stir. I never got to attend any of their games but I always watched them on TV. When they won the Series, I thought it was so gratifying.
SMR: On August 16, 2006, the 58th anniversary of your father's death, ground was broken for what will become the new Yankee Stadium. What are your feelings about the team leaving the "House that Ruth Built" and the plans to demolish the existing stadium?
JRS: I just cannot believe it. I hope the City of New York will reconsider and make it a historic landmark. It could become a place that people could visit from all over the world and relive incredible memories. I would hate to see it torn down. I hope there will be a real uprising and that it will remain and become a landmark.
SMR: In your book "Major League Dad" you give a touching account of what it was like to be Babe Ruth's daughter. What would you most like people to know about your father?
JRS: That he was a great family man. He loved his family and his home life. He loved my grandmother and my uncles. He had never had a real family growing up. His parents split up when he was young and his sister, Mamie, went with her mother. His father ran a saloon and at the age of seven, he was left to run the streets. It got to the point where his father couldn't control him so he took him over to St. Mary's Industrial School for Boys (a reformatory and orphanage where he was left in the custody of the Xaverian brothers, Catholic missionaries who ran the school). So, when he met my mother, he loved the idea of having a ready-made family. I know that's not how most people think of him but, when I think of him, it's as my father not a legendary baseball player. He was a wonderful father although he was very strict. Even when I was in my early twenties, I still had to be home by midnight. He really was a disciplinarian along with being a very loving man.
SMR: Julia, what is your life like today?
JRS: I split my time between New Hampshire and Arizona. I come east in the summer to do things like go to the Hall of Fame inductions. I try to make as many personal appearances as I am asked to do, but remember I am 91-years old. I have macular degeneration and I am legally blind. I also broke my hip in four places in 2006, so I can't get around as well as I once did. I didn't do too many appearances in 2006, and I will have to limit my appearances again this year. But, I do try to do as much as I can because I feel it is important that I carry on my father's legacy and keep his name alive.