Fake Babes?
Question: I just bought a Babe Ruth signed ball over the Internet. The ball is in good shape but it is a little brown over the signature area. The signature itself is very good, the COA says it is an 8.5. The only thing that I don't know much about the ball, it is a Babe Ruth Home Run Special baseball. What do you think it is worth?
Concerned Collector
Ruthianville, NY
SMR: Well, to begin with, most of the Babe Ruth Home Run Special baseballs were not actually signed by the Babe himself so the chance of your ball being authentic is severely diminished. Those baseballs were given away as part of a promotion with many of them containing facsimile or mass printed signatures. In fact, they bare little resemblance to Ruth's actual signature (you would think they would do a better job, oh well). On the other hand, I have seen these baseballs with real Ruth autographs on them but, of the one's I have seen, the authentic Ruth autograph was added to the ball. In other words, the balls contained one facsimile and one real signature, two in total. If the signature was real and the condition is being described accurately, the ball could be worth in the $10,000 plus range. Here's some advice. First, you need to be very careful about buying items over the Internet. Second, who authenticated the ball? I am not aware of any respected autograph authenticator that grades or rates the signature at this point in time. I hope, for your sake, that this Ruth ball is indeed special.
Cloned Twins?
Question: I have a team autographed baseball from the 1965 Minnesota Twins after they lost the World Series. You could order them from WCOO Radio and my grandparents bought it for me as a present. I don't think, back in 1965, they had the technology to fabricate mass autographs. Could I be wrong? Should I have it authenticated?
Concerned Collector
Twinkies, MN
SMR: Unfortunately, they did have the technology to create or fabricate facsimile autographs in mass quantity in 1965 and even a lot earlier. In fact, many team balls were of the facsimile variety as they were sold at gift shops throughout the country. What is really unfortunate is that as recently as 10 years ago, maybe more recently, the stadium gift shops would sell these baseballs all the time as actual team signed balls even though none of the signatures were real. There has been a crackdown on these gift shops during the last few years with the help of the FBI. The best way to find out if your ball is authentic is to submit it to a respected authenticator. That way, you will know for sure and be able to sell it with no problem if you choose to do so.
Painting Prices Please

Question: Over the years, I have compiled quite a collection of original art. Each rendering is signed by the player; there are over 70 originals in all. I have players like Mickey Mantle, Al Kaline and Ozzie Smith. Has there ever been consideration given to creating a pricing structure for original art that has been signed by the player?
Concerned Collector
Picasso Lane, CA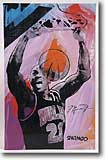 SMR: Original art can be very desirable and expensive, not to mention very enjoyable from a collecting point of view. The problem with pricing original art is that each item is so unique, truly one of a kind, that it would be impossible. In addition, you have to factor in personal taste, which really is an impossibility from a pricing stance. As you know, beauty is in the eye of the beholder and that principle really holds true here. Even when display pieces, that are not unique, come up for sale, the prices realized show almost no pattern or consistency. Pricing those display pieces, which are not unique like original art, would not only be impossible but it would also be unfair to collectors. No standard can be set; it simply cannot be done with so many variables. Factors to consider would be popularity of the artist, size of the piece, popularity of the player and quality but quality is where the personal taste comes into play. So, when it comes to original art, the piece will always be worth what someone is willing to pay for it.