here was fairly little surprise to be found when Marcus Allen got the nod to enter the hallowed halls of Canton this past January. In fact, the big surprise would have been if the Class of 2003 had not included the former running back of the Kansas City Chiefs and Los Angeles Raiders. Granted it was the first time Allen's name appeared on the ballot, but was there any doubt Allen would be enshrined?
As the 52nd player to be elected to Pro Football's Hall of Fame in his first year of eligibility, Allen became the first inductee who has also garnered a Heisman Trophy, a NFL's Most Valuable Player Award and a Super Bowl MVP trophy.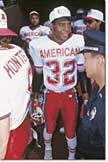 Photo Courtesy of John Cordes
"Today's a great day – the greatest day of my athletic career," Allen told reporters following the announcement. "This is the most positive day of my career and I wish the Raiders (and) Mr. Davis the best in (their) quest for another championship." Rather diplomatic words from the man who played a major role in the Raiders picking up their last Super Bowl win and who had a well-documented dislike for Mr. Davis, who once referred to Allen as: "a cancer on the team".
Pushed to comment on his less-than-congenial relationship with Raiders owner Al Davis, Allen shrugged and took a let-bygones-be-bygones attitude.
"I had a problem with one individual, which made my stay uncomfortable," was all Allen would say before changing the subject back to receiving the votes for induction. "This is a great day (and) if you ask me if I was deserving, I would say 'Yes.'"
Frankly, a reporter would be hard pressed to ask Allen if he felt his welcome into the Hall was deserved. And, it would be even harder to imagine any of those who had received a ballot losing sleep over how they would cast their vote when it came to Allen. This was seemingly one invitation to Canton that was sent with ease and assurance.
The path that led Allen to Canton began when, as a high school quarterback and defensive back, young Marcus was heavily recruited by colleges from coast-to-coast. Making the decision to matriculate at the University of Southern California, Allen played his freshman year at the tailback position. The following year, he moved into the fullback slot where he was largely used to block for the Trojans soon-to-be-Heisman-winner, Charles White.
In 1980, during Allen's junior year, he returned to tailbacking and led the nation in all-purpose yards with an average of 179.4 yards per game. As a senior, he set NCAA records by rushing for 2,432 yards; chalking up the most 200-yard games (eight); earning the highest average rushing yards per game (212.9); and gaining the most all-purpose yards (2,550). It was that performance which earned Allen an All-American selection and both the Heisman and the Maxwell Trophies as the outstanding college player of the year.
Drafted by the Los Angles Raiders, Allen immediately adapted to life on the field of the NFL by rushing for 697 yards, leading the league in touchdowns with 14, and garnering The Sporting News Rookie of the Year title in 1982.
An All-Pro in 1982 and 1985, Allen was named the Super Bowl's Most Valuable Player in 1983 when the Raiders trounced the Washington Redskins in Super Bowl XVIII. On the field of Tampa Stadium, he helped the Raiders convincingly defeat the Redskins by chalking up 191 yards on 20 carries and scoring two touchdowns.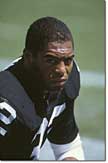 Photo Courtesy of John Cordes
He gained over 1,000 yards in each of his next three seasons and, in 1985, led the NFL in rushing and was named the Player of the Year.
During the latter part of the 1980s, Allen's production seemed to wane. He had averaged less than 4 yards per carry and missed most of the 1989 campaign when he was sidelined with a knee injury. Relegated to part-time play from 1990 to 1992, Allen was signed by the Kansas City Chiefs in 1993 as an unrestricted free agent. The Chiefs were far more willing than the Raiders to explore just what Allen had left in him and, in his first season as a Chief, he rushed for 764 yards and led the AFC by scoring 15 touchdowns.
After five productive seasons with the Chiefs, Allen called it quits after the 1997 season with 12,243 rushing yards and 5,411 receiving yards. He had taken the ball into the end zone on 145 occasions and left the NFL as perhaps one of the best short-yardage and goal line runners the league has ever seen. Allen once said that he played football the way the "old school guys" played. "We played for love and survival," said Allen. "The players today have endorsements and other deals. They don't play to survive."
Thus, there was no great surprise that on his first year of eligibility, that Canton bronze would be commissioned. His classmates for the 2003 induction included Houston Oilers defensive end Elvin Bethea; Joe DeLamielleure, who played guard for the Buffalo Bills and the Cleveland Browns; wide receiver James Lofton, who played for various teams over his 16-season career, and legendary coach Hank Stram, who began his professional career with the Dallas Texans before taking the Kansas City Chiefs (pre-Allen) to a 1970 Super Bowl victory and finishing up with the new Orleans Saints.
There were 15 finalists for this year's induction. Faced with whittling down the list, the 39-member selection committee, which consists of representatives from the press, each of the NFL's 32 franchises, a Pro Football Hall of Fame representative and six at large voters, cornerback Lester Hays, wide receiver Art Monk, quarterback Ken Stabler and team owner Ralph Wilson were eliminated in the first cut. In the second round of elimination, the casualties were offensive linemen Gary Zimmerman and Bob Kuechenberg, linebacker Randy Gradishar and defensive end Claude Humphrey.
With seven finalists still in contention, administrator George Young and linebacker Harry Carson came up short with the 80 percent of the votes needed for inclusion. As a footnote to this year's election process, it is perhaps also worth noting that Bill Parcells, who was one of the original finalists, requested that his name be removed from consideration since he made the decision to once again reactivate himself as the coach for the Dallas Cowboys.
Unlike the awkward decision that Cooperstown imposes upon inductees into the Baseball Hall of Fame, Canton neither asks nor tells an NFL player that their bronze plaque must associate them with only one team (are you listening and willing to be more open-minded MLB?). Still, the question of what team he wanted to be associated with was posed when Allen's induction was announced.
"I embrace both teams," Allen said again showing great diplomacy. "People want you to deny one team so you can elevate another. I'm not going to do that."
Currently serving as an analyst for CBS, Allen called his Hall of Fame induction the culmination of what he set out to accomplish when he first stepped on the gridiron at Lincoln High School in San Diego.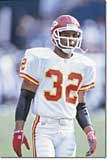 Photo Courtesy of John Cordes
"More importantly, it's an opportunity for me to say thanks to my parents and my brothers and sister, and of course the coaches and players and trainers who helped me get to this point," Allen said.
As for the future, Allen plans on staying involved with CBS. He is also producing a feature film, with the working title of Piggybanks that began production last summer. And, while coy on revealing much about his film project, Allen is a bit more open in revealing that his association with the NFL may have a second chapter. With hopes that a professional football franchise may someday return to the NFL- barren Los Angeles, Allen has said that he would be more than a little bit interested in getting in on a piece of that action.
"Those conversations have taken place with certain people," Allen said shortly after his Hall of Fame induction was announced. "To this point, all parties are finding it very difficult because of all the politics involved. If we can get the politics out of the way, I think there's a chance for a team to come back to Los Angeles."
When it comes to cards pertaining to Marcus Allen and the other four members of the Class of '03, even their coveted rookie cards are readily available in high grades and all except Hank Stram's can be found for under $20.
Allen's rookie card is the 1983 Topps #294 and he is also featured on a Team Leader card, which is #293.
Of the five 2003 Hall of Fame inductees, Allen's rookie card has the second highest value next to Stram's rookie which was the 1960 Fleer #116. Elvin Bethea's rookie was the 1970 Topps #43. The 1974 Topps #183 was Joe DeLamiellure's rookie offering and the 1979 Topps #310 is the card that first highlighted James Lofton.
As mentioned earlier, with just a bit of searching, all of these cards can be found in high grades, and, unlike with other Hall of Fame classes, this entire set can be compiled for under $100.
As for other Allen related collectibles, autographed photos, signed footballs and full-size and miniature Raiders, Chiefs and Trojans helmets that bear Allen's signature can also be acquired at reasonable prices, but should only be purchased with proper authentication. Allen's game-used equipment is also out there, appearing periodically on eBay, at sports shows, conventions and various on-line auctions.
It is impossible to predict if Marcus Allen's rookie card, collectibles and memorabilia will ever greatly increase in value. His induction into the Hall of Fame, however, assures that there will always be a demand for these items and for time eternal, that the 1983 Topps #294 will be a necessity to complete a Pro Football Hall of Fame set.
As for now, these things can be found and purchased with relative ease – just like the way Marcus was inducted into Canton on his first year of eligibility.