Don't Fade Kirby
Question: I collect team-signed baseballs and have a question. I purchased a 1987 Twins team signed ball during the mid-1990's. The problem is that Puckett's signature is "too new" in comparison to the other signatures on the ball. Is there any way I can "age" Mr. Puckett's signature to make the appearance of all the signatures on the ball more consistent?
Concerned Collector
Eraserhead, MN
SMR: Whatever you do, don't alter the Puckett signature! In fact, most collectors like it when the key signatures are more legible because those signatures are the ones that most collectors care about. I understand why you would want the ball to have a more even look to it; team-signed balls make for great displays. Even if you were not worried about the value of the ball, you could end up damaging the appearance if you try to somehow age the Puckett signature. Maybe the best thing to do is to display the ball with Puckett's signature as the focal point. Leave Kirby alone!
I'm Just Telling You What I Heard
Question: I have a PSA 8 0C 1957 Mickey Mantle card which is centered 10/90 left to right and 40/60 top to bottom and I want to send it back to PSA to have it regraded without the qualifier. What would it come back as? The centering falls into the PSA 5 grade but someone told me that I would only lose one grade. Example: a PSA 8 0C would come back a 7 because it was already deemed and 8. Is this true?
Concerned Collector
Misinformedville, CA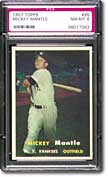 SMR: That is not true. It will be given the lower grade if THE CARD MEETS THE STANDARDS FOR THAT GRADE. For instance, a card that is centered 70/30 might be graded a 9 OC and that card could be placed in an unqualified 8 holder because 8's allow for 70/30 centering. It if were centered 90/10, it could not simply go down one grade because 8's do not allow for 90/10 centering. In your case, the Mantle is 90/10 one direction so it would not satisfy the requirements for the 7 grade. It will be dropped, possibly into the 3 range if you choose to remove the qualifier in the 90/10 example. I would leave the card in the qualified 8 holder, it has more value.
Float Like a Butterfly, Sign Like a Bee
Question: I would like to know what a Muhammad Ali autographed boxing glove is worth, I have been given several different prices. Can you help?
Concerned Collector
Manila, TX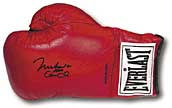 SMR: There's a fairly wide range of values associated with Ali signatures. First of all, vintage Cassius Clay examples sell for a premium due to their scarcity. Second, due to Ali's inability to pen a clear autograph (due to his unfortunate medical condition), it is very difficult for a collector to distinguish a good Ali autograph from a bad one. For this reason, Ali signatures that are authenticated in his presence or at the actual signing session are valued at a premium. Third, there are different levels of quality when it comes to gloves much like the varying qualities with jerseys and bats. The better quality gloves will help add a premium as well. For the most part, Ali gloves will usually bring about $350-$400 but, if any of the premium qualities are present, the glove could sell for a lot more.