Mile High Card Company sets many records in their May 19th auction
Centennial, CO. — Mile High Card Company's May 19th auction set many company records when the gavel fell and the final sales total reached a lofty $621,179.00. Brian Drent, President of Mile High Card Company made mention several factors regarding the companies continued auction success. "This auction realized many out of this world prices because as a firm, we just do it right!" "We offer tremendous items in a very professional manner and combine that with a proven track record and a sterling reputation."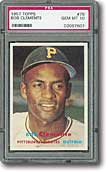 An astounding selection of high-grade singles brought out a bevy of bidders and realized the following prices: 1957 Topps #76 Bob Clemente PSA 10 $17,454.00, 1961 Topps #388 Bob Clemente PSA 10 $ 7,938.00, 1970 Topps #350 Bob Clemente PSA 10 $5,829.00, 1964 Topps #440 Bob Clemente PSA 9 $4,710.00, 1952 Bowman #101 Mickey Mantle PSA 9 $8,954.00 and a 1968 Topps #280 Mickey Mantle PSA 10 found a new home at $7,216.00.
Performing to equally impressive totals these cards realized the following: 1954 Johnson Cookies #5 Henry Aaron PSA 9 $4,994.00, 1953 Bowman #32 Stan Musial PSA 9 $6,567.00, 1971 Topps #160 Tom Seaver PSA 10 $6,271.00, 1974 Topps #20 Nolan Ryan PSA 10 $2,346.00 and a 1952 Bowman Large #142 Tom Landry PSA 10 $10,928.00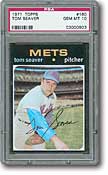 Also featured in this 326 lot sale was an amazing selection of ultra high-grade commons that performed to astounding levels led by: 1950 Bowman #86 Stan Rojek PSA 10 $4,954.00, 1952Topps Hank Thompson PSA 8 $2,541.00, 1952 Topps #310 George Metkovich PSA 8 $2,553.00, 1953 Bowman #43 Mike Garcia PSA 9 $4,526.00, 1953 Topps #11 Sal Yvars PSA 9 $4,052.00, 1953 Topps #31 Ewell Blackwell PSA 10 $6,799.00, 1953 Topps #150 Harry Simpson PSA 9 $3,042.00, 1953 Topps #243 Carlos Bernier $3,376.00, and a 1948 Bowman Basketball card of #8 Mel Riebe PSA 10 sold for $7,370.00.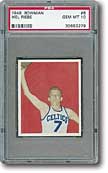 Some other amazing prices from this record setting auction were: 1954 Topps completely graded set $36,098.00, an early 20th Century Bat Rack $9,379.00, a Negro League Autographed Bat $ 2,656.00, Mike Cuellar 1959 Havana Sugar Kings Championship Ring $2,036.00, and a single signed Babe Ruth Ball for $5,419.00.
Mile High Card Company is planning an October auction as a follow up to this tremendously successful sale. The company is actively seeking quality consignments for the fall 2004 auction. For more information regarding Mile High Card Company and their auctions visit there website at www.milehighcardco.com or call (303) 840-2784.
Collectors Clamor for Kiner Collection and Quality Cards in Latest SportsCards Plus Auction
Laguna Niguel, Ca. — On the heels of their recent estate fresh offerings from the likes of Honus Wagner, Tony Lazzeri, and Bob Cousy, SportsCards Plus continued their incredibly successful track record of bringing forth top tier Hall of Fame player collections with their recent offering of "The Ralph Kiner Collection". The collection, offered on behalf of Kiner himself, accounted for 50 of the 459 lots in the recently concluded May 27th auction, which totaled more than $1.2 million in sales.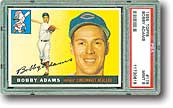 Among the collection were a variety of Awards, Autographed Items, Contracts, Original Photographs, Documents, and other Personal Effects representing Ralph Kiner's 60-plus years in baseball. Collectors were treated to Kiner's to a broad range of artifacts spanning from his minor league days, to his prolific seasons in Pittsburgh, to his decades of service as a broadcaster for the New York Mets. Some of the highlights from the collection include; Kiner's Retired #4 From The Original Forbes Field Scoreboard Presented to Him by The Pirates ($4,801), his New York Mets 2000 NL Championship Ring ($9,610), Ralph Kiner's Oversized Career Photo Album ($2,910), a Ty Cobb 2 Page Hand Written Letter to Kiner ($4,364), his 1975 Hall of Fame Induction Louisville Slugger Award ($1,988), Kiner's 1951 All-Star Game Program Signed by (27) NL Teammates ($4,260), and his 1950 Major League Home Run King Trophy ($2,240).
As usual, SportsCards Plus presented a power-packed selection of vintage cards, including graded singles and sets. The impressive array of cards drew heavy bidding, including the following high-grade gems; 1909-11 T206 Cy Young (Bare Hand) PSA 9 MINT ($26,482), 1915 Cracker Jack #57 Walter Johnson PSA 9 MINT ($34,703), 1915 Cracker Jack #103 Joe Jackson PSA 8 NM-MT ($34,402), 1933 Goudey #10 Glenn Myatt PSA 8 NM-MT ($6,633), 1933 Goudey #149 Babe Ruth PSA 8 NM-MT ($35,206), 1933 Sport Kings #38 Bobby Jones PSA 8 NM-MT ($15,990), 1953 Topps #25 Ray Boone PSA 9 MINT ($3,430), 1955 Topps #106 Frank Sullivan PSA 9 MINT ($4,413), 1955 Topps #123 Sandy Koufax PSA 9 MINT ($15,850), 1955 Topps #178 Bobby Adams PSA 9 MINT ($6,461), 1955 Topps #206 Pete Daley PSA 9 MINT ($6,461), 1957 Topps #20 Hank Aaron PSA 9 MINT ($4,365), 1957 Topps #24 Bill Mazeroski PSA 9 MINT ($2,557), 1957 Topps #328 Brooks Robinson RC PSA 9 MINT ($4,925), 1969 Topps #480 Tom Seaver PSA 9 MINT ($3,015), and a 1971 Topps #570 Jim Palmer PSA 10 GEM MINT ($2,492).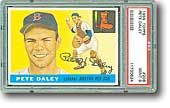 A fine assemblage of quality Pre & Post-War Sets and Card Lots saw heated competition including; The Finest PSA Graded 1904 Fan Craze A.L. Complete Set of 51 w/Gameboard ($15,882), 1911 T205 Complete Master Set - Minus Hoblitzell ($12,633), 1934-36 Diamond Star Complete Graded Set ($7,458), A steady run of Topps and Bowman Sets from the 1950's and 1960's performed quite well, highlighted by a 1952 Topps Completely Graded Near Set ($53,813), 1959 Topps Partial Set of (342) PSA Graded 8 NM-MT incl. HoFers ($13,558), 1968 Topps Complete Set Graded Entirely PSA 8 NM-MT ($13,126), and a 1986 Fleer Basketball Complete Set Graded Entirely PSA 9 MINT ($8,725).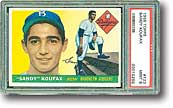 Complimenting the card portion of the auction was a well-balanced offering of memorabilia covering a variety of categories and multiple sports. Collectors responded eagerly to the diverse selection which included; a scarce Lou Gehrig Single Signed Baseball ($7,941), a Rare Jackie Robinson & Roy Campanella Signed Barnstorming Scorecard ($4,801), a Scarce Mickey Mantle/Roger Maris Signed Limited Edition Bat - #65/115 ($7,210), and a NBA 50 Greatest Players Signed Lithograph ($50,007). Other rarities that performed exceptionally well included a 1888 Buchner Gold Coin Advertising Poster ($35,489), and the finest known Complete Run of PSA Graded Original Unused (Full) Super Bowl Tickets ever offered at auction ($56,504).
SportsCards Plus also teamed up with the Los Angeles Lakers to help raise money for The Lakers Youth Foundation. SCP lent their services to auction off a Team Set of Game Worn "Throwback" Uniforms and Warm-Up Suits used on April 11, 2002, when the Los Angeles Lakers paid homage to their predecessors, the Minneapolis Lakers. These custom-made Nike "retro" uniforms are designed similar to those of the Minneapolis team that won the NBA Finals in 1951-52. Each player's uniform and warm-up suit was sold individually, raising over $40,000 for the Foundation headlined by those of Shaquille O'Neal ($13,702) and Kobe Bryant ($10,294).
The tremendous results of this auction gives SportsCards Plus tremendous momentum as they gear up for their much anticipated October 4th, 2004 auction event set to be held live at New York City's Marriott Marquis. This celebration of America's National Pastime will include some of the most historically significant Baseball memorabilia items in the world with a specific emphasis on items related to the history of "Baseball in New York". At the forefront of this unprecedented Auction Event will be the offering of what has been dubbed the "Holy Grail" of sports memorabilia, Babe Ruth's Signed Bat that he used to hit the First Home Run in Yankee Stadium on its Grand Opening in 1923. The Auction will also feature the personal memorabilia collection of Legendary Brooklyn Dodger Hall of Famer Pee Wee Reese, as well as a phenomenal array of items from other greats of the game including game worn jerseys, bats, gloves, autographed pieces, rings, awards, photos, programs, documents, and more. SportsCards Plus is currently seeking addition high-end consignments for this once in a lifetime event. For more information visit SportsCards Plus online at www.sportscardsplus.com or call 1-800-350-2273.
Gehrig, Ruth Homer for Grey Flannel Auction
GREAT NECK, N.Y. — Lou Gehrig and Babe Ruth hit home runs for Grey Flannel Auctions at its just concluded Summer Games auction. All of the autographs and game-used bats were PSA/DNA certified. Gehrig's bat used in the 1932 World Series, in which he hit .529, sold for $169,050. He hit three homers in the four game sweep of the Cubs. Ruth's game-used Hillerich & Bradsby bat, used circa 1928-30, sold for $109,179.
GFA CEO Howard Rosenkrantz toasted the auction house's six-figure sales of both Louisville Sluggers. "We were very fortunate to have the opportunity to offer our bidders two of the most historically significant bats ever to come to the auction block, and we are extremely pleased with the results."
The two most prominent members of the Yankees "Murderer's Row" of the late 1920s and early '30s also were part of other highly successful auction lots. A circa 1931 Gehrig game-used flannel road jersey fetched a whopping $84,136. A signed photograph of the two Yankee immortals sold for $40,250, and the best of three single-signed Ruth baseballs offered in the auction fetched $41,673. A rare 1934 Demaree die-cut Lou Gehrig card reached $11,250; a 1934 Tour of Japan team ball with Gehrig's and Ruth's names sold for $10,187; and a 1920s mutoscope prominently featuring a rare image of the Sultan of Swat sold for $8,419.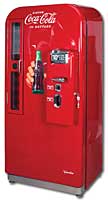 The Grey Flannel auction grossed $1.9 million and sold over 90 percent of its 1,061 lots. Among other noteworthy baseball items were:
· A collection of 2003 All-Star Game workout jerseys sold for $28,972;
· An Eddie Collins game-used bat sold for $18,521;
· A Ted Williams game-worn cap sold for $10,534;
· The last first base ever used in Ebbets Field sold for $12,650;
· A pair of Mickey Mantle's game-worn pants sold for $10,441;
· A pair of Elston Howard World Series rings from 1958 and 1962 sold for $18,113; and
· The only golf scorecard in which Mantle scored his only hone-in-one sold for $16,816.
Other baseball highlights were jerseys worn by Barry Bonds ($9,488), Juan Marichal ($9,359), Maury Wills ($7,734), Nolan Ryan ($7,395) and a Greg Maddux Cubs rookie shirt ($6,429). Game bats sold, including those by Roberto Clemente ($9,045), Ernie Banks ($7,590), Stan Musial ($6,231) and Willie Mays $6,123).

A pair of Roger Maris-signed balls sold for $4,631 and $4,210; a Roger Clemens signed ball from his 300th career win sold for $4,870; and a ball signed "Merry Xmas" by Jackie Robinson sold for ($4,023).Game-worn jerseys in all sports are always prominent in Grey Flannel auctions, and the Summer Games 2004 was no exception. A rare jersey worn by Billy Mathis of the AFL's New York Titans brought $7,845; a Joe Namath mesh Jets jersey fetched $9,598; a shirt of the Jets current quarterback Chad Pennington reached $5,566; a Joe Montana rookie era jersey sold for $4,563; a Walter Payton jersey sold for $4,074; a Dan Marino jersey sold for $4,025; and a Larry Csonka gamer sold for $3,827.
Leading basketball items featured a "Pistol" Pete Maravich shooting shirt from LSU for $9,361; a Julius Erving 76ers jersey for $9,261; and a Michael Jordan gamer for $7,132. Hockey items featured a Wayne Gretzky Los Angeles Kings sweater for $5,358; a mini-Stanley Cup from the '85-'86 Montreal Canadiens for $3,738; and game-used jerseys of Mario Lemieux ($4,925) and Brett Hull ($2,410).
Muhammad Ali items dominated the sale's boxing section, led by a full ticket to the Ali vs. Frazier "Thrilla in Manilla," which sold for $3,058, and an ensemble of signed Ali items, including a robe, trunks, gloves and photo, for $2,646.
Grey Flannel continued to improve its presence in the Americana arena. An extremely rare and uncirculated $10,000 bill led the way with a winning bid of $69,575. A $1,000 bill brought $4,511; Bob Gibson's 1956 vintage Ford Thunderbird sold for $37,950. An autographed composer/artist book and a signed letter from Paul McCartney sold for $4,160 and $3,450, respectively. A free-franked envelope signed by President Abraham Lincoln sold for $4,313. A "Saturday Night Fever" record cover signed by the Bee Gees drew $4,265, and a quartet of vintage Coca-Cola vending machines sold for $18,478.
"We are happy with our position as a leader in the memorabilia auction business, due to the quality items we are able to offer our bidders and with the prices we realize for our consignors each and every auction," Rosenkrantz said. Grey Flannel Auctions currently is welcoming consignments and seeking purchases for its next auction, the "Fall Classic 2004" sale.