s with the great majority of card collectors, David S. Johnson's love of the hobby began with baseball cards and waned during his college days. Having lost interest in his baseball cards, he decided to sell off his collection.
In an attempt to sell his collection, he attended a show where, instead of returning home with cash and no cards, he found himself hooked on another facet of the hobby – golf cards.


When it comes to golf cards, David S. Johnson is a big hitter.
SMR: What began your fascination with vintage golf cards?
DSJ: I began collecting baseball cards in 1977, and was on again off again with the hobby up through college. During that time, I had purchased a lot of material at local shows and flea markets. I was a huge collector of Carl Yastrzemski cards and stars from the 1950's and 1960's. Lawn mowing money could actually buy Mantle, Aaron and Mays cards back in those days!
After college, I started selling off much of my collection. I had attended a Tri-Star sponsored card show in Kansas City with a friend who was going to sell off a pair of real sharp 1963 and 1964 Topps hockey sets. When we got to the show, positioned right in front of the main entrance was Mr. "Mint" himself, Alan Rosen. Of course you can't get past Rosen if you look like you have something to sell, so we stopped. He made my friend a very strong offer for both sets, which he accepted. Then, as we were standing there, I noticed a guy next to me in the line (at one of the tables) who had a large variety of tobacco cards in a binder. I noticed a Walter Hagen and Harry Vardon from a set that I now know is the 1930 Wills Famous Golfers. As he got his turn to talk to Rosen, Mr. "Mint" politely explained that he didn't buy that "British issued stuff". The guy then let me look at a few of his cards and I have been hooked ever since.
At that same show, I came across a dealer table that had a wide variety of British issued cigarette cards. Subjects such as dogs, military figures, actors and actresses, tennis players, cricket players, boxers, and golfers were all featured. Being a baseball collector, I never really paid attention to non-traditional sports cards before. Well, I ended up purchasing a complete set of 1931 Churchman Golfers Large size cards (12 cards in the set) for $300. That was my first golf card purchase. I had the set graded and it is currently #2 on the registry.
SMR: How did your collection grow from your initial purchase?
DSJ: These cards were manufactured overseas, mostly in Britain, Germany and Australia so they are much more prevalent overseas than in the United States. Thank goodness for the Internet. It has allowed me to purchase many cards that I otherwise would have never seen if it were not for online sites and auction houses in other countries.
I also really owe a debt of gratitude to three individuals who have helped me the most in getting my collection where it is today:
The first is Steve Berman from Maple Leaf Collectibles who sold me the "Price Guide Reference to Golf Cards Part 1 & 2" which was published in 1994. It is a little outdated with values now, but still an essential resource for someone starting in the hobby to know what is out there.
The second is Terry Newman from England who was a great early source of raw cards. His prices have always been extremely fair and he would often let me know of new acquisitions.
And finally, there is Jonathan Richardson from Germany who has a nice website and is someone I have conversed with on many occasions. He probably has one of the most comprehensive vintage golf card collections in the world and has been a great source of information.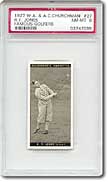 Johnson considers this 1927 W.A. & A.C Churchman Famous Golfers R.T. Jones #27, graded as a PSA NM-MT 8, to be the most valuable card in his collection.
SMR: What is the most valuable card in your collection?
DSJ: My most valuable card according to SMR would be my PSA 8 Bobby Jones in NM-MT condition. I also have examples of Walter Hagen, Francis Ouimet, Gene Sarazen and other well known names that are the highest graded examples thus far. It's tough to tell what some of them may be worth on the open market. I also have a complete set of Cope's Golfers made in 1900. This is an extremely difficult set to locate. I have only seen three complete sets for sale in six years. Maybe that does not sound tough to "T" card collectors out there, but there are only 50 cards in the set. These will likely find their way into PSA holders soon.
SMR: Do you have a favorite card in your collection?
DSJ: My favorite? Huh –It's a close race between the 1930 Pattreiouex PSA 6 Bobby Jones and the 1959 T.P.K. Hannah Top Flight Stars PSA 8 Ben Hogan. The artwork on both of those cards is fabulous. I would love to locate a higher end version of the Jones card, but the Sporting Celebrities issue is very tough to locate in any grade.
SMR: What is the appeal of golf cards for you?
DSJ: I have always been an avid golfer so collecting cards in the sport I enjoy the most was a natural. It seems amazing to me that I can find cards of some of the historical giants of the sport, and that they cost a fraction of what baseball cards of the same era would cost. Some Bobby Jones cards in PSA 7 – 8 can routinely be bought for $175-$400. To me that is a huge bargain considering how important he is in the history of golf. Compare that to prices for a Ruth, Cobb, Mantle or Williams card. Bobby Jones cards are a steal at the current levels. But, for me, it is not at all about the value of the cards. It's the artwork and photos and history of the game. There simply aren't many of us collecting these vintage golf issues, which does help to keep the prices more affordable.
Since most of the cards were produced in Britain, where golf has always been a passion and collectors always revered these cards, many have survived in outstanding condition. The Churchman issues are always particularly well centered. There are still a lot of high-end raw cards out there, but they are getting a little more difficult to locate all the time.
I also collect newer issues such as the Donruss issues from 1981 and 1982, and Upper Deck sets from the last 2 years. Upper Deck's recent venture into the golf market with the boom of Tiger Woods has been good in my opinion. It has allowed me to pick up cards of some of the names of today, and has driven a few more folks towards golf cards. The new cards also make collectors realize that some of the older issues still exist. But no matter how alluring the new cards are, the tobacco issues will always be my passion.
SMR: What cards do you hope to add to your collection?
DSJ: The 1914 Marsuma golf set is the one that I am currently tackling card by card. Next to the 1900 Cope's set, this is the next hardest to complete. I would also eventually like to add the Sport Kings Bobby Jones, Gene Sarazen, and Walter Hagen to my collection as well as an Abdulla and U.S. Caramel Bobby Jones. The Sport Kings and U.S. Caramel sets have more appeal to a wide variety of collectors and are difficult to find in high-grade so the prices for those are quite a bit more.