By Chuck Kaufman

ans maintain their interest in pro football in many ways, proximity, a favorite player, fantasy football and wagering. Choose one and you're part of the action. One way autograph collectors prepare for a coming season is to monitor milestone records that are expected to fall.


Bruce Smith is expected to blitz the all-time sack record currently held by Reggie White.
In recent years, Dan Marino, Jerry Rice, Morton Andersen and Emmitt Smith blitzed passing, receiving, scoring and rushing records. So, what about the 2003 season? What's ahead? Rice, Smith and Andersen will likely add to their respective marks.
The one major record that is on the horizon this season, though not the sexiest, is Reggie White's career sack record. That honor is about to be owned by Bruce Smith, who needs fewer than a handful to break the mark set by the former Packer/Eagle.
Meanwhile, the Hall of Fame in Canton, Ohio, welcomed upwards of 120 living Hall of Famers to this year's induction. Attendance by heroes past, always high, was notably higher this year as the HOF kicked off its 40th Anniversary celebration. The actual anniversary is Sept. 7, 2003.


Dan Marino's autograph is in demand as the holder of many NFL passing records.
Watch for an assortment of signed commemorative pieces.
In May, Canton made available two autograph guests each weekend, following somewhat of an all-Ohio theme. Larry Csonka, Don Shula, Chuck Noll, Bill Willis, Bobby Mitchell, Paul Warfield, Tom Mack and Dante Lavelli were either born in Ohio or spent their football careers in Ohio ...
With the passing of Sid Gillman, Ace Parker, 91, becomes the oldest living Hall of Famer, followed by Slingin' Sammy Baugh, 89, who's also the only surviving original Hall of Fame inductee.
The NBA buzz may belong to LeBron James, Carmelo Anthony, Europeans (because you can't coach height) and T.J. Ford, but Tim Duncan's stock is rising. The NBA's MVP clearly shucked his soft label and showed the intensity in the playoffs that earned him the league's top award.


Jerry Rice, holder of numerous receiving records, is a staple on the autograph circuit.
Yet, Duncan suffers in the marketing and autograph departments because of a few main problems: He works in San Antonio, one of the NBA's small economic and media markets. He's as straight as the proverbial arrow, just like teammate David Robinson. Duncan is so plain and ordinary; he'd be perfect to endorse plain white T-shirts or those tasteless, unsalted, baked potato chips. Finally, while beauty is in the eye of the beholder, most beholders would agree that other stars are more photogenic than Duncan.
Yet, the 27-year-old perennial All-Star is the game's best all-around center. Duncan can take big centers head-on, make an assortment of outside shots, control the boards and distribute the ball. Indeed, he lacks the girth of Shaq, the heighth of Yao, and his free throw shooting is as tainted as the canal waters winding through downtown San Antonio. One thing that weighs in Duncan's favor is his fan-friendly attitude. As an autograph target, he'll be more approachable and more affordable than the players who dominate the media with their 'tudes.


Hall of Famer Ace Parker, 91, is currently the senior member of the Hall of Fame.
Memorabilia collecting is about preserving memories. Autographs give that keepsake or collectible that much more of a personal touch. A signed ball or photo will pretty much satisfy a collector's appetite. A relatively small group of people choose to get closer to their heroes by purchasing a game-used article - a glove, jersey or cap. A larger group of people can collect an item that ties that person to a milestone game.
Thus we reach the topic of tickets. For all of those milestone seasons, or games, or famous or favorite teams, there are tens of millions of spectators. Not television witnesses, but in-stadium, ticket-wielding fans. While getting all members of milestone clubs to sign baseballs, lithographs and bats is quite an undertaking, getting a ticket from, say, a player's 3,000th hit game or 500th home run game is quite obtainable.


Second oldest is Slingin' Sammy Baugh, one of the 16 original members enshrined in Canton.
Autograph shows give collectors opportunities to get such items signed by the hero of the moment. Tickets are gaining popularity as a collectible as the design and production quality goes up. Besides their specific information date, time, place they also have another advantage over a number of other collectibles. They're small.
Veteran autograph collectors know that home shrines quickly run out of room. Jerseys, footballs and basketballs fill walls faster than stadium nachos fill stomachs. Baseballs are economical and display well. Then, there's the ticket. The ticket can easily be packaged with related items for great displays. The collector who's getting a bit tired of just collecting single-signed items, might want to graduate to buying tickets from no-hitters or Barry Bonds' 73rd home run game. The list of historic events is endless, and we've just considered one sport.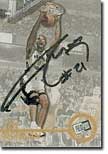 Tim Duncan, clearly a force on the court, should see his stock rise dramatically in the autograph market.
Regardless of whether one is a collector, most sports fans who've bought into a Super Bowl, World Series, Stanley Cup, All-Star Game experience have saved tickets. They want to preserve their memories. For any of these big events, fans also have made a major investment just to witness the spectacle. Why not keep something from it as a keepsake, to prove to others in the future that "you were there?"
In the collectors marketplace, tickets have gained the attention of PSA, a division of Collectors Universe, which is grading, slabbing and registering tickets, just as they do with trading cards.
"Ticket collecting is not new," said Joe Orlando, president of PSA. "But the grading will raise awareness to the collectability of tickets. I think the grading of tickets will bring a lot of new collectors into this market. One of the big differences in sportscard collecting and ticket collecting is there is more of a crossover between hardcore collectors and people who just keep their tickets as a symbol to attending a sporting event or a concert."

Collectors are adding signatures to milestone tickets. Robin Yount's
3,000th hit game ticket is made that much more meaningful. Same
for the game in which Pete Rose became baseball's hit king.
Orlando said PSA also will maintain a registry for tickets and a price guide, thus allowing collectors to track this niche of the market. So, collectors, get ready to take that Super Bowl ticket and obtain the game MVP's signature on it . . . same with an All-Star Game or any milestone game . . . you get the idea.
---
Chuck Kaufman, autograph columnist for the Sports Market Report, is also editor of Sweet Spot magazine, a bimonthly publication devoted to vintage and autographed sports memorabilia, and www.sweetspotnews.com.