By The PSA/DNA Authentication Team

orn on September 13, 1968, in San Pedro De Marcoris, Dominican Republic, Samuel Peralta Sosa was the fifth of seven children growing up in a poverty-stricken home. By the age of seven, a fatherless Sosa was shinning shoes in the streets trying to make a few extra dollars for food and necessities. Baseball was the furthest thing from Sosa's mind and it wasn't until he was 14 that he took up the game. Spurred on by his brother Jose, Sammy gave baseball a try. He was a natural.
Two years later he signed on with the Texas Rangers; and was on his way to stardom.
His skill today, as baseball's top home run hitter, came slowly for Sosa, who made his debut in 1989 for the Rangers. Five days after his major league debut, he hit his first major league home run off Boston Red Sox ace Roger Clemens. And less than two months later, Sosa was traded to the Chicago White Sox.

An Autographed Sosa baseball runs an average of $250 at present.
It was there that I met Sosa for the first time. I was fortunate enough to get to personally know several of the White Sox players who introduced me to Sosa. We quickly became friends and I like to think that I was an early influence on his life. (Good or bad, you would have to ask him!)
Sosa's early beginnings were marred with his first marriage and subsequent divorce, two major trades, frequent trips to the minor leagues and the disabled list, and his desire to be a better player. One thing remained constant with Sosa: his desire to be the best player in baseball. Through hard work and patience, and a timely trade to the cross-town Cubs in 1992, Sosa's hard work and determination paid dividends. By the mid-1990s, he was no longer considered a "can't miss" prospect, but instead a bonafide major league star. He achieved astronomical status after the 1998 season, a year in which he hit an incredible 66 home runs. The Cubs mainstay in right field has gone on to enjoy two more 60 home run seasons. And, by the end of the 2002 season, he should be a new member of the 500 home run club. When Sosa reaches this plateau, his autograph will quickly skyrocket to the top of collectors want lists.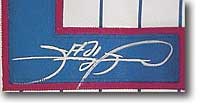 An Autographed Sosa jersey is in the $350 range and part of the new era of Sosa signatures.
It's good for collectors that his autograph is in relative abundance.
Throughout his career, Sosa has been an obliging signer. Of course, with his popularity the demand has risen and the chances of obtaining his signature in person and through the mail have lessened. As a rookie with the 1990 White Sox, Sosa would regularly sign autographs in person and through the mail. Today, Sosa will occasionally sign in person, but like most major league stars, he limits the quality items he signs. Sosa would much rather sign for a small child or women than grab the pen of an adult male. He also very rarely signs 'premium' items, or items that hold significant value. When signing baseballs, he typically signs the side panel and not the sweet spot; and there are times when he refuses to sign anything of significance (jerseys, bats, helmets, etc.).
His autograph as a pre-major league player and rookie with the Rangers was almost forced. In his earliest signature, you can tell by looking at the autograph that Sosa was still feeling his way around with a pen. His autograph was deliberate and slow and resembled the signature of a grade school student. His "S" is unique as an individual characteristic. It is always capitalized, throughout his signature, including his last name where he makes use of the "S" twice.
While Sosa's autograph has evolved and developed through the years, several traits have remained consistent. On almost every autograph Sosa has signed, he includes his number. It was something that Sosa picked up in the minor leagues and he has consistently made use of this throughout his career. With the Rangers, Sosa wore 14, then number 25 with the White Sox and today he wears number 21 with the Cubs. As you can see by several of the examples, Sosa makes good use of his number, usually placing it above his first name and on the rare occasion placing it below his name.


A great autographed copy of Sosa on the front cover of Sports Illustrated (1998).
Two other characteristics that have remained constant with Sosa is the use of his "S". From his 1989, 1991(gum cards) and 1998 signature's (Sports Illustrated), Sosa has made the "S" the focal point of his signature. By the time he reached the Cubs in mid 1990's, Sosa's capital "S" had grown in size and stature and his current signature (ball and jersey) is almost all "S" with small bumps and lines representing the rest of his autograph. The slugging outfielder's autograph has always slanted to the right. As a rookie and a young player, his signature had a more defined slant and through the years as he refined and revised his autograph, the slant has remained but it's not as obvious as it once was.
Approximate autograph values on various items include 3x5's ($150), gum cards ($75), 8" x 10" photographs ($100), baseball ($250), jersey ($350) and bat ($400).
Thanks to companies like Steiner Sports, Sosa's signature is relatively easy to find, but expensive. Take note, forgers have made the most of every opportunity to cash in on Sosa-signed merchandise and when Sosa closes in on 60 home runs this season, the forgeries will again appear in on-line auctions. Thanks to the VeRO (Verified Rights Owners Program) on eBay, much of bogus material of Sosa is pulled from the site on advice from Sosa's agent, but some unscrupulous vendors still manage to sell their wares to uneducated and unsuspecting patrons.
As the years gradually pass by, his play on the field has elevated Sosa to superstar status, making his autograph a must have for baseball memorabilia collectors. In the early 1990's, I used to constantly remind him that someday his dreams would come true. Following the game in which he hit his 62nd home run of the season in 1998, I received a phone call and on the other line was Sammy Sosa. Only able to speak for a few minutes, I congratulated him on his tremendous feat, reminding him that his hard work and years of suffering had finally paid off.
During the off-season, Sosa spends his time in Miami and the Dominican Republic with his wife Sonia and their four children Keysha, Kenia, Sammy Jr. and Michael. He has also donated millions of dollars to needy children and schools in his native Dominican Republic.
My next article will focus on Sosa's home run slugging counterpart, Barry Bonds of the San Francisco Giants.