By Chuck Kaufman

ongevity doesn't always equal greatness, but time certainly gives our heroes a chance to rack up numbers, statistics. And as SMR readers know, those statistics have a way of attracting autograph collectors.
Now that the NBA season has ended, it's worth noting a group of players who were born way back when John Kennedy was president of the United States. Yep, Michael Jordan, David Robinson, Karl Malone, John Stockton, Kevin Willis, among a few others, are 40 years old or older. They were born in 1962 or '63. In the context of all of these high schoolers coming into the league, these elders are attached to ancient history. In terms of autograph collecting, however, they are prime for the picking. They've been all-stars and many of them are future Hall of Famers, to be sure, and the league's all-time greatest players.

Charlie Hough's knuckleball extended his pitching career and earned him a place in the 46 Club.
Jordan, especially, has reshaped, if not invented, autograph collecting for basketball fans not only because of his dominance, athleticism and creativity but his million dollar deals with The Upper Deck Company. He is a pioneer in the field of autograph entrepreneurship. The other players, with the exception of Willis, should be considered "musts" for that basketball Hall of Fame collection.
To put this in perspective, when Jordan, Malone and company were literally just cutting their teeth, the NBA All-Star team was composed of Bob Pettit, Elgin Baylor, Wilt Chamberlain, Oscar Robertson and Jerry West. Second teamers were Bill Russell, John Havlicek, Hal Greer, Jerry Lucas and Tom Heinsohn. 'Sounds like one of those insert sets linking one generation to another.'
In baseball, the milestone clubs are also often achieved through longevity. It takes time to hit 500 home runs or 3,000 hits or toss 300 victories or 3,000 strikeouts, but there's a club that denotes longevity - the 46 Club. 'Haven't heard of the 46 Club?' Collectors and show promoters, no doubt, will want to start this exclusive club. Only 23 major leaguers have played past that age. The most recent was Jesse Orosco, the long-time Met, who is now a member of the Los Angeles Dodgers. Before Orosco, the last 46-plus player was Charlie Hough, whose knuckle ball kept his arm and career alive for a short while longer. Indeed, the 46 Club would be one unique collectible.


Karl Malone, the NBA's second all-time scorer, believes he has more points to make in his career.
Moving from the vets to whippersnappers, who among today's NBA rookies should collectors covet in the future? Amare Stoudemire of the Phoenix Suns and Yao Ming of the Houston Rockets would seem obvious choices. Besides, Yao has an unusual signature.
This is the time of year when NFL fans are flocking to summer training sites for their favorite teams. Autograph collecting fans, dressed in their team's full regalia, will be stretching out to get the signatures of their top draft choices, veteran players, and newly acquired stars (through trade or free agency). All-time rushing king Emmitt Smith promises to be as hot a commodity as Heisman-winning rookie and overall top pick Carson Palmer of the Cincinnati Bengals.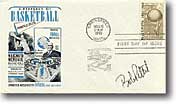 Hall of Famer Bob Pettit was a first-team all star when today's 40-plus players were born.
Back to basketball ... Kobe Bryant was not only hot during the season; the Lakers' top scorer is showing up as a prominent forgery. James Spence, an authenticator with PSA/DNA, a division of Collectors Universe, said the scribble of a short first name as a common example of his signature presents a problem for authenticators and collectors. "With Kobe, there are not a lot of letters to go by, so you have an abbreviated signature," Spence said. He added that high school graduate LeBron James evidently is just signing with his initials, either "LBJ 23" or "LJ 23." The latter signature must be for when he's really in a hurry. "Forgeries for James are already coming out," he added. "We're starting to see more submissions on him, which is allowing us to carefully go about the examination."
PSA/DNA is also seeing an abundance of Tiger Woods forgeries, particularly on pin flags. Spence said Woods is very selective of what he signs. He's not saying all of the Woods signatures on pin flags recently are bad, and some of the forgeries are very convincing. Yet, Spence and others are observing flaws in forgers' styles based on the more signatures that they see. "The problem with forgers is they can't stop at one," he said. "Charles Hamilton (the legendary signature expert) used to say that you're going to get fooled on the first one, but when you see the subsequent signatures, the light bulb will come on and you'll know what's wrong with the forged signatures."


John Stockton, the NBA's all-time assist leader, is content to walk away a great player.
Many autograph collectors are wary of the inexpensive cursory examination. At $6, $7 or $8 a pop, some fly-by-night operations have rung up some nice business, while providing little credibility.
Generally reliable authenticators, however, are buying into the concept and seem to be helping Internet marketplaces, such as eBay, boot off sports memorabilia items deemed to be bad. Quick Opinion on eBay, operated by PSA/DNA, began in October and up to 50 people a day ask one of their authenticators to opine on an object. The PSA/DNA team either passes the item, fails it or renders an inconclusive opinion.


Rookie of the Year Amare Stoudemire and Yao Ming figure to make an impact in the NBA for many years to come, which will make their signatures quite desireable to collecting fans.
The good news is that if Quick Opinion fails an item, it is kicked off eBay. If it happens repeatedly from the same source, that email address is banished. Of course, selling bogus items under new email addresses is a perplexing problem. And, yes, we know that crooks will just take their bogus loot elsewhere or create another address. However, we must be satisfied with all small victories. "Ebay will toss these items off and send out a terse letter," says Spence. "If sellers continue to place items they can get kicked off forever." As part of the Quick Opinion process, Spence has identified a few of the sellers' tricks to validate their bogus items. "Sometimes they'll take a logo and superimpose it onto their picture, put our certificate next to an item, and make an item look official and authentic," he said. So shoppers still have to be on their toes.
Spence estimates that of the items PSA/DNA studies for a Quick Opinion, 50 percent are bad, 42 percent are good and 8 percent are inconclusive. The inconclusive category can suggest at least a couple of situations. "Sometimes a guy will take a picture of something being sold from across the room, and you can't even see the autograph. But the price is so attractive that the unsuspecting shopper will consider bidding on it anyway," he said. "Other times, an autograph is blurred from an out-of-focus photo. They probably did this on purpose." Still other items, such as vintage items (from Joe Jackson on), require a more in-depth, in-person examination. "We're seeing both really inexpensive items and items that are potentially very valuable," Spence added. "People don't want to get duped."
---
Chuck Kaufman, autograph columnist for the Sports Market Report, is also editor of Sweet Spot magazine, a bimonthly publication devoted to vintage and autographed sports memorabilia, and www.sweetspotnews.com.