vividly remember opening up a box of Topps Chrome baseball cards in 1998 and getting my first Troy Glaus rookie card. The reason I can so clearly recall this event is that at the time, Glaus was supposed to be the "next coming" of Mark McGwire. His resume and statistics did nothing to discourage this moniker, as at 6'5", 220 pounds, he had already broken McGwire's Pac-10 homerun record while at UCLA (McGwire attended rival school USC), and was the key slugger on Team USA in 1996, just as McGwire was twelve years earlier.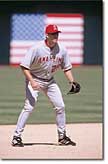 Now as any player will tell you, being compared to a legendary slugger such as McGwire becomes more of a handicap than a compliment, as the pressure to succeed can become overwhelming. In this case, however, Troy Glaus has taken it in stride and has become one of the top batsmen in Major League Baseball.
One of the good things about playing for the Angels, is that should he stay with the team for the next few years, he will have a great shot at holding every team power record in the books. This may sound like a slam on the mediocre teams that the Angels have fielded over the years, but in actuality it's a testament to the amazing potential that Glaus contains. Just for example, after only playing two full years, Troy is already 10th on the Angel's all-time homerun list.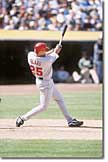 What is even more impressive about Glaus's homerun figures (47 in 2000, 41 in 2001) is that he has done so without much protection from the rest of the lineup. The Angel's purchased the contract of free agent homerun hitter Mo Vaughn to help shield Glaus in the lineup, but Mo ended up being on the disabled list more often than your average 'toughman' contestant. Erstad has struggled the last two years, Salmon appears to be "done," and Garrett Anderson is just starting to show some power, so Glaus has essentially had to "go it alone."
Troy's best rookie card is the 1998 Leaf Rookies and Stars card which is currently valued in the $600 range in a gem mint condition. This, like the 1985 Topps McGwire rookie, will be the card that true Glaus aficionados will want to have in their collection. Other noteworthy Glaus rookies are the Bowman Chrome, Topps Chrome, Donruss Signature, and Fleer Update. Many collectors of Glaus cards and memorabilia drool at the thought of Troy heading to a team like Boston or the Yankees where Glaus would truly be able to shine in a large media market (sorry Anaheim, even though you are in So Cal you don't qualify as a viable media market). A move such as this would create renewed demand for his memorabilia, and prices would more than likely go through the roof.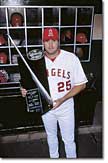 The collecting hobby has always had a soft spot for players that can hit a baseball into next Thursday, and Troy fits this bill perfectly. If he were to stay on this same homerun pace, he would reach the 500 HR plateau right around the year 2014.
Aside from Troy Glaus, here are some other power hitting "can't miss" prospects who were supposed to be the "next McGwire."
1) Jim Thome - Big, strong, hits homers in bunches but also strikes out often and doesn't hit for average.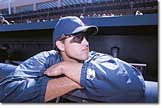 2) Ryan Klesko - Started off slowly with the Braves, but has now blossomed into a great all-around hitter and player. Doesn't hit enough homers to even be mentioned in the same breath as McGwire.
3) Gabe Kapler - bodybuilding monster with good power, but has yet to live up to his billing.
4) Russell Branyan - Hit's homeruns in bunches, but unfortunately strikes out more than Rodney Dangerfield at a singles bar.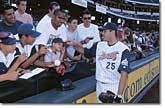 5) Adam Dunn - Looking good so far, but has a long road to hoe, especially playing for the Reds.
Overall, the future looks very bright for the talented young slugger. And, as of this writing, the Angels have started to win some games, and attendance in their beautiful ballpark is increasing with every game. Will the Angel's make the playoffs? It's anyone's guess. They seem to have an inexplicable knack for falling apart down the stretch, but hopefully they can keep it together this year and do parent company Walt Disney proud. But regardless of how the team performs, we baseball fans can take solace in the fact that we will get to see Troy "going yard" for a great many years to come.