By Joe Orlando

Barry Titton
Obstetrician


One of Barry's favorite items,
a 61 Yankee Display
Barry Titton collects just about everything. From baseball to basketball, from astronauts to rock and roll stars, Titton has a miniature museum of American culture on the second floor of his house. When he is not tending to his patients, Titton tends to his ever-growing collection. He was kind enough to spend some time with us at SMR and talk with us about his expanding collection.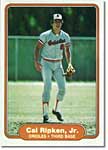 Ripken has played a big part in Barry's collection
SMR: When did this all start for you?
BT: About 20 years ago, I decided to start seriously collecting. My son was very young at the time. I thought it would be great to share collecting with him and, really, be able to give him something to remember me by. We would go to shows, games and signings. In fact, at one of the shows we attended, I was able to meet with an artist who had done some work for me on a Mark McGwire replica jersey years ago. I was just looking through his portfolio and there it was, the McGwire jersey and my first dealing with him. Since then, I have added a few other hand-painted jerseys as well like Vince Carter, Kobe Bryant and Michael Jordan.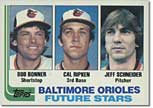 Barry made it to Cal's historic 2131 game
SMR: What is the focus of your collection?
BT: My focus? I don't have one. (laughs) I collect autographs and game-used equipment from all sports and I always make sure that I buy from the most noted people in the business. I have things like game-used bats including a rookie-era gamer of Greg Maddux, a Nolan Ryan bat, a Derek Jeter bat and 1998 bats of Mark McGwire and Sammy Sosa. I also collect autographed replica bats from members of the 3,000 Hit Club and 500 Home Run Club amongst other things. I have team-signed items like a 1998 and 1961 Yankee team signed displays. In sports, I also enjoy collecting statues like Salvinos and Sports Impression figures. I have a few Salvinos that actually come with a signed cut as well like Ty Cobb, Babe Ruth and Lou Gehrig. Finally, I have lots of sports artwork like Neiman lithographs of Shaquille O'Neal, Ken Griffey Jr., Roger Clemens and Pete Rose. There's a lot of stuff here.

Barry owns numerous Ripken items
SMR: If you had to choose, which may be difficult, what are some of your favorite items?
BT: One particular item really stands out in my mind. Pinnacle, the former card manufacturer, produced some limited edition sets several years ago. I have 30 of these sets and they are all signed by Joe DiMaggio and Mickey Mantle. The sets are great. I also have a Cal Ripken game-used bat from 1987 with great use. A very unique piece that I own would be my 1967 autographed Philadelphia 76ers basketball. It was signed at one of their reunions years ago. Last but not least, I have a few game-used baseballs from Mark McGwire's 1998 record-setting day. They come with letters from Dave Parker and are really special to me. I just have so many different things.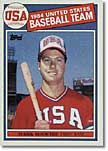 Barry owns a hand painted McGwire jersey
SMR: What collecting experiences stick out in your mind?
BT: There are two. First, I remember going down to Camden Yards for Cal Ripken's historic night in 1995. I didn't even have a ticket. I eventually bought one but it turned out to be fake, I realized that when there were about 15 people all claiming the same seat at the game. (laughs). After the police almost took me away, I was able to work my way down to a very close seat near the 3rd base line. No one ever came to claim this one! I was eventually able to buy an unused ticket from another fan (the stadium embossed the tickets at the game), a whole slew of papers from the next day and a ball used at the game and signed by the whole grounds crew including Cal himself. It was a great game and I will cherish that memory for a long time.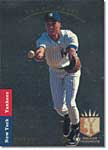 Autographed Jeter items are on Barry's list
The second story comes from a minor league experience last year. Ozzie Canseco, brother of Jose Canseco, was playing in an Independent Minor League system called the Atlantic League out here on the coast. I went to one of the games and asked Ozzie if I could have one his bats if he cracked it. I also knew that Ozzie, at the time, was using Jose's model bats from his time with the Devil Rays. Ozzie came up to me the very next day and handed me a Jose Canseco model bat and said with a smile, "Don't ever tell anyone that the Canseco brothers are not nice guys." It was great. I am currently trying to get Jose to sign the bat. It was a great experience.


A game-used ball from Ripken's historic night
SMR: Where do you plan on going from here?
BT: Well, you would think that I would have plenty of room to display these things in a 6,000 square foot house but I have already run out of wall space and room. (laughs) Our house is 3 stories high and I told my wife that she could have the entire downstairs area but that's where the boundary line ends for her and begins for me. (laughs) This hobby is so great because you get to meet a lot of really nice people, people who share the same collecting desires as you do. I will continue to seek out oddball items despite my lack of space. It's been a lot of fun.
---
Would You Like To Be Featured In Our Magazine?
If you are a collector of sports memorabilia or cards and would like to be featured in our monthly column entitled "Collector Profile," please fill out the form below and a member of our staff will personally contact you. We feature collectors with all types of interests and collections of all different sizes. It doesn't matter if your collection is worth $2 or $2,000,000; we would like to talk to you. If you have any questions, feel free to call me at 800-325-1121 ext. 170 or email me at [email protected] The staff at Sportscard Market Report would like to thank you for your time and we look forward to hearing from you.
Sincerely, Joe Orlando - Editor
Name:
Phone Number:
Age:
What Do You Collect:
---