By Charles Kaufman
ne of the best bargains in the field of autographed baseballs is the All-Star team ball. Players who sign these souvenirs are arguably the best players of a given time in a given season. They may be perennial stars or flashes in the pan.
Oh, sure, All-Star team-signed balls may not have the history and emotional attachment that come with a ball signed by a World Series champion. This shortcoming, though, makes these items more affordable than, say, a 'ball signed by the '55 Dodgers, the '60 Pirates, the '61 Yankees or the '69 Mets.
A ball from the inaugural All-Star Game in 1933 and other early All-Star games, particularly, does assume a special meaning. After all, they were the first. They are rare, so if the supply of them surges with the release of this edition of SMR, you can darn well bet they're bogus.
All-Star games have enjoyed their memorable moments. Even the casual baseball history enthusiast knows that Carl Hubbell in 1934 struck out six straight batters in his appearance, guys with such names as Ruth, Gehrig, Foxx, Simmons, Cronin and Gomez.
This brings to mind one of the wonders of the All-Star team-signed baseball. They tend to have the names of ball players who have a shot at the Hall of Fame. Well, maybe not Pete Rose - oh, don't get me started - even though his collision with Ray Fosse was one of the most memorable All-Star Game moments. World Series teams may have three to five players who ultimately enter Cooperstown. An All-Star team ball tends to have at least a few more who, in time, will make it.
Hank Aaron hit a home run in the 1972 classic
With free agency bouncing star players like lottery balls, All-Star Game balls are gaining appeal. An official 1997 All-Star Game ball from that year, with the signatures of Mark McGwire, Sammy Sosa, Pedro Martinez, Tony Gwynn, Jeff Bagwell and Barry Bonds sold for $1,026. An American League All-Star Game ball signed by McGwire, Ken Griffey Jr., Cal Ripken Jr., Joe Torre, Alex Rodriguez and Roger Clemens sold for $853; a National League '97 ball signed by Bonds, Tom Glavine, Chipper Jones, Pedro Martinez, Craig Biggio and Gwynn sold for $360.


The program from the 1979 All-Star Game
Another plus for All-Star team-signed baseballs is that they seldom, if ever, are tainted by clubhouse signatures. Even Mickey Mantle and Ted Williams, notorious for letting attendants do their handiwork in the 1950s, took time to sign All-Star game balls.
Jim Spence, an authenticator with PSA/DNA, notes that the players "really only have two days to sign them. It would be far more difficult for a forger to try to master all of those signatures. What's more, the small window of time really speaks to the rarity of All-Star team-signed balls." It's uncertain how many dozens of All-Star team balls are signed by the players in that short span of time. Typically, a gross of baseballs, that's 12 dozen for you math brains, is signed by World Series teams.
· · ·
Major League Baseball, now dispensing select autographed sports memorabilia items through its website (mlb.com), will likely offer game-used items from this year's All-Star game in Seattle. The league works through its four licensees - Steiner Sports, Tri-Star Productions, Mounted Memories and Upper Deck Authenticated - to help produce such items.


This game was played during a strike year
Joe Grippo of Major League Baseball acknowledged that because Derek Jeter was the game's most valuable player last year. They were able to work with Steiner Sports to get items autographed. Steiner has an exclusive deal with Jeter. In much the same way, Tri-Star is connected with Roger Clemens, Mounted Memories with Todd Helton and Upper Deck Authenticated with Ken Griffey Junior.
So far, the league has offered signed, game-used baseballs and game bases. Grippo said he's hoping that deals can be struck with the licensees to offer game-used jerseys, some of them possibly signed, from this year's All-Star game.
· · ·
All-Star game collectibles surface in major auctions. However, they are neither as prominent nor as plentiful as other collectibles, so collectors have to be on their toes in searching for them.
What collectors will find are items full of wonderful baseball lore. For example, by the time the game reached its 50th anniversary, only a dozen players from the inaugural game were still living. Concurrent with the 1983 All-Star game, the Postal Service released a stamp commemorating Babe Ruth, showing the Bambino, eyes skyward, following through on a swing which gave the world the adjective "Ruthian."


The American League won this year's classic
A number of memorabilia dealers took advantage of the time to create First Day Covers. One dealer produced 120 sets of commemorative cachets, using the Ruth first day issues to honor each of the 12 surviving players, many of whom who were in Chicago for the 50th anniversary game. Resourceful owners of these sets subsequently obtained players' signatures.
A set of these envelopes, signed by 11 of the 12 survivors, sold for $250 in a recent auction organized by Lew Lipset of Carefree, Ariz. The 11 players who signed the cachets were Tony Cuccinello, Woody English, Sam West, Ben Chapman, Dick Bartel, Carl Hubbell, Charlie Gehringer, Rick Ferrell, Bill Terry, Bill Dickey and Hal Schumaker.


Bo Jackson hit a titanic home run in this game
A ball signed by the 1939 All-Star team failed to meet its reserve during a recent auction held by David Hunt. The '39 game was the first such game at Yankee Stadium and took place a week after Lou Gehrig bid farewell to baseball as "the luckiest man on the face of the earth." Yet, Gehrig was an honorary member of the American League team that year and signed this ball with 17 other members. The '39 team ball is clearly a rare item. Such baseballs with Gehrig's signature are virtually nonexistent.
Among others on the ball were Jimmie Foxx, Joe DiMaggio, Gabby Hartnett, Bill Dickey, Hank Greenberg and Red Ruffing. Walter Johnson, always a spectator during these first games in the '30s, also signed the ball.


This ball was signed at Wrigley Field in 1990
A Hunt sale in August will feature American League All-Star team balls from the 1971 and 1972 game.
· · ·
Also by the 50th anniversary, the collectibles market had found a new gear. Major League Baseball began using baseballs with a logo that commemorated that year's game. Thus, a new product hit the shelves - the All-Star baseball. Today's All-Star team balls are typically signed on these spheres, and collectors buy them by the case with the goal of obtaining signatures of All-Star players.


The program from the 1992 Classic
Even players whose careers were distinguished by their All-Star status in one or a slew of games are desireable on such baseballs. Thus, there's another reason to obtain the signatures of, say, Graig Nettles, Dave Stieb, Julio Franco or Kevin Appier. Obviously, a bunch of players, many of them lesser known, fit into this category.
· · ·
All-Star game programs have their own history in the context of collectibles. Unlike today's glossy objects, programs in the first decade of the game lacked All-Star game markings. The cover was used during the rest of the year by the host team. Only the scorecard inside showed American and National Leagues on their respective halves.


Texas was the site for this year's game
Alan Getz, a dealer in programs says the 1936 (Boston Braves) and 1942 (New York Giants) programs are the rarest and, depending on condition, sell for $2,500 to $5,000. Programs from the inaugural year attract attention and about $1,000 to $2,500. "For some reason, a lot of the '33 programs you see have creases in them," he said. "Also, there were unofficial programs produced, one of them by a clothing store in Chicago, which basically had a scorecard and advertising promoting its own business. There are three unofficial programs from that year that I know of, and because they are associated with the first game they sell for around $500, depending on condition."
One such program recently sold in a Ron Oser Enterprises sale for $465. A group of 40 programs from 1956 to 1996 sold in the same MastroNet auction for about $1,200.


This ball was signed at the 1997 All-Star Game
The program from the '61 All-Star game is rather rare. The game ended in a 1-1 rainout and many programs were ruined by the elements. Getz says good copies sell in the $300 to $400 range.
· · ·
Collectors recently saw a group of unsigned vintage All-Star tickets sell at auction. Half of a ticket from Arch Ward's first classic at Comiskey Park, won 4-2 by the American League, sold for $943. A stub from the second game, held at the Polo Grounds, sold for $585. A stub from the '36 game, bearing mugs of Landis, Frick and Harridge, sold along with a stub from the '37 game at Washington for $363. The '36 game marked the first victory by the National League.


A great program from baseball's summer classic
Lipset said he he will offer a full 1933 All-Star game ticket in one of his two auctions in 2002. It is one of only two known to exist.
Another unsigned, but equally collectible item, from the All-Star game are press pins. Such pins were introduced at the sixth All-Star game at Crosley Field in 1938. Such a pin sold in Lipset's auction recently for $1,950.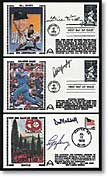 A small group of collectible All-Star cachets
· · ·
Collectors need to remember that these collectibles started as mere souvenirs. Fans attending All-Star games are advised to hold onto their tickets and keep a program. Today's tickets are designed as collectibles. They are great keepsakes and, like a lot of game-related items, will embody a lifetime of personal memories.
In the future, you may be in a position to get the program, ticket or All-Star ball signed by some of the game's participants. These items stand a great chance to survive cross country moves and spring cleaning. So, the supply will be great. Thus, the autographs added to them will enhance their value.