By Chuck Kaufman
utograph collectors are enamored with those athletes who are a cut above their peers. They prove that on game day they can consistently be all that they can be - Tiger Woods, Michael Jordan, Jerry Rice, and Alex Rodriguez.
There's a breed of athletes, however, that's even more rare than Woods, Jordan, Rice and Rodriguez. It's the professional athlete who serves his country during times of war. Before the most powerful military in history became a volunteer force, many pro athletes took prime time out from their careers to serve the country. And they weren't leaving behind whopping salaries to do so either. Imagine today's superstars stepping up to the real plate.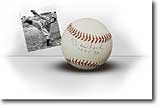 Warren Spahn is baseball's winningest lefty, but he's also the only major leaguer to earn a battlefield commission.
Maybe there are certain players you should have in your autograph collection because they are doubly heroic. Perhaps you added Ted Williams' autograph to your collection because of his greatness on the diamond, his 521 homers or his fabled .406 season. Williams won the Triple Crown in 1942, then fought in World War II during the next two years. At 34, he was even called back into service during the Korean War and flew 39 combat missions for the Marines. He even survived two crash landings.
Maybe you added Hall of Famer Bob Feller's autograph to your collection because of his 100 mile an hour fastball or his six 20 or more win seasons or his 2,581 career strikeouts. Maybe you didn't know that Feller enlisted in the Navy at age 23 the day after the Pearl Harbor attack. He had already won 107 games in his career. He worked on the deck of the battleship Alabama and earned six battle citations as a gun crew chief. He missed almost four years during the prime of his career.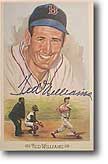 Ted Williams won the Triple Crown in 1942, then fought in World War II and Korea.
Perhaps you acquired Warren Spahn's autograph as baseball's all-time winningest left-handed pitcher. But maybe you didn't know he was an infantry sergeant who became the only major leaguer to earn a battlefield commission. Heck, even Yogi Berra saw action in the Navy during the D-Day invasion. 'Shoulda unleashed some Yogi-isms on the enemy. The war would have ended sooner. Many major leaguers and Hall of Famers served their country during World War II.
After becoming UCLA's first four-sport letterman, Jackie Robinson went to the Army's Officer Candidate School and was court martialed, later acquitted, for refusing to sit in the back of a bus. Of course, he would become best known for breaking baseball's color barrier and went on to become one of the game's greatest players and ambassadors.


Enos Slaughter also sacrificed prime time in his career to serve his country.
Footballers pitched in the war effort as well, notably Paul Brown, Paul "Bear" Bryant, Otto Graham, Art Donovan, Pete Dawkins, Bobby Layne, Doak Walker; and among boxers, Joe Louis, Barney Ross and Gene Tunney.
Jesse Owens whipped the world at the 1936 Summer Olympics in Berlin in front of Hitler, then would become an Army Captain in World War II. He won gold in Germany, but when he came home victorious after the war, he couldn't even win a job.
Autograph collectors looking for a double dose of heroes in compiling this autograph niche may want to consider athletes who did something that goes beyond the comprehension for today's professional athletes - sacrifice for their country. Gives you pause, doesn't it? Next time you use the word "hero" for people playing games for a living, give some thought to who's sacrificing.


Roger Clemens gained great respect for the men and women serving in the Middle East and earned more respect by recently visiting them.
He didn't join a company or platoon, but Roger Clemens, the Yankee pitcher who knows something about throwing bullets, talked baseball, signed countless autographs and just hung out with American troops in Afghanistan and elsewhere in the Middle East before returning home to prepare for the current season. He told television reporters he was inspired and genuinely humbled by the courage, commitment and maturity of the young men and women there. Hopefully, Clemens' action will serve as an example to other pro athletes. . . . As if you needed another reason to add the Rocket's autograph to your collection . . . .
The NBA saluted retiring center David Robinson for his career and the style in which he played the game and conducted himself. It's certainly conducted befitting a Navy man. Robinson, the 10-time NBA All-Star, two-time Olympian, league MVP in 1995, Rookie of the Year and two-time All-America winner from Navy, will be much in demand as a signer. Always great with fans, the Admiral should become a show guest fixture, if he first doesn't become one of the good guys who meets mail requests. And speaking of the Navy, we hear that Roger Staubach, the '63 Heisman winner from the Naval Academy and Dallas Cowboy great, has been known to pick up the tab during business lunches, but at least one eating establishment chose to keep his signed receipt than to file the charge slip.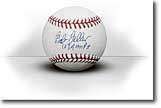 Bob Feller threw bullets on the mound, then joined the Navy the day after Pearl Harbor and served on the battleship Alabama.
Lebron who? Faced with the top lottery pick, NBA executives have to consider Carmelo Anthony, who proved (against very good college competition) that he is already playing at the next level. Plus, he seems to have Lebron James whipped when it comes to the personality profile. Heck, he had the smarts to step on a college campus for a year.
Once again, medium rare is tastier than rare, even though both talents, in terms of prime beef, are cuts above, Grade A. Autograph hounds, no doubt, will be clawing for their autographs.
---
Chuck Kaufman, autograph columnist for the Sports Market Report, is also editor of Sweet Spot magazine, a bimonthly publication devoted to vintage and autographed sports memorabilia, and www.sweetspotnews.com.