Rare Cards and Unique Memorabilia Shine In Latest SportsCards Plus Auction
Laguna Niguel, CA – The competition was fierce for the majority of the 368 lots of top quality Sports Cards and Memorabilia offered in SportsCards Plus' recently concluded auction. When the dust finally settled, some very strong prices were realized across the board reaching an impressive total of $873,971. As usual, some significant rarities in many different categories reached levels that far exceeded the company's highest expectations. The most notable of which was a unique Folk Art Baseball Bench made from game used bats and autographed baseballs from the 1920's-'40's that brought a remarkable $38,073.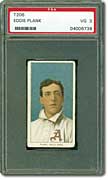 At the forefront of the card portion of the sale was a supremely rare 1888 WG1 Baseball Playing Card Complete Set. The 72-card set, one of only four or five known, sold for $36,694. A fully graded 1909-11 T206 set (minus the "Big 3" and Doyle variation) in about Vg/Ex condition brought $37,146. Other important 19th Century, Pre& Post-War Sets that found new homes included, 1887 N28 Allen & Ginter – Gd/Vg ($5,423), 1911 T205 Gold Borders – Gd/Vg ($7,132), 1952 Topps – Gd/Vg ($18,688), and 1953 Topps – Nm ($11,214).
A slew of high-end singles got a lot of attention including: W600 Napoleon Lajoie Sporting Life Cabinet ($3,597), 1909-11 T206 Eddie Plank PSA 3 VG ($12,245), 1909-11 T206 John McGraw w/ Cap PSA 8 NM-MT ($2,669), 1933 Goudey #5 Babe Herman PSA 8 NM-MT ($5,106), 1933 Goudey #160 Lou Gehrig PSA 8 NM-MT ($14,816), 1934 Goudey #37 Lou Gehrig PSA 8 NM-MT ($16,447), 1941 Play Ball #18 Hank Greenberg PSA 9 MINT ($12,816), and a 1951 Bowman #253 Mickey Mantle PSA 7 NM ($7,394).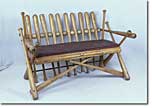 In addition to enhancing their longstanding reputation as a premier seller of high-end sports cards, SportsCards Plus has quickly established themselves as a leading auctioneer of quality memorabilia. The results speak for themselves, including: a 1911 Christy Mathewson Tuxedo Tobacco Advertising Sign ($8,133), 1928 New York Yankees Team Signed Ball Signed by Gehrig Twice ($9,937), Hank Greenberg Single Signed Baseball ($3,745), 1945 Joseph Paul DiMaggio Jr. Signed Life Insurance Documents ($5,423), Rare 1955 Dodgers/Yankees World Series Pennant ($5,750), Roberto Clemente Bobbin' Head Doll ($2,745), 1976 Cincinnati Reds Team Signed Baseball ($2,981), Walter Payton c. 1985 Chicago Bears Game Used Home Jersey ($12,325), and a Michael Jordan 2001 Washington Wizards Game Used Road Jersey ($7,458).
SportsCards Plus Auction Director Dan Imler summarized the event by stating, "We are very pleased with the overall results of the Auction. It confirms our belief that the health of the market is generally strong. Quality material continues to perform well when properly presented in a balanced, reasonably proportioned auction."
SportsCards Plus will follow up this highly successful auction event with another major auction scheduled for August 14, 2003. The company is actively seeking consignments for this sale. For more information on SportsCards Plus and their auctions please visit www.sportscardsplus.com or call 1-800-350-2273.
High-Grade Rarities and Memorabilia Highlight Superior Sports Auction
With a vast assortment of high-end PSA stars, commons and unique sports memorabilia, Superior Sports closed with $863,000 in bidding. In addition to various key cards throughout the sale, Superior offered tremendous groups of 1948 Bowman basketball and 1961 Topps baseball cards – a run of over 300 blazers. Always known for exceptional sportscard offerings, Superior has also slowly been building their memorabilia offerings and it was evident during this sale. The Amon Carter collection, which included an incredible array of tickets and press pins, caught the attention of many bidders. A 1909 World Series Full Ticket sold for $4,370.
Here is a quick peek at some of the other highlights:
Item and Price Realized
1) PSA NM 7 1948 Bowman Basketball George Mikan $5,371
2) PSA Mint 9 1961 Topps Bill Mazeroski $891
3) PSA Mint 9 1061 Topps Phil Rizzuto MVP$949
4) PSA NM 7 1935 National Chicle Bronko Nagurski $7,763
5) PSA Mint 9 1949 Bowman Roy Campanella $6,038
6) PSA Mint 9 1950 Bowman Bob Feller $9,028
7) PSA Mint 9 1955 Topps Jackie Robinson $5,808
8) PSA NM 7 1924 Willard Chocolate Ty Cobb $2,881
9) PSA NM-MT 8 1949 Bowman Bob Swift $4,715
10) PSA NM-MT 8 1953 Bowman Marty Marion $2,645
11) PSA Mint 9 1962 Topps Rocky Colavito $1,438
12) PSA Mint 9 1965 Topps Joe Morgan$1,840
13) PSA Gem Mint 10 1972 Topps Harmon Killebrew In Action $1,150
14) PSA NM-MT 8 1962 Topps Johnny Unitas $2,070
15) PSA Mint 9 1957 Topps Basketball Guy Sparrow $1,754
16) PSA Mint 9 1971 Topps A.L. Home Run Leaders $891
17) PSA Mint Gem Mint 10 1971 Topps Bert Campaneris $1,610
18) PSA NM-MT 8 1968 Topps Baseball Set $12,650
19) PSA High-Grade 1964 Topps Giants set $4,945
20) 1927 World Series Press Pin $5,750
21) 1923 World Series Full Ticket $4,255
22) 1919 World Series Ticket Stub $2,070
23) (2) 1927 World Series Full Tickets $1,955
24) 1909-30 World Series Ticket Group $5,635
25) 1927 Babe Ruth Signed Baseball $7,763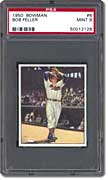 "Superior is proud to have again fairly offered to collectors an incredible array of cards, memorabilia and collectibles," explained Chris Porter, President of Superior Sports. "These prices represent the underlying strength of the card market. Compared to anytime in the last three years, now is a good time to be selling sportscards."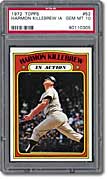 "This is the first time in 15 years that 'The National' will be held on the East Coast, so in addition to our normal, wide-range of auction items, we will place special emphasis on vintage New York material," said Porter. "We already have more than a half-million dollars worth of sports cards and sports memorabilia scheduled for this auction, and we accepting additional consignments until May 23."
One of the highlights already consigned is a one-of-a-kind 1952 Topps Bobby Thomson card graded PSA 10. Thomson was the hero who hit 'the shot heard' round the world' to win the 1951 National League pennant for the New York Giants. The card's pre-sale estimate is $15,000 to $18,000.

"We encourage collectors to make plans now to attend The National in Atlantic City, New Jersey this summer," said Porter. "Ticket and other general information on The National is available on their web site at www.natlconv.com".
Make plans now to attend Superior's LIVE AUCTION to be held at this year's National Sports Collectors Convention in Atlantic City, NJ. Offered will be another tremendous assortment of quality cards and memorabilia.
Steve Garvey Rookie Stuns at Andy Madec Auction
Andy Madec held one of his traditional high quality auctions recently and, of course, strong prices were once again not uncommon. There was one card in particular that stood out from the rest, not because it sold for six figures, but because it exemplified the strength in the market for tough, high-end cards of this nature. I am talking about a PSA 9 Mint 1971 Topps Steve Garvey rookie card – a card that sold for $1,354!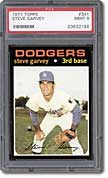 "There were a host of new bidders who participated in this auction and the final prices reflected a healthy market with much optimism and confidence," Andy Madec commented. "Aggressive bidding on rarities and obscure issues is proof that this is a market ready to expand. Collectors are not merely collecting the mainstream issues anymore; they are looking to assemble the sets that other collectors are overlooking at the moment. People are confident purchasing cards and memorabilia at current levels and I see only positive signs for the future."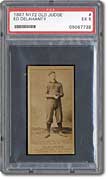 Andy Madec's next auction is scheduled for September/October 2003.
Here is a quick peek at some of the other highlights.
Item and Price Realized
1) PSA 5 EX 1887 N172 Old Judge Ed Delahanty $5,184
2) PSA 5 EX 1922 E121 American Caramel Babe Ruth $1,576
3) PSA 8 NM-MT 1914 Cracker Jack #66 Nap Lajoie $6,274
4) High Grade 1904 Fan Craze A.I. Complete Set (52) With Original Box and Accessories $11,500
5) PSA 4 VG-EX 1910 E98 Set of 30 Hans Wagner $1,504
6) PSA 4 VG-EX 1910 E98 Set of 30 Ty Cobb $1,504
7) PSA 4 VG-EX 1911 D304 Brunners Bread Ty Cobb $3,230
8) PSA Mint. T206 Germany Schaeffer $1,854
9) PSA 3 VG 1923 E123 Curtis Ireland Candy Ty Cobb $2,147
10) PSA 9 Mint T206 Iron Man McGinnity $5,191
11) PSA 8 NM-MT Small Hoard of High Grade T206 White Border Tobacco Cards (22) all $9,503
12) PSA 8 NM-MT 1933 DeLong #4 Bill Terry $2,287
13) PSA 8 NM-MT 1933 Goudey #13 Frank Frisch $1,264
14) PSA 8 NM-MT 1941 Play Ball #21 Charlie Keller $700
15) PSA 7 NM T206 White Border Collection (8) all $2,310
16) PSA 9 Mint. 1957 Topps #312 Tony Kubek $1,390
17) PSA 8 NM-MT 1957 Topps #407 Yankees Power Hitters $1,735
18) PSA 9 Mint. 1959 Topps #81 Hal Jeffcoat $389
19) PSA 9 Mint. 1959 Topps #135 Gene Oliver $472
20) PSA 9 Mint. 1959 Topps #143 Willie Tasby $629
21) PSA 9 Mint. 1959 Topps #348 Ted Lepcio $519
22) PSA 9 Mint. 1959 Topps #356 Bob Mabe $354
22) PSA 10 Gen-Mint 1961 Topps #49 NL Strikeout Leaders $2,244
23) PSA 9 Mint. 1959 Topps #412 Stan Lopata $472
24) PSA 9 Mint. 1959 Topps #501 Bobby Tiefenauer $439
25) PSA 9 Mint. 1959 Topps #555 Bill Mazeroski AS $629
26) PSA 9 Mint. 1967 Topps #600 Brooks Robinson $1,909
27) PSA 10 Gem-Mint 1968 Topps #72 Tommy John $629
28) PSA 10 Gem-Mint 1968 Topps #480 Managers Dream $2,468
29) PSA 9 Mint 1969 Topps #120 Pete Rose $636
30) PSA 10 Gem-Mint 1974 Topps #250 Willie McCovey (Wash.) $847
31) PSA 10 Gem-Mint. 1977 Topps Cloth Stickers #41 Mike Schmidt $439
32) PSA 10 Gem-Mint. 1979 Topps #204 Pete Rose (Record Breaker) $693
33) PSA 9 Mint. 1958 Topps #120 Raymond Berry $924
34) PSA 9 Mint. 1963 Parkhurst #55 Gordie Howe $1,854
35) PSA 9 Mint. 1971 O-Pee-Chee #133 Marcel Dionne $1,805
36) PSA 9 Mint. 1961 Topps #1 Johnny Unitas $932
37) PSA 8 NM-MT 1966 Philadelphia #31 Dick Butkus $1,129
38) PSA 9 Mint. 1966 Philadelphia #32 Mike Ditka $629
39) PSA 9 Mint. 1969 Topps #120 Larry Csonka $847
40) PSA 8 NM-MT Incredible 1956 Topps Baseball Partial Set All $15,700
41) High Grade 1961 Fleer Football Complete Set (220) $2,795