ven if you never cared a bit about wrestling, if you were in any way conscious during the 1980s, you were familiar with World Wrestling Federation stars such as Hulk Hogan, Randy "Macho Man" Savage, Andre the Giant, Rowdy Roddy Piper, Jesse "The Body" Ventura and the man who ring mastered the WWF circus, Vince McMahon.
Drew Westmore, a public relations specialist from Piscataway, New Jersey was more than just familiar with those names, to him the WWF stable of stars were characters who totally intrigued him, albeit more for their entertaining personas than their athletic abilities.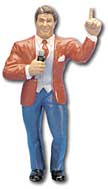 This Vince McMahon figure is valued at over $40 if in its original package.
Between 1986 and 1989, LJN Toys Ltd. put out a line of WWF figurines. These mini versions of their larger-than-life inspirations pile drove their way into Westmore's heart, and, unlike so many collectors, he was savvy enough to always buy two – one to open and display, another to tuck away, sealed in its original package.
SMR: As a collector of WWF figurines, readers will probably be surprised to hear that you were really never much of a wrestling fan. Can you explain?

Hulk Hogan Figures have always been popular and can fetch over $200.
DW: I was never a fan of wrestling per se. I was however a big fan of the wrestlers themselves. To me they were great entertainers. I was fascinated with how they invented their personas and I really saw the WWF as more of a soap opera for guys than a sport. Each one of the guys had their own thing going on. Some were heroes and others were villains, and there was this whole story line that was created around them. I have always been intrigued by the way people and organizations generate publicity, which is why I went into public relations. When you look at Vince McMahon, you are looking at a guy who was a master at merchandising and at generating publicity. He was the P.T. Barnum of his day.
SMR: So when did you first begin collecting these figurines?
DW: I was in college during the height of the WWF and at that time you would have had to have been tied up in a cave not to have noticed the craze. The WWF was really big in the mid to late 1980s and there was a group of guys who I went to school with who got a big kick out of all the different WWF characters. We would sit around in the dorm on Saturdays and watch them and do imitations of them, so when the figurines came out, we originally got them for one another as gag gifts. I thought they were really cool and I also thought that they had value as a collectable, so I bought every one they put out and I always bought one to keep sealed.


The Macho Man and Elizabeth are valued at around $30 loose and over $100 if packaged.
SMR: Not many people thought to do that back in the '80s. What gave you such foresight?
DW: There was one guy who I had grown up with who had always been a big collector of all sorts of things – Star Trek, Rock 'n Roll memorabilia, Universal Monsters stuff, trading cards, autographs – just a bunch of different things. He would buy stuff and never open it. It was wild. He had his whole basement filled with all sorts of toys that were totally pristine in their box. So, maybe he was ahead of his time, but that's what made me aware of the fact that keeping things unopened would potentially add to their future value.
SMR: So have these figures proved to be valuable?
DW: If they are loose you can almost bet that they are in pretty rough shape. I have been collecting these figures for over fifteen years and have hardly ever found a loose figure in mint condition. Loose, they have a current value between $10 and $90 depending on the wrestler. The Hulk Hogan figures are very desirable as are the British Bulldogs and the Ultimate Warrior. But, if they are still in the package and in mint condition the price zooms. Packaged LJN WWF Wrestlers are extremely rare and are valued up to $500.

Westmore had the foresight to keep an entire set of his figures in their original packages. He estimates his collection to be worth close to $6 thousand dollars.
SMR: Which ones are the most valuable?
DW: The Heart Foundation goes for over $500. The Strike Force goes for over $225 and the Ultimate Warrior can go for $300. I have a Brett Hart that's worth $325 and a couple different Hulksters that would go for over $200. Hulk is really the only popular figure that is over $200. The other ones that are very valuable today were the ones that weren't very popular so they didn't make many and not too many were bought.
SMR: Are there those you consider to be your personal favs?
DW: Oh sure. I really like the guys who were popular with us – Hulk, Andre the Giant Randy Savage and the beautiful Elizabeth, Captain Lou Albano, Vince McMahon, Mean Gene and of course, The Mouth of the South, Jimmy Hart.
SMR: Do you see these figures increasing in value as the years go by?
DW: It's always a gamble. Sometimes things hit a crescendo and then fade. I think these WWF figure have not hit that crescendo yet. The guys who grew up with the WWF are now mostly in their 40s which is when they start wanting to find stuff that they had as kids, and when they have the money to buy that stuff. So I think its looking good. I also think that there's a possibility that someday the Jesse Ventura figures will be very valuable. There was a bit of interest in them when he first became governor but then it subsided again. Even in mint condition a Ventura is only going for about $40 today, but I think in time that may be one that will become more valuable.