am frequently asked if I personally collect anything. The answer is yes. In fact, I have quite a few collections. The follow-up question is if I have a favorite. The follow-up answer is again yes. I began my favorite collection in 1968 and have never stopped adding to it. It is both a link to my childhood and a tribute to a man who has played a vitally important role in my life... Broadway Joe Willie Namath.


"I just liked his style," Laurell says of Namath.
My fascination with Namath began when he signed on with the New York Jets in 1964. While my father and grandfather were fans of the New York Giants, "my team" was the New York Jets. I was completely fascinated by the Jets' brash young quarterback. He was hip and cool. I liked his hair and his clothes. I liked the slow, slouched way that he walked. I like the cadence of the drawl he picked up while attending the University of Alabama. I just liked his style.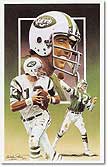 Hall of Fame quarterback Joe Namath played for the New York Jets from 1964 until 1975.
In 1968, when I was 10-years old, my father was diagnosed with terminal cancer. Needless to say it was a very difficult time for me, a time that saw me withdraw from the world around me. My father didn't live to see Joe guarantee the Jets' victory in Super Bowl III. He passed away just three weeks before "my team" was crowned the world champions in Miami's Orange Bowl. Immersing myself in the Jets' winning season helped me get through that most difficult time of my life. The excitement of seeing Joe and the Jets win the Super Bowl brought happiness to a little boy who wasn't sure if he would ever be happy again.
Without a father, the ensuing years saw me looking to Namath as a male role model. I admired the way he had stood up to the NFL commissioner in the dispute over his part-ownership of a restaurant called Bachelors III. I liked the way he effortlessly balanced brashness with charm. I liked the way he blended a healthy ego with a sense of humor and well-mannered unpretentiousness. I liked the fact that he had an immense fondness for two things that I would also come to greatly appreciate ... pretty blondes and Johnny Walker Red Scotch.
Over the years, I experienced a few exciting moments of placing only air between me and my idol. I attended every Jets home game from 1969 until 1975 (the year he left the Jets). After those games, despite being partially frozen, I always waited at Shea Stadium's player entrance in hopes of getting a handshake, an autograph or to hear him say "Thanks" to me when I would say "Great game Joe!"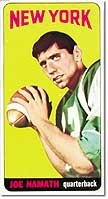 1965 Topps Joe Namath rookie card
Then, in June of 1996 my big day came. Joe was scheduled to appear at a collector's show in Anaheim, CA. In preparation for his appearance, I used my artistic skills to do a drawing of him, leaving a great big space for him to sign. I also had a print of the drawing made and framed to give to him.
When the big day arrived, I was the first on the scene. I anxiously paced in anticipation of his arrival. Then, there he was. I told him how much he had meant to me and he asked me where I was from. When I told him that I had grown up in New York and was a huge Jets fan, he did the most unbelievable thing. He took off his Super Bowl ring, handed it to me, and with a big smile said: "Remember when we won this?"

Only air between Laurell and his idol, Broadway Joe.
Well, let me be tell you, I wouldn't give up the memory of that moment for anything with the possible exception of the eradication of every known disease, hunger and eternal world peace, and even then I'd consider myself an unequaled martyr.
There I stood with Joe Namath's Super Bowl ring on MY finger. Two feet away stood Joe himself. We visited for a few minutes. I gave him the framed print and he signed my original drawing along with a Jets helmet. Needless to say, those two items are great treasures that are prominently displayed in my office.
This purpose of this feature is to show that no matter how much we treasure our tangible items, it is our memories and recollections that make up our most valuable collection. As much as I enjoy the hundreds of tangible items in my Namath collection, nothing will ever equal those few moments when Joe shared one of his most treasured possessions with me and in return gave me one of my most treasured memories.