To 1966 Topps Football enthusiasts, it's simply known as the "impossible card."
But while the Funny Ring checklist (#15) from this issue is often talked about, it's the final checklist (#132) that has stymied collectors.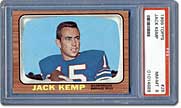 "It's the toughest card of the whole gamut of 1960s football," said Kirk Robinson, proud proprietor of the No. 4, 1966 Topps set on the PSA registry.
Art Miller, who has owned the registry's top three 1966 sets, shares similar sentiments.
"They're all off-center to the top and I mean severely off-center to the top," he said.
Further proof that this card is "impossible" to uncover in mint condition can be found in the PSA Population Report. Of the 52 submitted to PSA, no card has garnered an unqualified grade higher than PSA 7.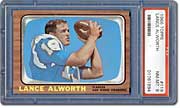 "If someone were to just get that in a straight (PSA) 8, there would be somebody out there who would pay $3,000 to $4,000 for that," said Robinson.
For a set that boasts singles of Joe Namath, Jack Kemp, Len Dawson and George Blanda, it's hard to believe that the checklists are three of the most valuable cards, but that's the case with 1966 Topps football.
Distributed in wax and cello packs, the 132 American Football League cards in this offering are grouped and numbered by teams. The card fronts feature players pictured in a TV set, similar to 1955 Bowman Baseball and wood-grain borders resembling 1962 Topps Baseball. Also showcased on the card fronts are the player's name, team and position. The backs include biographical data, a cartoon and statistics.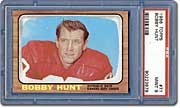 "I was born in '61, so '66-67 was the first time I remember collecting," said Miller about the 1966 set's appeal for him.
Paul Lemm, who owns the registry's No. 13 set, is partial to football sets like '66 Topps because they have fewer cards in them than baseball sets. He also likes the design of the issue.
"First of all, it had Joe Namath's second-year card," explained Lemm about the 1966 set. "Second of all, the design was kind of neat."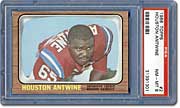 David Glickfield, who has assembled the No. 5 set on the registry, concurs.
"I like the design and it's deceptively hard to find in high-grade," he said.
Robinson agrees, "A lot of people think, 'Oh gosh, there's only 132 cards to collect. It can't be that tough.' . . . Putting a set together in all (PSA) 8s is a daunting task."
Mark Irodenko, owner of Outfield Sports Cards in Flat Rock, Mich., concurs, adding that it's one of the toughest '60s gridiron issues to amass in top grade.
"I'd have to say it's probably the second hardest ('60s football set). The '63s are a little bit harder. But that (the 1966 Topps set) is definitely a bear of a set," he said.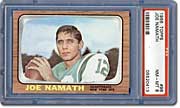 Poor card stock is one of the reasons it's difficult to find cards in pristine condition.
"All of these cards, like '66s, were all printed on terrible paper," said Lemm.
Glickfield concurs, "The paper's softer and it just chips real easy. You can especially notice that on the backs."
Also, similar to 1962 Topps baseball cards, the wood-grain borders on these cards are unforgiving.
"Basically any little nick shows up on the wood borders," said Robinson.
Miller agrees, "They don't hide any kind of corner wear well."
But Miller says centering issues are the biggest hindrance to putting together a set in mint condition. He points out that the TV screen design makes the centering difficult to judge. Compounding the centering issues is the fact that the cards are often miscut.
"Miscuts are just a given on all football issues (from this era)," said Robinson.
Lemm, too, has noticed problems with the cuts.
"To get a clean cut on the '66s seemed to be difficult," he said.
All of these condition issues – particularly the top to bottom centering – have made pristine examples of the last checklist (#132) "impossible" to find. These flaws also hamper the set's other two checklists (Funny Ring checklist #15, Checklist #61).
Irondenko has had "five or six" of the Funny Ring checklists and they have all been off-center top to bottom and left to right. Miller says the second checklist (#61) is equally hard to track down in high-grade.
Of the 106 Funny Ring checklists evaluated by PSA, just one has graded as high as an unqualified PSA 9. Similarly, a sole PSA 9 example of #61 exists.
Tommy Addison, the set's first card, is also elusive in flawless condition. On top of the standard condition issues, this single also bears the burden of being the first card in the set, which makes it susceptible to additional damage. Of the 65 Addisons submitted to PSA, only one has been deemed a PSA 9.
The set's second card, Houston Antwine, is also difficult to track down in mint condition. Similar to Addison, just one Antwine has been evaluated as a PSA 9.
"I've had trouble with the No. 2 card (Antwine). . . . The centering, especially top to bottom, is brutal," said Glickfield.
There is competition amongst these collectors to complete and upgrade their sets but for the most part it's a friendly rivalry. Miller says the Set Registry and PSA message boards have provided him with the opportunity to communicate with other pigskin collectors.
"Football's a lot different than baseball because it's a smaller core of people (that collect the sets) . . . Everybody tends to really know everybody," he said.
In fact, without the help of Kevin Outcalt, another hobbyist, Miller might not have completed his 1966 sets.
"He sent me a whole bunch of raw cards. He didn't have a clue who I was so he just told me to look them over, pick the ones that I wanted and to send the rest of them back," said Miller.
This type of camaraderie is enough to make you believe that, with the help of a fellow collector, one of these hobbyists might achieve the "impossible" and track down that elusive last checklist in high-grade.