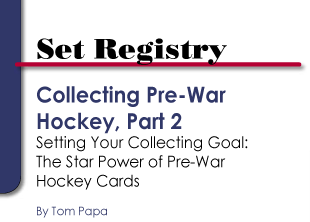 Ninety-five of the 230 players in the Hockey Hall of Fame have at least one card in a pre-war hockey set. There are also 8 administrators with cards from these same sets. Knowing this, it's pretty hard to complete a Hockey Hall of Fame set without becoming intimate with them.
While the rookie card of each of the 95 Hall of Famers is important, there are a handful that are considered the most sought-after rookie cards in the hobby.
1910 C56 Art Ross
In addition to an exemplary career as a defenseman, Art Ross contributed to the development of hockey through his off-ice endeavors. Ross recorded 85 goals in 167 regular-season games and provided stability and savvy in the defensive zone. He won the Stanley Cup twice as a player and later added another in his 18 years behind the bench. Ross also improved the construction of goal nets and the design of the puck.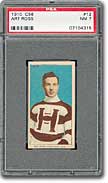 During the 1911 players' uprising against the owners, he was a strong and eloquent voice in the quest to attain a fair share of revenues for the athletes. He followed with two years in Ottawa, where he introduced the "kitty bar the door" defensive alignment that baffled teams preferring a freewheeling offensive game.
After retiring as a player, Ross took a turn as an on-ice official before moving into coaching and management. Between 1924 and 1954, Ross served as either coach or manager of the Boston Bruins. During this period, the club finished at the top of the league standings 10 times and captured the Stanley Cup on three occasions. He was the driving force behind the Bruins' ability to acquire such future stars as Eddie Shore and Milt Schmidt. It was while serving in his administrative capacities that Ross argued successfully for the adoption of synthetic pucks as opposed to natural rubber pucks. He also brought about the replacement of the league's square goal nets with a rounded-back version, complete with superior mesh.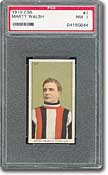 Ross was a multidimensional influence in hockey. As a tribute to him, the NHL introduced the trophy bearing his name in 1947-48 to be awarded annually to the league's top scorer. The B-shaped net he brought into the sport lasted until the 1980s, while his synthetic bevel-edged puck was still in use in the late 1990s. In 1945, Ross was part of the first group of players elected to the newly founded Hockey Hall of Fame.
Art Ross actually has two cards in this set. Card #8 has been graded fifteen times by PSA with just one example achieving a PSA 7. Card #12 has been graded twelve times by PSA with two examples achieving PSA 7 status.
1910 C56 Newsy Lalonde
Lalonde earned his nickname by working in a local newsprint plant as a youth. On March 11, 1910, he scored nine goals in one game, an NHA record that was never surpassed and only equaled by Tommy Smith. He also won the league's inaugural scoring title.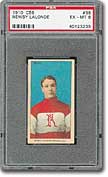 In 1911-12, Lalonde headed west to play with the Vancouver Millionaires of the Pacific Coast Hockey Association, where he led the league with 27 goals. The next year, he returned to the Canadiens and won another NHA scoring championship. His offensive gifts were a significant factor behind the franchise's first Stanley Cup title in 1915-16.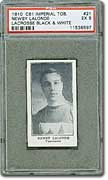 Lalonde remained with the Canadiens when the club joined the NHL in 1917-18. His scoring continued, leading all NHL scorers in 1918-19 and 1920-21. On January 19, 1920, he scored six goals in one game.
Lalonde was inducted into the Hockey Hall of Fame in 1950. There are currently ten examples of Lalonde's rookie card graded by PSA including one PSA 6.
1910 C56 Lester Patrick
Beginning in 1903, Lester "The Silver Fox" Patrick played a significant role in hockey history for nearly half a century. As a player, he was one of the top rushing defensemen of his day and a team leader. Patrick was also an inspirational coach and a respected team administrator. Along with his brother Frank, he pioneered the construction of artificial rinks and formed the Pacific Coast Hockey Association.
He retired in 1922 to focus on managerial responsibilities but returned to help anchor Victoria's defense in 1925-26. Following the demise of the Western Hockey League at the end of that season, he joined the expansion New York Rangers as coach and general manager (after the club's brass let Conn Smythe go because they were worried he hadn't assembled a sufficiently competitive roster).
The Rangers won the Stanley Cup in the club's second year. During the finals against the Montreal Maroons, the 44-year-old Patrick saw emergency duty in goal after Lorne Chabot was injured in the second game. The Rangers won the Cup again in 1933 and Patrick continued to guide them until 1939, when he stepped aside to focus strictly on his duties as general manager. Arguably the finest bench boss of the 1930s, he earned selection as coach of the NHL First All-Star Team six times. He was on hand when the team won its third Stanley Cup in 1940 and remained its GM until 1946.
Patrick was elected to the Hockey Hall of Fame in 1947. Since 1966, the NHL has presented the Lester Patrick Award to honor a recipient's contribution to hockey in the United States. There are currently seventeen examples of Patrick's rookie card graded by PSA including one PSA 7.
1911 C55 Georges Vezina
In terms of desirability within the hobby, this card is to hockey card collectors what the T206 Honus Wagner is to baseball card collectors. It's not as rare as the Wagner and doesn't have the nice story to go with it, but Vezina was simply the biggest star of the period.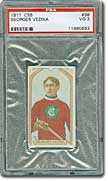 One of the elite goaltenders in the annals of NHL history, Georges Vezina was a key figure in the early history of the Montreal Canadiens franchise. His outstanding play served as a model for stand-up goalies in the future. Long after he retired, fans were introduced to his name and his contributions whenever the Vezina Trophy was awarded at the end of each NHL season to the best goalkeeper in the league.
Vezina stood out in the Canadiens' net even though he played in a league that was very offensive-minded and on a team that initially struggled. In addition, goalies were forbidden to fall to the ice to make a save. So, Vezina managed to perfect an early version of the stand-up style of goaltending.
While sweating through training camp workouts prior to the 1925-26 season, Vezina was obviously not in good health. Despite a high fever, he was performing admirably in the Canadiens' season opener versus the Pittsburgh Pirates, but when he was forced to retire from the game, Vezina was diagnosed with advanced tuberculosis. Sadly, his condition only worsened until he passed away on March 27, 1926. His family history was full of tragedy, as only two of his 24 children lived to adulthood.
Vezina's impact on the game was felt for many years. His combined NHA and NHL regular-season totals added up to 328 games played, 15 career shutouts and a goals-against average of 3.49. Prior to the start of the 1926-27 season, Canadiens owners Leo Dandurand, Leo Letourneau and Joseph Cattaranich immortalized Vezina's name by establishing a trophy to be presented annually to the top net-minder in the NHL.
Fittingly, the first recipient of the trophy was George Hainsworth, the brilliant young goalie who was presented with the task of replacing the legendary Vezina in Montreal. Another trophy was created in Vezina's name, as a means of acknowledging the top goalkeeper in the Quebec senior league. Vezina was among the first 12 individuals elected to the Hockey Hall of Fame when it was founded in 1945. There are currently twenty seven examples of Vezina's rookie card graded by PSA including three PSA 7s.
1910 C56 Cyclone Taylor
Frederick Wellington Taylor performed exceptionally well at several positions during his legendary career. His dynamic rushes and memorable scoring feats made him one of hockey's first superstars. He was one of the few players in the history of the game capable of skating backwards as fast as many could forwards.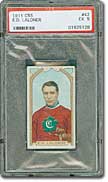 Before the end of the 1905-06 season, he was signed by the Houghton, Michigan, Portage Lakers franchise of the International Hockey League. Based in northern Michigan, this was the first professional circuit in North America. Taylor joined his new team in time for only the last six games of the season, but the "Listowel Wonder" wasted little time in making an impact. He took the league by storm, scoring 11 goals in the half-dozen matches and garnering a place on the IHL All-Star Team.
In 1907-08, Taylor joined the Ottawa Silver Seven of the Eastern Canada Amateur Hockey Association. It was here that he made a name for himself as an explosive rushing defenseman, scoring nine goals in 10 games. The nickname "Cyclone" was first accorded this exciting figure by local reporters after a cartoonist with the Ottawa Journal depicted one of his cyclonic rushes in vivid detail.
In a transaction that caused a stir across Canada, Taylor was signed in 1910 by the Renfrew Millionaires franchise, which was preparing to join the newly founded National Hockey Association in 1910. The salary paid to him was the highest ever for a Canadian athlete up to that time and remained so for many years. Taylor scored 22 goals in 28 games over the next two seasons. Taylor also led all PCHA goal scorers in 1918 and 1919 with 32 and 23 goals respectively.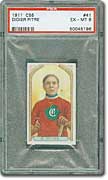 Cyclone retired following the 1920-21 schedule but delighted the fans one more time by making a one-game cameo appearance for Vancouver two years later. He accumulated 194 goals in 186 regular-season games while carving out a reputation as one of hockey's surefire drawing cards. He earned the remarkable distinction of being named to the First All-Star Team everywhere he played from 1900 to 1918.
Taylor's sharp hockey mind led to his being named president of the Pacific Coast Hockey League in 1937. He was elected as a charter member of the Hockey Hall of Fame in 1945, and he was also given the honor of turning the sod for the construction of the Hockey Hall of Fame building that opened in 1961. There are currently thirteen examples of Taylor's rookie card graded by PSA including one PSA 6.
1911 C55 Joe Malone
One of the most gifted and prolific goal scorers ever to play the game, Joe Malone became an enduring legend for decades after his retirement. While known for his unique upright skating style and revered for his excellent conduct on the ice, what set "Phantom" Joe Malone apart from the rest was an ability to find openings and weave his way through the defensive alignments of the opposition. Deceptively quick, Malone was the fastest player in the pros and possessed a lethal instinct around the net.
The 1912-13 season witnessed a powerful offensive display by Malone as he won the scoring race with 43 goals in 20 games. In 1917, he scored a personal-best 44 goals in 20 games as part of an outstanding line with Newsy Lalonde and Didier Pitre. It was during his last game for his hometown club against Toronto that Malone scored seven goals to establish an NHL record that was never matched, even by the likes of Richard, Hull, Esposito, Gretzky or Lemieux.
One of hockey's most naturally gifted scorers, Malone totaled 343 goals in 273 regular-season contests between 1909 and 1924. He scored five or more goals in a single game 10 times in his career. Malone is a member of the Canadian Sports Hall of Fame and was elected to the Hockey Hall of Fame in 1950. There are currently nineteen examples of Malone's rookie card graded by PSA including one PSA 7.
1923 Paulin's Candy George Hainsworth
George Hainsworth was one of hockey's dominant goaltenders of the 1920s and 1930s and his net-minding heroics became a legacy that lasted many years after he retired. He appeared relaxed while performing between the pipes, as though giving a minimum of effort. His laid-back approach and exceptional puck-stopping ability continually frustrated opposing players.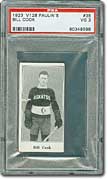 Hainsworth signed with the Montreal Canadiens on August 23, 1926, after Newsy Lalonde recommended him to owner Leo Dandurand. This proved to be an accurate appraisal and the newcomer became an instant hit. He won the Vezina Trophy each of the first three years it was presented, from 1927 to 1929. In 1928-29, he enjoyed his greatest season by allowing only 43 goals in 44 games and registering 22 shutouts.
A veritable workhorse, Hainsworth led all NHL goalkeepers in games played for nine years out of 10 from 1926 to 1936. He hit double figures in shutouts in his first three years in the league while posting a goals-against mark of less than 1.50.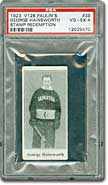 Following his record-breaking season, the NHL's forward passing rules were modernized, making it virtually impossible for Hainsworth to post such remarkable numbers again. Still, he backstopped the Habs to the Stanley Cup in 1930 and 1931.
In 1933, he was traded to the Toronto Maple Leafs for Lorne Chabot. This transaction made the two net-minders the first goalies to play for both storied franchises. Hainsworth helped Toronto win two Canadian Division titles and make appearances in the Stanley Cup finals. On February 14, 1934, he was the Toronto goaltender in the historic Ace Bailey Benefit Game.
As a member of the Maple Leafs, Hainsworth twice led the NHL in wins, but in 1936-37, the club decided to go with young star Turk Broda on a full-time basis. Consequently, Hainsworth was allowed to sign as a free agent with the Canadiens, where he played his last four big-league games.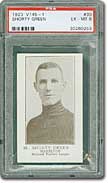 "Little George" retired in 1937 with a 1.91 career goals-against mark, the lowest in NHL history along with Alex Connell. His 94 career shutouts were an NHL record until Terry Sawchuk surpassed him in 1963-64. His professional total would include 10 shutouts in the WHL, giving him 104 - one more than the NHL's all-time leader. His miniscule 1.91 goals-against mark reflected the low scoring climate that existed during all but two of his seasons. Although the rule changes saw his average climb only late in his career, Hainsworth was one of the top back-stoppers of his time.
Hainsworth was elected to the Hockey Hall of Fame in 1961. There are currently no PSA graded rookies of George Hainsworth in existence.
1923 V145-1 Howie Morenz
"Howie" Morenz has often been referred to as hockey's first bona fide superstar. He electrified fans and confounded the opposition in a way that ensured his exalted status in hockey history. Remarkably, Morenz's total of 291 regular-season and playoff goals in 14 NHL seasons represents only one aspect of the enormous impression he left on the sport.
Morenz was one of the dominant offensive forces in the league in the late 1920s. He scored a league-high 51 points in 1927-28 and was presented with the Hart Trophy. Two years later, he registered an incredible 40 goals in 44 games. In 1930-31, he won his second Hart Trophy and scoring title with another 51-point season. Morenz was also selected to the NHL's inaugural First All-Star Team in 1931. The following year, he scored 49 points in 48 games and was awarded his third Hart Trophy in five seasons as well as another spot on the First All-Star Team.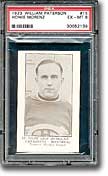 By the mid-1930s, the tenacious and often violent attention of the opposition's defenders had taken its toll on Morenz's trademark speed. He was sent to the Chicago Black Hawks in 1934 and spent parts of two seasons there before joining the New York Rangers for the last 19 games of 1935-36. Canadiens head coach Cecil Hart spearheaded Morenz's return to Montreal for the 1936-37 season. Playing with a renewed sense of purpose, the "Canadien Comet" teamed with Johnny Gagnon and Aurel Joliat to help Montreal to a first-place lead in the regular-season standings.
Morenz's rejuvenation was cut short when he suffered a broken leg in a home game against the Black Hawks on January 28, 1937. It was generally agreed that the injury would end his career. A few weeks later, on March 8, the hockey world was stunned by the news of Morenz's death, brought on by complications related to his injury. Three days later, the Canadiens turned the Forum into a shrine in honor of their fallen star. Thousands of fans lined the streets and crowded the arena in a tremendous outpouring of emotion and respect for one of hockey's immortals. Inducted into the Canadian Sports Hall of Fame, Morenz was one of the first to be elected to the Hockey Hall of Fame when it was established in 1945. There are currently five examples of Morenz's rookie card graded by PSA including two PSA 6's.
1923 V145-1 Auriel Joliat
Aurel Joliat was a prolific scorer and relentless back-checker during 16 rewarding seasons with the Montreal Canadiens. He never allowed his comparatively small frame to impede his progress in the NHL. Joliat often teamed with his good friend Howie Morenz to form one of the most potent offensive duos in league history. His blazing forays down the port side made him one of hockey's most exciting left wingers of all time, and his combination of speed and small size made him one of the trickiest skaters to bodycheck.
Joliat was acquired by the Montreal Canadiens, when he was traded for the legendary Newsy Lalonde, in one of the most controversial trades of hockey's early years. But in his rookie season, the Mighty Atom impressed fans with his speed and puck-handling abilities. He was also a feisty adversary who frustrated his larger opponents.
The Little Giant topped all NHL goal scorers in 1924-25 with 29 goals to his credit. He continued to be among the league leaders in this category over the next dozen seasons. Joliat played on his second Stanley Cup champion team in 1929-30, when he contributed to the Habs' upset victory over the heavily favored Boston Bruins, in a two-game sweep in the best-of-three finals. The following year, the Canadiens repeated as Cup winners in a tough five-game series with the Chicago Black Hawks.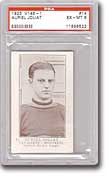 When he retired in 1938, Joliat's regular-season output read 270 goals and 460 points. His ability to break up plays defensively and quickly lead the counterattack provided the Canadiens with a feared transitional game. Over time, he earned the respect of many of the toughest players in the NHL because of his fearless refusal to back down in on-ice confrontations. The small black cap Joliat wore during games throughout his career, reminded fans and players of his willingness to retaliate. Taunting him by knocking his hat to the ice always brought a swift reaction and consequently, it didn't happen often.
After his close friend Morenz died in 1937, Joliat was never the same on ice. His passion and trademark speed were no longer evident and he retired in 1938. Joliat was elected to the Hockey Hall of Fame in 1945. There are currently four examples of Joliat's rookie card graded by PSA including one PSA 6.
1933 OPC Series A Eddie Shore
An imposing blend of raw talent and intimidation, defenseman Eddie Shore was one of the greatest ever to play his position in any era and his end-to-end rushes became every bit as famous as his crushing bodychecks and nasty disposition. When Shore retired as a player, he became a team owner and manager and continued to be a demanding and successful hockey figure.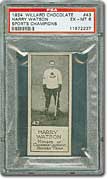 When the Western League folded at the conclusion of 1925-26, Boston Bruins owner Charles Adams stocked his newly formed NHL team with seven WCHL/WHL players, and Shore was one of them. Old Blood and Guts was an instant star in Boston, and his fearless style of play and passion for the game helped ensure the success of big-league hockey in Beantown. During his first NHL season, Shore established a new record with 130 penalty minutes while also scoring 12 goals. His goal total exceeded that of all but three Boston forwards and it became apparent that he was capable of fully controlling a game when he was on the ice.
During the 1928-29 season, Shore led the Bruins to first place in the American Division. They went through the playoffs without losing a game and won the first Stanley Cup in team history. Shore was at his hard-hitting and playmaking best as Boston eliminated the Montreal Canadiens in the semifinals, prior to a two-game sweep of the New York Rangers.
Following the 1930-31 season, Shore finished second in the voting for the Hart Trophy and was placed on the NHL First All-Star Team. He won the Hart Trophy in 1933, 1935, 1936 and 1938, becoming the only defenseman ever to be so honored four times. Over the next several years, Shore was selected to the NHL First All-Star Team six more times and the Second Team once. Shore recorded 105 goals and 284 points in 14 seasons.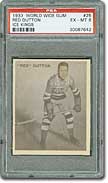 As an AHL owner and coach, Shore gained a reputation as a demanding yet innovative teacher of the game. Many players were upset by his extreme methods, but others would claim they learned valuable hockey lessons they wouldn't have received anywhere else.
Shore was elected to the Hockey Hall of Fame in 1945. There are currently twelve examples of Shore's rookie card graded by PSA including one PSA 6.
1933 OPC Series A Charlie Conacher
In his time, Charlie "The Big Bomber" Conacher had the hardest shot in hockey, a notorious blast that eluded goaltenders and dented rink boards. As a member of one of the most dangerous lines in hockey history, the Toronto Maple Leafs' Kid Line of the 1930s, right wing Conacher and left wing Harvey "Busher" Jackson were the beneficiaries of center Joe Primeau's slick passes, as the threesome found itself near the top of the scoring lists for the better part of a decade.
Charlie Conacher came from a family of 10 siblings, many of whom were also gifted athletes. Few would dispute that Charlie was the best hockey-playing Conacher, although, older brother Lionel and younger brother Roy are also Hall of Famers.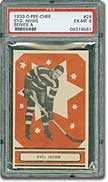 With his linemates' help, Conacher became the best right wing in the game over the next half-decade. He was a daring and explosive scorer who used his size 6'1" and 200 pounds in his heyday - to his advantage. He could beat goalies equally well with his booming shot or with a deft move from close range. Once he got moving, he was famous for bowling over anyone between him and the net - and then often the net itself as he crossed the goal line just a few seconds after the puck.
Five times between 1930 and 1936, Conacher either led or tied for the league lead in goal-scoring. He was a Second Team All-Star in his second and third years in the league and a First Team selection for three consecutive seasons beginning in 1933-34. He also helped the Leafs win the Stanley Cup in 1932.
Charlie Conacher inspired a generation of Leaf players with his hard work and determination. There are currently eleven examples of Conacher's rookie card graded by PSA including three PSA 7s.
1933 Ice Kings Ace Bailey
Irvine "Ace" Bailey was one of the most popular players ever to skate for the Leafs during his few years in the NHL, but he will forever be linked to one of the worst on-ice accidents in the history of the game. On December 12, 1933, during the second period of a Leafs' visit to Boston Garden, Eddie Shore was checked hard by Leafs defenseman King Clancy, while Shore was rushing the puck into the Leafs' end.
As play moved back into Boston territory, Shore, dazed by the hit and full of vengeance, skated wildly toward Bailey, thinking that he was charging Clancy. Shore used his stick to trip Bailey heavily from behind and Ace fell to the ice with a sickening thud. He lost consciousness and began bleeding from the head. Red Horner skated over to the stricken Bailey and, seeing his teammate seriously injured, asked Shore in no uncertain terms just what he'd been thinking. Shore just smiled, prompting a furious Horner to deck him with one punch, knocking him unconscious to the ice.
As Leafs players gathered around Bailey, Bruin trainers looked after Shore, and both men had to be carried off the ice by worried teammates. Shore suffered a three-inch gash to his head, but Bailey's injury was far more serious. He lay in the Bruins dressing room, where Shore, upon regaining consciousness, came over to apologize. "It's all part of the game," Bailey said in forgiveness before convulsing and falling unconscious again.
Bailey was rushed to Audubon Hospital with what seemed to be a fractured skull. But by the following morning, Bailey's condition was grave and the prospect of his death was almost certain. Overnight, he'd suffered cerebral hemorrhaging, and at noon Dr. Donald Munro, a brain specialist, consulted with Ace's wife, Mabel, about a very necessary but dangerous operation. At the same time, Boston homicide detectives were interviewing Shore and other players about the incident and it became known that, in the event of Bailey's death, Shore would be charged with manslaughter.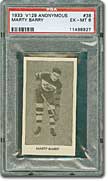 Bailey was transferred to City Hospital, where Dr. Munro performed two operations to relieve the pressure on his brain. After the second operation, on December 18, Dr. Munro said simply, "His chances of living are very slim," and a priest was called to read Bailey's last rites. His pulse was 160, his temperature almost 106 degrees, and the doctors were reluctant even to measure his life expectancy in minutes. By the very next morning, however, Bailey had miraculously fought off death, and in the ensuing days he grew stronger and stronger. By Christmas, his life was no longer hanging in the balance and Ace was on the road to recovery.
Blame and accusations followed the Shore-Bailey incident. League president Frank Calder absolved the two referees--Odie Cleghorn and Eusebe Daignault--of any breach of responsibility in their handling of the game. But Red Horner blamed Shore for the attack, while Shore protested that he wasn't conscious of what he was doing after being dazed by Horner's check. Meanwhile, Leafs owner Conn Smythe blamed the Boston writers for generating malicious hype leading up to the game and inciting the Boston players to violence.
On January 24, 1934, the NHL's board of governors decided that a special benefit game featuring the Leafs against the best of the rest of the league would be staged in Toronto and the proceeds would go to Bailey and his family.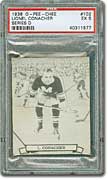 Prior to the game, held on Valentine's Day 1934, the All-Star players skated onto the ice in their regular team sweaters and had their picture taken as a group. They were then presented with their All-Star uniforms by president Calder, Lester Patrick and Leaf club officials, including Ace Bailey himself. The first in line was goalie Charlie Gardiner, who received his number 1 jersey, and he was followed immediately by number 2, Eddie Shore. An apprehensive silence fell over the Gardens as Shore skated to center ice. But as Bailey extended his hand to the Bruin, the crowd went wild. Bailey's extraordinarily sportsmanlike gesture made clear his forgiveness of Shore.
Before the opening face-off, Ace gave president Calder a special trophy in Bailey's own name. It had been commissioned by the Maple Leafs, in the hope that it would be the prize of an annual All-Star Game that would be staged to set up a fund for injured players.
Bailey later worked as an off-ice official at Maple Leaf Gardens almost to the day he died, on April 7, 1992. He was elected to the Hockey Hall of Fame in 1975. There are currently seventeen examples of Bailey's rookie card graded by PSA including two PSA 8s.
1936 OPC Seres D Turk Broda
Turk's outgoing style made him hugely popular with Leafs fans and loved by his teammates. "The Leafs pay me for my work in practices," he joked, "and I throw in the games for free." His first stint with the Leafs lasted until 1943 and included the historic Cup of 1942, when the Leafs rebounded from a 3-0 series deficit to beat Detroit in seven games. But in 1943 Broda joined the army and went off to England for two years, primarily to play hockey.
When he was discharged in 1945, he went straight to the Gardens and resumed practicing with the team. He was back in the nets, and there he stayed for four more Stanley Cup finals, three in a row from 1947 to 1949 and one more in 1951 in which all five games went into overtime against Montreal. "I couldn't beat him. Toe Blake couldn't. None of the Canadiens could," Maurice Richard said after that series. Broda played the entire season in goal in eight of his 11 seasons, and part of two others, leading the league in shutouts twice. But for all his fame and glory, he's also remembered for his weight problems, which Conn Smythe used as a kind of playful publicity stunt.
Smythe ended Broda's run of more than 200 starts in a row, when he ordered Broda out of the goal until he got his weight down to 189 pounds. For days afterward, newspaper articles showed the smiling goalie sitting on a scale, eating steak or drinking juice for dinner in an effort to lose the poundage. Broda joined a fitness club and took up handball to stay lean, and his wife, Betty, became famous for being the one person who could help him lose weight and save the city's team.
He was inducted into the Hockey Hall of Fame in 1967. There are only three examples of Turk Broda's rookie cards ever graded by PSA. The highest grade given was a PSA 5.
Conclusion
If you're looking for a tough challenge in a relatively untouched vintage market, pre-war hockey cards may be the place for you. It's a sportscard market that has an exciting history, lots of stars, a variety of beautiful issues to choose from, and it won't break your budget. You just need to understand that PSA 7 or better sets might just be an impossible dream.
The player bio information was provided courtesy of legendsofhockey.net.