o publishing house has yet to put out a book on Asian-American sports superstars. Forget about superstars, just simply doing a book on professional Asian-American athletes would render a fairly slight tome. None of the major sports networks have ever produced a documentary on the Land of the Rising Sun being fertile ground to provide the NFL, NBA or MLB with a future crop of American sports legends. And, to think of an Asian-American performing on a professional hockey rink, as the mount on a thoroughbred racetrack, or in a heavyweight ring, is about as foreign as, well, as China.
In all fairness, the United States can provide a list of world class athletes whose ancestry can be traced to the Far East. It's just a fairly short list.
In 1948, diving champion Sammy Lee was the first Asian-American to win Olympic gold. He garnered his medal in the 10-meter platform dive during the London games and then repeated his gold medal-winning performance at the Helsinki games in 1952.
After a three-decade dry spell, another Asian-American rose to athletic prominence on the tennis courts in 1989, when Michael Chang took top honors at the French Open. In the mid-1990s, an Asian-American finally broke into the "Big Three" of American sports when Hideo Nomo joined the Los Angeles Dodgers. With his wild windup, impressive strikeout record and All-Star selection, Nomomania swept Southern California. The next Far Eastern entry into America's Pastime came in 2001 when Ichiro Suzuki joined the Seattle Mariners. Suzuki led the game in hitting and base stealing, but what fans really loved was his shades, his flair, his style and the way he made it look all so easy. That same year the NBA saw an Asian-American added to their ranks when the Dallas Mavericks signed Wang Zhizhi, and the following season saw the Denver Nuggets bring Mengke Bateer on board.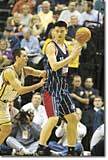 There's no way you can ignore Ming who at 7'5" towers over the giants of the NBA. Photo courtesy of Icon SMI
And then, this past year, there was Ming.
On June 26, 2002, at New York's Madison Square Garden, the Houston Rockets spent their number one draft pick on Yao Ming, a center whose lineage was steeped in both China and in hoops. Ming's parents were both stars with national Chinese basketball teams and 22 years ago they produced Yao, who today literally looks down on the NBA's current crop, scraping the rafters at a towering 7'5".
Ming isn't just big in stature, he's the franchise's big hope. He's a big dream for Asian-Americans. And, he's the overall subject of big questions.
Big questions such as: Will Ming be the breakout superstar that Chinese pride is relying on? Will he truly live up to the Rocket's advertising campaign, that invites fans to get involved with "Something Big"? Is he the next Chamberlain? The next Ewing? The next Abdul-Jabbar? The next Olajwon? Or, (dare we say it) the next Shaquille?
With Ming on board will Houston join the ranks of cities such as Boston, Chicago and Los Angeles and become a basketball dynasty? Will there be a Ming Dynasty?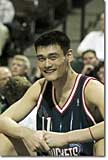 A Ming dynasty? Only time will tell. Photo courtesy of Icon SMI
The answer is of course blowing in that rarefied air that circles the heads of those who stand heads above the rest of us, but that doesn't prevent the prognostications from running high.
Ming has been fodder for the sports branch of the Fourth Estate since that early summer day when he became a Rocket. Coaches have weighed in. Players have thrown in their two cents. Reporters, pundits and prognosticators have offered up opinions. But it seems that there are still far more questions surrounding Ming than there are answers.
So, what do you do when your editor wants you to do a story on an exciting new player who could have superstar potential and just about everyone who is anyone in sports has already tackled the subject? How do you get a fresh perspective? How do you get the answers to those big questions?
Go to a bar, I figured.
In January, I decided to take those big questions to a Los Angeles, California sports bar. A bar where fans had gathered to consume mass quantities of wings, rings and dogs, washin' 'em down with gallons of beer and shots, and watchin' the Houston Rockets take on the Los Angeles Lakers at Houston's Compaq Center.
"There's no way you can ignore him," said a fan seated next to me as the game began. "He's definitely gonna get points. But I just don't see him as superstar material."
Placing a huge plate of some sort of unidentifiable fried concoction in front of the fan, the bartender chimed in. "The only reason he'll get points is because he has two of the fastest guards in the NBA", opined the server.
The fan shrugged, dipped a hunk of the mysterious looking matter into a thick red sauce and returned his attention to the screen.
And so the debate began, albeit in a venue heavily weighted in favor of Shaq and the boys from La La Land.
An accountant, sitting at the bar sipping a Johnny Walker Black on the rocks, took in the first 10 minutes of the game before he was ready to go on record. "I'm impressed with him," he said. "I mean, for a guy who's that big he seems to be able to move exceptionally well. He seems far more agile than you would imagine and he has quick reflexes." The accountant's barmate, a software salesman named Ralph, whose entire wardrobe was Laker inspired, immediately jumped in to respond.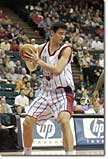 Ming plays a creative offense and should be a lot of fun to watch. Photo courtesy of Icon SMI
"Come on! Give me a break," said Ralph rolling his eyes. "Of course he's agile! He's 22, and this is his first season in the NBA. Tell me how agile you think he'll look after a couple of years of wear and tear. And he'll slow down quicker than most. He's got the big man plague to deal with. He's prone to foot and knee injuries and he doesn't have great strength for a guy his size." The accountant nodded. "He does need to build up his strength," he said in agreement.
At the half the Rockets were up by five points. Shaq had yet to dunk on Yao, and in fact the two had exchanged a pat on the back and a smile just before the second half began. That gesture said far more than professional courtesy to LA fans who overwhelmingly felt that Shaq had gotten an unfair rap when an AsianWeek writer called him a racist. That charge stemmed from Shaq's appearance on a sports talk show. When asked about Ming he responded by doing a stereotypical and unflattering impersonation of someone speaking in Chinese. "Tell Yao Ming, Ching chong yang wah ah so," said Shaq with a laugh.
Shaq may have been laughing, but many from the Asian-American community were not. A group known as the Organization of Chinese Americans demanded that Shaq apologize and that the NBA force him into sensitivity training classes. NBA Commissioner, David Stern responded by issuing a statement saying that while he agreed that Shaq's comments were "insensitive", he did not feel that they were in any way "intentionally mean-spirited". Shaq did take a stab at offering up an apology of sorts by saying it was all just a joke. That poorly thought out and even more poorly received "apology" made the OCA even more angry, and then downright litigious when he added: "I apologize that some people don't have a sense of humor like I do."
Ralph was all over that discussion. "Hey, in this politically correct world it was a stupid thing to say, no doubt about it. But I don't think he even gave it a moment's thought. He was trying to be funny and it backfired. It's exactly the kind of thing the press loves. The big fight between the NBA's two big guys. Think about it – He (Shaq) said something stupid. He's said a lot of stupid things. He may think he's some sort of a comedian or television personality or something, but he's not. Hey, I'm a big Shaq fan, but the guy should just do what he does well and not think he has some big acting career ahead of him. He should just play the game. Period. And the press should get lives. It (Shaq's comment) would have never been noticed and totally forgotten about if the press hadn't made such a big deal out of it."
Ralph's account friend wasn't paying attention to his rantings. The second half was well under way.
Just across from the bar a group of twenty-somethings were beginning to show the effects from the "consumption" they had accomplished during the first half. No one at the table, which included two Asian-American males, seemed the least bit interested in discussing Shaq's racial insensitivities. "When Ming comes into his own he will be a force both offensively and defensively," said one of the Asian-American lads who is a student at USC. "He can obviously knock down jumpshots all the way out to the 3-point range and he's beginning to develop a good hook shot. When he refines his hook whose going to stop him? If he really gets that hook shot down it will be indefensible."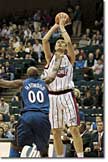 "Yao – Can't touch this!" Photo courtesy of Icon SMI
A second round of platters, heaped with onion rings, chicken wings, fried zucchini and nachos arrived with a sixth round of beers, shots and a birdbath-sized glass filled with some sort of a frosty green glop garnished with a lemon that was not only visually unappetizing but seemed downright unpotable. The frosty glop was set in front of one of the two young ladies at the table. "It's called Packers Punch," she explained. "You can't get 'em anywhere else," she added, not seemingly at all aware that there is a good reason for that. She took a big slurp of her drink and looked up at the big screen that stretched out in front of her. "I think he's cute," she said when questioned about Ming. "He has a kind face," she added. "But I'm a Laker fan so I really don't care about him."
By late in the fourth quarter, it was clear that neither Ming nor Shaq were going to file a remarkable performance. Still, even in a room filled with Laker fans Ming had done his part to impress them. "I've been watching him whenever I can," said another USC student. "I think he plays a creative offense and shows good timing on blocking shots. He can maneuver his way around the floor pretty well. He's aggressive. He loves to do that two handed dunk – I think he's going to be a lot of fun to watch."
At the final buzzer, the Rockets had broken the Lakers season best, five game winning streak by pulling out a 108 to 104 overtime victory. For the Laker fans that had expected Shaq to dominate, there was letdown. In fact, far from dominating, he struggled to score for the better part of the game although he did walk off the court having made 13 rebounds and scored 31 points (16 with Ming in the game). Ming managed to chalk-up an unimpressive 10 points with an equal number of rebounds.
So come on! I spent three hours in a bar with a bunch of diehard hoops fans and I was walking away with the same big questions I had when I came in. Will there be a Ming dynasty? Will the Shaq-Ming rivalry be reminiscent of the days when Ewing, Olajuwon and Mourning went head-to-head against one another? Will he really make the Rockets "Something Big"?
The only answer I could come up with was: I don't know – and seemingly no one else knows either – not the bartender, not the Scotch-sipping accountant, not Ralph, not the kids from USC, not even the professional pundits, the Rockets coaching staff, or Ming himself. Only time holds those answers. While I left the bar with a lot of unanswered questions, I also left very assured of two things. The kid from USC is right – it is going to be a whole lot of fun to keep our eyes on the big man from the East. Oh yeah, and, that it's a sure bet that outside of that LA sports bar, no bartender will ever have to worry about getting a call for a Packer Punch.