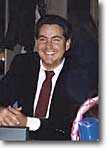 erhaps you have seen Fred "Poppy" Dresch in ER, The West Wing, Playboy's Sexy Urban Legends, That Seventies Show or General Hospital. Maybe you recognize him from one of the numerous roles he has played in feature films such as Legally Blonde with Reese Witherspoon, Catch Me If You Can with Leonardo DiCaprio and Tom Hanks or Collateral Damage with Arnold Schwarzenegger. Or, quite possibly you know him as Tinseltown's "Zow Guy", a moniker earned due to his proclivity of peppering his syntax with the word "zow".
What you probably don't know, is that along with his acting work, Dresch is also an avid collector of sports related games. Having amassed a collection of well over 100 of these athlete and sport inspired toys, Dresch is always perusing ebay or scouring Los Angeles flea markets and yard sales in search of games produced from the 1940s through the late 1980s.
We caught up with Fred at Zowland, the magnificent Southern California estate where he resides and displays his collection – a collection that serves as a true lane of memories for anyone who as a child, played a sports related game.
SMR: How did you begin this collection?
FPD: I had a lot of these games when I was growing up in the 1960s and '70s, and zow, just like everyone else who had all kinds of great stuff as a kid, I have no idea what ever became of it all. Then in the early 1990s, I was at a flea market and, zow, I saw a Pro Bowl Live Action Football game that was manufactured by Marx. I had one just like it when I was a kid. It brought back so many memories that I bought it for $25 and from then on, zow, I've been obsessed with finding sports games from that era.
SMR: How much of a challenge is it to find these games?
FPD: Well, ebay has certainly made the search easier, but actually I've made some of my best finds at yard sales. People have had these games in their attics or basements for years, and then they move, or someone dies and they surface. The sad thing is how many of these games were, and are still just thrown away because, zow, people think no one would ever want them.
SMR: What are some of your favorite acquisitions?
FPD: Well zow, I have favorites in two categories. The first category is rare finds. In that group some of my favorites are a Rose Bowl game that was put out by Keck Enterprises in 1949 that is in excellent condition and a Little League Baseball Game that Standard Toykraft put out in 1964 to celebrate the 25th anniversary of Little League. In that category I would also included what is, perhaps my most valuable game. It's a Verne Gagne World Champion Wrestling game that Gardner Toys made in the 1950s and from what I understand it's worth over $200. Zow!
My second category is the games that I had and played with when I was growing up. Those are my personal favorites, games like Hank Aaron Baseball that was put out by Ideal in 1973, "Mean Joe" Greene Football that was made by Advantage in 1974 and the 1977 Talking ABC Monday Night Football by Mattel.

SMR: Do you have games from all the major sports?
FPD: I have everything from football and baseball to horse racing, boxing, bowling, wrestling, tennis, golf, hockey, basketball, the Olympics and car and boat racing.
SMR: What games in your collection are the most unique?
FPD: I kind of like Bop Baseball that Remco made in 1961. It has a six-foot long wooden board and players actually use a bat to hit a puck shaped like a baseball into scoring position. I also think that the games inspired by a specific athlete or teams are interesting. I have a lot of those, inspired by Joe Namath, Johnny Unitas, the Harlem Globetrotters, Jack Nicklaus, Arnold Palmer, but, zow, I guess my most unique one is the O.J. Simpson See-Action Football game that was made by Kenner in 1974. I've seen that game go on ebay for over $300.

SMR: Do you have any idea of the worth of your collection?
FPD: None at all. I don't do it because I care about having a valuable collection. I do it because, zow, I loved so many of these games when I was young and they have good memories for me.
SMR: Is there anything you are looking for that you have not been able to find as of yet?
FPD: I've never been able to find a full set of a game that came out in the 1960s called Hot Rod. It's a race car game that Remco made. I've found a few of the cars, but not all of them and I have a box, but it's in very bad shape. So, zow, that's what I'm hunting for at the moment.