ince the early 1970s, there have been scant few actions taken by the front office, coaches and players of the New York Yankees that haven't been scrutinized, opined upon, agreed with, disagreed with, argued, supported and prognosticated on by Mickey D, Angelo and Little Jimmy.
For over three decades, from the same wood-paneled basement of the Staten Island home where Mickey D and Angelo grew up, the siblings have taken their place on a well-worn sofa and matching easy chair to weigh in on the past, present and future of their pinstriped obsession. Adjacent to Angelo's sofa there is a faded green monstrosity of a chair that has been the domain of Little Jimmy, a friend of the brothers who has lived up the street since the trio was in grade school.
In mid-January of this year, the threesome once again convened in the basement. Over a pizza, covered with every imaginable topping, that Angelo called a "garbage pie", the topic of conversation was the Yankees newest acquisition – Japanese slugger Hideki Matsui.
"Ya know what they call him back in Japan?" asked Mickey D. "They call him Godzilla."

Angelo laughed. "He looks like Godzilla," he chimed in as they watched the press conference in which Hideki was formally announced to be a Yankee.
"I think this guy could be big," said Little Jimmy. "I think he's gonna be able to send a lot of balls over the wall. And that's what we need. I think Godzilla is gonna over take New York."
The 28-year old Matsui, who signed a three-year deal worth over $21 million dollars, may in fact take over New York. After playing for the Yomiuri Giants of Japan's Central League for ten years, he dons Yankees pinstripes with a noble resume. A three-time Most Valuable Player who last season hit 50 homers and drove in 107 runs, he has a career hitting record of .304 with 332 home runs and 889 RBIs.
As the three friends watched the press conference, Yankee General Manager Brian Cashman, who on the previous day had referred to Matsui's signing as "a simple baseball transaction", was explaining why he was downplaying of the event. Stating that he was only attempting to compliment his new outfielder by stressing his ability over his marketability, he readily admitted to Godzilla's taking of New York to be "an explosion of interest."
And an explosion it was, generating so much interest from the worldwide media that the Yankees abandoned Yankee Stadium for a Marriott Marquis ballroom where over 28 television crews and more than 300 media representatives were on hand. Even New York Mayor Michael Bloomberg was in attendance along with the team's manager, Joe Torre who interrupted time from his off-season Hawaiian home to be in The Big Apple for the occasion.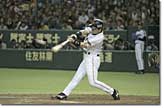 "Today has to be one of the happiest days of my life," said the 28-year old from Ishikawa, Japan through an interpreter. "I will try really hard to bring a World Series championship (to New York)."
If Japanese sportswriters were respectful when asking questions, Matsui soon learned that New York ain't Japan. When the floor was opened for reporter's questions the first one peppered the new Yankee on his less than stellar performance in an eight-game, postseason, exhibition series against a touring team of American Major League players.
Matsui's smiles never diminished as the interpreter translated the hardball question. "I will try hard when I get here to show what I can do," he responded.
Although Matsui was a centerfielder in Japan, the Yankees have said, that in pinstripes, he will most likely be used in either right or left fields. Cashman also used the press conference to weigh in on what expectations he has regarding the slugging skills of his newest player. "He can hit with power to all fields and is discriminating in pitch selection," said the big boss. "He's the type of player we like to build our offense around."
As Matsui pulled a number 55 pinstriped jersey over his shirt and tie, Mickey D mentioned that he had read that Matsui had never been a defensive standout during his career in Japan. "They say he can hit, like Luis Gonzalez of the Arizona Diamondbacks," he said. "I think he's going to hit home runs and get us a lot of base hits. But, it's yet to be seen what he'll do in the field." Angelo and Little Jimmy shrugged in agreement, their mouths dripping with pizza.
One of the professional questioners posed the same concern at the conference. Matsui again broke out in that Godzilla-sized smile saying he was "comfortable" with the way he plays in the field.
There's no doubting the fact that Cashman, Torre, Mickey D, Angelo and Little Jimmy are all pinning their hopes on Matsui taking the Yanks back to the World Series. The wounds of having dropped that chance to the Anaheim Angels in last season's American League Division are still open and sore.
The seventeenth player from Japan to play for the American majors, Matsui is the first import who is a proven power hitter. "I'm really excited. I can't wait to stand in the batter's box at Yankee Stadium where many honorable players and very famous players have stood," said Matsui. "I can't wait to get my chance."
Micky D, Angelo and Little Jimmy can't wait either. They're chomping at the chance to get another World Championship – just as enthusiastically as they were chomping on that garbage pie.
---
The Godzilla Story
Born on June 12, 1974, Matsui was drafted as the number one pick by the Yomiuri Giants when he was 18-years old. In his fourth season, he won his first MVP award. He held three home run and RBI titles in 1998, 2000 and 2002, one batting title in 2001 and was named the Japan Central League's MVP three times in 1996, 2000 and 2002.
Games Played: 1,268
At-bats: 4,572
Runs: 901
Hits: 1,390
Doubles: 245
Triples: 16
Home Runs: 332
RBIs: 889
SB: 46
Avg.: .304
---