By Steve Ryan
n each of the last four decades, there have been quarterbacks in Pro Football who have arisen to be the leaders of their generations. While many other quarterbacks had stellar seasons and led their teams to championships, each decade clearly belonged to only 2-3 top tier, big name, QBs. In the 1960s it was Joe Namath, Bart Starr and Johnny Unitas. These greats had stellar Hall of Fame careers and their accomplishments are seeded in their statistics. In our industry, their trading cards are among the tops in the football card market.
In the 1970s, it was the likes of Fran Tarkenton, Terry Bradshaw, Roger Staubach and Bob Griese who led their teams to numerous titles and, like Starr and Unitas before them, they engrained themselves in football lore. In the 1980s and into the 1990s, it was Dan Marino, Joe Montana and John Elway who rewrote the record books, followed by the likes of Troy Aikman, Steve Young, and Brett Favre, who continues to labor along year after year.
Who will be the leading quarterbacks of the first decade of the 21st Century? The leaders, so far, making their mark, are the likes of Kurt Warner, Donovan McNabb and Peyton Manning while a handful of young rookie stars sit on the horizon waiting for their chance in the limelight.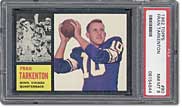 Tarkenton was one of the top quarterbacks of his generation and is still a fan favorite with many collectors, especially this 1962 Rookie Card.
McNabb and Warner are clearly the young, strong-armed, cover boys heading toward Super Bowl XXXVI in New Orleans.
McNabb, out of Syracuse University and now starting QB for the Philadelphia Eagles, was leading his team toward the NFC East title in 2001 and was putting up strong numbers both throwing and running. In trading card numbers, McNabb's 1999 SPX Rookie Card was showing positive movements upward beyond the $200 level for a PSA 9 and $710 for a PSA 10 version. McNabb's SP Authentic RC from the same year also was lighting up the boards at $220 for a PSA 9 and $1,000-plus for a PSA 10 version. If McNabb can lead his team to new heights this year, McNabb's rookie card should also rise to new levels as well.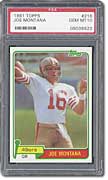 For many of today's collectors this Joe Montana Rookie Card is a familiar card, but a rare one in PSA Gem Mint 10.
Warner is the Cinderella story of the NFL. Warner defied odds in taking the long road to NFL success. He was the starting quarterback for Amsterdam Admirals of NFL Europe in 1998; he played for Iowa Barnstormers of the Arena Football League from 1995-97 and previously had spent 1994 in training camp with the Green Bay Packers. But now Warner, with one Super Bowl title already under his wing, is destined for the Hall of Fame and possibly another Super Bowl ring in New Orleans. Warner's rookie cards are still severely undervalued, but as he continues to succeed, Warner's cards will continue to be sought after by more and more collectors.
Favre is the veteran warrior with also only one Super Bowl ring to his credit, but three NFL MVP honors that have propelled him to almost legendary status in the NFL. Favre had the Packers charging toward the playoffs late in the 2001 season. Manning struggled in 2001 but is still the "strong arm," "big name" that collectors and sports fans look for big things from in the near future.
On the Vintage Baseball side of the industry, we talked to some of the top dealers and asked how the industry was responding in the fourth quarter and in the wake of September 11th:
Kurt Koltrane, Owner of Kurtz Kardz, said "Pre-1960 graded commons and semi-stars are selling at an absolute brisk pace!" This means, according to Koltrane, that more and more set collectors are beginning to desire graded cards!
"This is very important [to the industry] as these new set collectors coming in will be the backbone of the graded card hobby in the near future if not right now. I am seeing more activity in the 1961 Fleer and 1969-1972 Topps graded basketball stars and commons than ever before also."
Andy Madec, President of Andy Madec Sportscards, said, "The best selling items for me are centered PSA 7's and 8's of Hall of Famers such as Willie Mays, Hank Aaron, Pete Rose, Ted Williams, and of course Mickey Mantle (from issues in between 1951-1971)."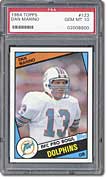 Another PSA Gem Mint 10 card of another record-setting quarterback, and future Hall of Famer, Dan Marino.
He added that cards of Roberto Clemente have cooled somewhat and PSA 9's of great magnitude have dropped off between 20-30% from highs in year 2000, but there are positive signs that those cards will are now starting to look attractive once again in 2002.
"High grade Commons from sets issued between 1959-1972 have been hot of late as more people are delving into those sets. Middle grade "keys" such as Ruth, Cobb, Jackson and others are hot in grades (PSA 5-7) as they offer much value to the collector in an overall tough market. Vintage non-sports issues such as: '33 Goudey Indians, Natl. Chicle Skybirds, 1940 Superman and 1936 Mickey Mouse are Hot and are still a market with tremendous growth potential due to their rarity, current market value, and overall appeal," said Madec, who loves non-sports and has quite a collection of PSA 6's, 7's and 8's from many different pre-war issues."
Marc Perna, Owner of Vintage Sports Investments, said, "The market is changing every week. It seems collectors are putting their money in different issues than only a year ago. As you may have guess the 9's are all over the board. Collectors have shown a resistance at about $2,500... on any card."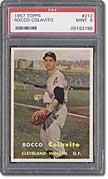 Many dealers told us that PSA graded cards, like this one of Rocky Colavito, are gaining popularity among many collectors.
Specifically, Perna says he has been moving a good selection of semi-stars pertinent to the respective rookie/2nd years, namely Rocky Colavito, Don Drysdale,Willie McCovey, Orlando Cepeda, Johnny Bench, and many others.
"I also have been buying nice eye appeal 7's. They are getting more play that ever before. The stars then sell better and faster. Mays, Aaron, Clemente, Mantle, Koufax, Rose," he added.
Perna went on to say that Pete Rose is the one star that I can sell all day long. "I can never get enough of his cards."
"Graded commons are our biggest play. We have networked with a lot of collectors doing Registry Sets and have contributed to those sets. Collectors are paying crazy money for certain commons in the 50's, especially 52 Topps and Bowmans which are starting to heat up again."
Nick Migliaccio, owner of Nick Migliaccio Sportscards, agreed with Perna in that the cards doing well are the 50's & 60's star cards in PSA 7 & 8's, players like Rose, Mantle, Maris, Mays, also commons from 1958 thru 1965 seem to be doing very well in PSA 8 & 9's. "Since I deal with many clients who are building all graded sets they seem to be leaning towards high grade commons that are graded not raw. This helps the industry and the dealers," he said.
---
Steve Ryan is Product Manager of Collectors Universe.