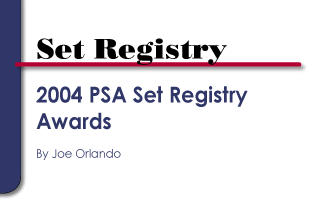 Welcome to the annual PSA Set Registry Awards! In 2004, the competition heated up once again, making it increasingly difficult to select so few winners from a sea of outstanding sets. Last year, we entered the award ceremony with a little more than 7,000 sets. This year, that number is just shy of 12,000! That means that you, all the wonderful PSA supporters out there, have continued to participate and help our program grow.
The awards were given to registrants based on, but not limited to the following criteria: set popularity, difficulty, grade average, completion percentage, domination, degree of competition within the set category, etc. As someone who truly appreciates the effort, time and money it takes to assemble these fine sets, I congratulate all of you. You have all set goals and worked hard to enhance each and every one of your outstanding collections - collections of which any collector would be proud.
Since this is our third year of awards, we have added a new category - Best Ticket Set of the Year – since we started our PSA Ticket Registry. Following last year's model, we have decided once again that the winners from last year cannot repeat in the same categories. Furthermore, since the Hall of Fame designation is truly the highest recognition someone can receive for his set, HOF sets are also precluded from being inducted more than one time. This year, we added 10 more great sets to our Hall of Fame! We also added another great collector to our PSA Collector Hall of Fame in Charlie Merkel – congratulations Charlie!
Please keep in mind that if a set is the highest rated set in a particular category and exceeds a certain completion factor, that set will automatically be recognized each and every year for its duration on The Registry. This is part of the PSA Set Registry "Best of the Registry" Certificate Award program, not the additional plaque and HOF awards that are selected by a panel each year. Again, the purpose behind these moves is to recognize more and more sets while, at the same time, making sure that the finest sets in each individual category are still recognized year after year.
Once again, we cannot stress enough how difficult it was to select winners from this incredible group, especially considering the growth that The Registry has experienced in 2004. Remember that your feedback is always appreciated. The Registry is an ever-evolving program that we are constantly looking to improve. With your help, we can keep this program sleek and fun for everyone involved. It has become the most talked about program in the graded card market so tell a friend and help build upon the community you have all helped start.
From all of us at PSA, thank you for making us the foundation of all great collections.
- Joe Orlando, PSA President
Best Collection of the Year
Don Louchios
It takes someone with a serious collection to win this award and, when it comes to Don's collection, he left little doubt in the minds of the voters. Don has amassed a tremendous collection in both quality and quantity, spanning decades of card manufacturing. Don has several of the top sets in the world, including The Big Three in the T206, 1933 Goudey and 1952 Topps sets to name a few. In fact, Don is the only collector on The Registry to take on this challenge in high-grade and, by the way, all three sets have a GPA of PSA NM-MT 8 or better! As you journey through other classics like 1941 Play Ball and the 1934 Goudey set categories, Don is almost always at or near the top. Don has often been referred to as a quiet collector who lets his collection do the talking and his collection speaks volumes. Congratulations Don!
Best Set of the Year
Ruby: 1956 Topps Baseball (Basic)
When it comes to this award, more sets are considered here than any other award category. For that reason alone, the winner should take special pride knowing that the competition is so fierce with so many great sets registered. This longtime collector but newcomer to The Registry, made his presence felt this year in more than one category but this set was so overwhelmingly dominating that we could not ignore it. The 1956 Topps baseball set has always been popular with so many stars, including the ultra-popular Mickey Mantle Triple Crown Year card, that the competition is super strong. Consider this, with all the competition in the 1956 Topps baseball category, the winner finished the year with a GPA of 8.94 compared to 8.36 in the second place slot. That enormous difference, coupled with the popularity of this set, is what nailed the award for the collector. Welcome to The Registry!
Best Rookie Set of the Year
Donald E. Spence – The Lone Star Collection: 1934-36 Diamond Stars (Basic Set)
During the past year or so, there have been a few collectors who have entered the hobby and made serious statements by assembling great collections at record clips. Don Spence is clearly one of those notable few. There were some very significant sets to choose from this year as approximately 5,000 new sets were added in 2004. Don, arguably, could have had more than one set of his own qualify for this award but, at the end of the voting, we felt that this one deserved the most recognition. The Diamond Star issue has long been overlooked and, during the past year, there have been some record sales to report at public auction. This really increased awareness about this beautiful issue. This set offers great eye-appeal, difficulty and one of the most important #1 cards in the hobby in Lefty Grove. Don's set, which is 100% complete, has a GPA of 8.01! Great job Don!
Most Improved Set of the Year
John Branca: 1957 Topps Baseball (Basic)
John has become a household name on The Registry over the past 2 years. His focus on quality has resulted in a handful of mind-blowing sets. Last year, another Set Registrant by the name of Nick Romano won the award for Best Vintage Baseball Set (1948-1959) for his top notch 1957 Topps set. That set had a GPA of 8.64 at the time and was 99.75% complete. John, who was still working on his set at the time, has now surpassed Nick with a set that is not only complete, but it has a superior GPA of 8.78! The reason this is worthy of being noted is that the market for high-end 1957 Topps cards has been ultra-competitive over the last two years, making it very tough to upgrade sets. This set, home to some classic cards like rookies of Don Drysdale, Frank Robinson and Brooks Robinson and special cards like Yankee Power Hitters, has always been popular. Congratulations John!
Best Pre-War Vintage Baseball Set of the Year
Don Louchios: 1909-11 T206 White Border Baseball
Don's work on this set was part of the reason why we simply could not ignore his collection as the best of 2004. So few collectors even try to assemble this set – in ANY grade. Commonly referred to as The Monster, this set consists of over 500 cards, which is enormous considering the era. Don has a set that is 91% complete and has a remarkable GPA of 8.16! Completing a 1960's Topps baseball set in PSA NM-MT 8 or better is a great accomplishment but a T206 set? Wow! In fact, Don is on pace to break the previous T206 set rating by Kirk Harris who owned the finest set of all-time. That set had a GPA of 7.62 and was 97.90% complete. We all wish Don well in his pursuit and, even though he hasn't reached total completion just yet, we could not ignore his efforts. No one is remotely close in this category and when Don reaches his goal someday, it will be a historical event for the hobby.
Best Post-War Vintage Baseball Set of the Year (1948-1959)
Charlie Merkel: 1952 Bowman Baseball
Charlie's collection is so vast and incredible that, often times, his sets are often in direct competition with one another. He provides his own competition! This was clearly the case when it came to this category. While there were other great sets (not owned by Charlie) up for consideration here, a couple of Charlie's sets really stood out this year. In the end, we had to go with his 1952 Bowman set. You want domination? I will give you some. His set is 100% complete with a GPA of 8.83. The very next best complete set has a GPA of 8.16 which is incredible in its own right. With early Bowmans on fire in the marketplace, a lot of attention has been focused on sets like this one. Collectors love the artwork on this little beauties and Charlie's set is just in a class by itself.
Best Vintage Baseball Set of the Year (1960-1971)
Baseball – Vintage Corvette – 1966 topps: 1966 Topps Baseball (Basic)
This year, this category might have been home to the tightest race. In the end, we went with Vintage Corvette's 1966 Topps baseball set because of the degree of difficulty for the era, the sheer domination within the set category and the fact that low population 1966 Topps cards have been extremely hot in the market. The set, as many of you know, has some great cards to choose from including key HOF rookie cards such as those featuring Jim Palmer, Fergie Jenkins and Don Sutton. The set also has some very tough high-number short prints that round out the set. When you consider that this set has an astounding 8.83 GPA versus the second best set at 8.02, you can see why we chose his set for this award.
Best Modern Baseball Set of the Year (1972 to present)
Tom Clark (TC Collection): 1974 Topps Deckle Edge
Traditionally, PSA has selected mainstream sets as the award winners in general categories such as this one. This year, we fully intended on keeping it that way until we came to this category and this great set. The 1970's brought us some of the most interesting, bizarre, funky and oddball sets every produced. This set, like many others manufactured during the disco-decade, represents the times well. The 1974 Topps Deckle Edge set offers a large format, a great selection of stars, a unique design and inherent difficulty, since it was a test issue – distributed in limited quantities. Consider this. With a GPA of 9.06, not only is this set the first one to achieve 100% completion in PSA Mint 9 or better, but the very next best set has a GPA of 6.67 and is not even complete. The 1970's were a time of change and, after evaluating this set, we had to change our thinking too.
Best Vintage Basketball Set of the Year (1971 and older)
More Stars Than in the Heavens: 1961-62 Fleer Basketball
Many of you know Michael Rakosi from his award-winning 1948 Bowman Basketball set, a set that resides in The PSA Set Registry Hall of Fame. Well, in 2004, Michael decided to register another classic hoops production – the 1961-62 Fleer Basketball set and is this set nice! With a GPA of 9.20, this set moved past John Branca's great set, which also averages above PSA Mint 9 across the board. The ultra-bright images contained in this set fully enhance the inclusion of so many key figures of hoop legend. This set is filled with vastly important rookie cards such as examples featuring Elgin Baylor, Oscar Robertson, Jerry West and, arguably, the most dominant player in hardwood history – Wilt Chamberlain. There are very few sportscard sets that can compare to this one in terms of rookie card power and that is part of why it is so special.
Best Modern Basketball Set of the Year (1972 to present)
Museum of Sports History: 1972-73 Topps Basketball
This set has always been considered one of the more important basketball issues of the 1970's because it is home to not only a major Hall of Famer, but one of the most exciting players to ever play the game – Julius Erving – Dr. J. Dr. J changed the game forever with his hardwood acrobatics, seemingly defying gravity with some of his moves. The set also leads off with another legend in Wilt Chamberlain – the set's #1 card. This collector, one who has assembled, perhaps, the most diverse collection on The Registry, came into this year's awards with a set that had a GPA of 8.76 and 99% completion. The next best set has a set rating about one full point lower, making this set a standout.
Best Vintage Football Set of the Year (1971 and older)
Sarah and Joe Verno 1950 Bowman FB: 1950 Bowman Football
While there are some major football cards sets from the vintage era, like the early Leaf productions and the 1935 National Chicle set, the early Bowman sets are really the backbone of vintage football card collecting. As the second major set issued by Bowman, this 1950 issue remains a classic. This 144-card set is filled with Hall of Fame players and key cards like the ultra-tough #1 Doak Walker and the #45 Otto Graham rookie card. Like many Bowman issues, both football and baseball alike, much of the appeal falls on the great artwork associated with the sets. This 1950 set is no exception and when you consider that Sarah and Joe's set has a GPA of 8.78 versus 8.24 for the next highest set – a great set in its own right – we have our winner for 2004. It is hard to imagine anyone ever surpassing the quality of this one – wow!
Best Modern Football Set of the Year (1972 to present)
Bill Hilsenrath (Quarterbacks Plus): 1984 Topps Football
For collectors of modern football, who can ignore the 1984 Topps set? John Elway, Howie Long, Dan Marino and Eric Dickerson are just some of the stars that have rookie cards here. It is not often that one set will have two rookie cards featuring two players of mega-magnitude like those of Elway and Marino – especially in football since super star status is reserved for a chosen few. William Hilsenrath has put together a complete set with a 9.50 GPA. Sure, it's a modern card issue but it is a very important one nonetheless. It is not always about age, it is about importance and you cannot ignore William's efforts with two of the most important football rookie cards in history anchoring the set.
Best Vintage Hockey Set of the Year (1971 and older)
Thomas Malito (Teemu): 1954-55 Topps Hockey
You have probably heard it before but many consider the 1954-55 Topps Hockey set to be the equivalent of the 1952 Topps Baseball set in its respective sport. In fact, the Gordie Howe card is often referred to as hockey's equivalent to the 1952 Topps Mickey Mantle. This set is, without question, one of the most beautiful issues ever produced, in any sport. The great red, white and blue colors provide a combination that elevates these cards to the top of the eye-appeal charts. Thomas Malito has assembled a complete set with a GPA of 8.13. For those of you following the market on high-end examples, you know that the competition for top notch copies has been incredible. These tough, low population beauties are gobbled up with a blink of an eye when they come up for sale. This is a significant accomplishment that needed recognition in 2004.
Best Modern Hockey Set of the Year (1972 to present)
West Coast: 1972-73 Topps Hockey
Sometimes, a set is so head and shoulders above the rest in its respective category you simply cannot ignore it. That was the case here. This collector has assembled a complete 1972-73 Topps Hockey set with a GPA of 9.26. For comparison purposes, the next best set has a GPA of 8.22 and is not yet complete. Rarely will you see a difference of a full point in GPA when there actually is some level of competition on a mainstream set. The 1970's was a time of transition in the NHL as some of the game's greats were winding down their careers like Bobby Hull and Jacques Plante but the game was healthy and the players were as tough as nails. Now, we await the fate of the modern game and hope for the best.
Best Vintage Miscellaneous Sports Set of the Year (1971 and older)
Scott D. Ireland Collection: 1933 Goudey Sport Kings
Scott, along with Don Spence and a few others have been newcomers to The Registry over the past 1-2 years. Boy has Scott announced his presence with authority! This 1933 Goudey Sport Kings issue grabbed headlines earlier this year when a record price was set at $360,000. This set, which has long been a collector favorite, is filled with so many great cards featuring athletes from such a wide array of sports. The Babe Ruth, Jim Thorpe, Bobby Jones and Babe Didrickson cards are just a sampling of the key cards in this set. With a GPA of 8.47 and a completion percentage of 98%, this set has no equal – not even on the All-Time Finest list. Beginning with baseball in Ty Cobb and ending in dogsled racing with Leonhard Seppala, there is no set quite like this one.
Best Modern Miscellaneous Sports Set of the Year (1972 to present)
Stephen Sutherland (SHS 2001 Golf Set): 2001 Upper Deck Golf
This set, manufactured and released in 2001, is now officially the most recent production ever recognized in our special awards ceremony. For the vintage collectors out there who may not be familiar with this issue, the importance of it lies in the fact that it contains the first nationally recognized, fully licensed, mainstream rookie cards picturing Tiger Woods – a man who has forever changed the sport of golf. There is his 1996 SI for Kids card and the 1997-98 Champions of Golf/Master's Collection issue as well but both are considered, by some, to be more obscure. Since this 200-card issue was produced by noted card manufacturer Upper Deck, there is no dispute about collector acceptance. In one of the tightest races in 2004, Stephen Sutherland edged the #2 set with a 9.76 to 9.74 to earn the award.
Best Player Set of the Year
Rivard Collection: Hank Aaron (Basic)
The Player Set category is one of the fastest growing categories on The Registry. Many collectors enjoy the direct focus on one player and the challenge in acquiring one card from every major set during their career, and there were a lot of player sets that we considered for this award. Hank Aaron continues to receive more and more attention as Barry Bonds closes in on Aaron's career home run total but it is clear, to those who followed Aaron's career, that he was much more than a slugger. Aaron could just about do it all and his overall career numbers are phenomenal. The beauty of this set is that it spans so many generations of collectors. From his classic 1954 Topps rookie card to his final 1976 Topps card, there are so many great cards to choose from. The key here is that you have to own them all! Doug has assembled a complete set with a GPA of 9.03, a fitting tribute to The Hammer!
Best Topps Specialty Set of the Year
Charles Merkel: 1968 Topps 3-D Baseball
The 1968 Topps 3-D set has long been considered one of the top challenges of the post-war era. The cards are very rare for a 1960's issue and, despite a small find of them years ago; the PSA Population numbers have remained relatively small. It is also home to one of the most significant post-war rarities in Pirate legend Roberto Clemente. Charlie's set is just about perfect from beginning to end. With 100% completion and a GPA of 9.90, it simply cannot get much better – he is just one card away from a perfect PSA Gem Mint 10 set. Since this set is symbolic of the great Topps test issues of the era and Charlie's quality was so uniformly exquisite, we had to recognize this great set in 2004.
Best Overall Specialty Set of the Year
Marshall Fogel: Hall of Fame Players – Post War Rookies
This category offers a wide array of sets for consideration. This is where the registrants can get extremely creative. While this category can result in some very obscure sets, there is nothing obscure or odd about a Post-War Hall of Fame rookie card run. From the 1948 Leaf Jackie Robinson to the 1951 Bowman Mickey Mantle to the 1984 Fleer Update Kirby Puckett, you have to own them all to complete the run – a run that currently spans 5 decades of card manufacturing. Renowned collector Marshall Fogel has assembled a set with an 8.56 GPA and the set is 95.71% complete. Consider some of the powerhouse cards needed to complete this set with a GPA of this quality, like the 1948 Leaf Satchel Paige and the 1952 Topps Eddie Mathews. There are some very tough cards in this run. This set really blends vintage with modern and all of the cards are important.
Best Regional Set of the Year
Charles Merkel: 1954 Dan-Dee Potato Chips Baseball
As you may have noticed by this point in the 2004 awards, Charlie is having another stellar year. The 1954 Dan-Dees have always been one of the more popular regional sets the hobby has to offer. The inherent difficulty in the set has been discussed for years. Packed with potato chips, the grease for those tasty snacks would often damage the edges of these great cards. This will result in noticeable discoloration. The set, while small in size, offers a few of the biggest names of the day including Duke Snider, Bob Feller and everyone's favorite – Mickey Mantle. There are also some tough Short Prints to boot. When you consider that Charlie has a complete set with a GPA of 8.39, you can see why the set deserves recognition.
Best Oddball Set of the Year
thegemmintman: 1970 Kellogg's Baseball
The oddball category was designed to reward some of the more unique and obscure sets that provide collectors with an alternative to the basic, mainstream sets that we are all familiar with. If there was ever a set destined to be the poster child for this award, it would almost certainly have to be a Kellogg's issue. The 1970 Kellogg's Baseball set was the first of its kind and Kellogg's continued into the early 1980's. These unique, 3-D style cards really capture the era and this particular set features many of baseball's top stars. In addition, the registrants in this specific category have taken competition to a new level. There are several very high-end sets in contention but only one can make it to the top. This collector has assembled a complete set with a remarkable 9.82 GPA. Considering the degree of competition, this set is worthy of recognition.
Best Non-Sports Set of the Year
Sarah and Joe Verno: 1959 Fleer Three Stooges
The non-sports area of the graded card market has experienced noticeable growth over the past two years. With so many terrific non-sports issues covering a variety of topics including war, fantasy, science fiction, movies, television shows, cars and the like, hobbyists have realized that this category offers some very interesting collecting opportunities. One set, that has always been a collector favorite, is a set that features those three wacky guys that took physical comedy to the next level. I am, of course, referring to the 1959 Fleer Three Stooges set. Leading off with Curly, then Moe and Larry, this 96-card set is filled with images of their famous antics. Throw in a few super difficult checklists and you have a well-rounded challenge. Sarah's complete set has a GPA of 8.55 and is the only complete set to average PSA NM-MT 8 or better. With the market always strong on this issue, it makes Sarah's set even more impressive.
Best Ticket Set of the Year
The Dreier Collection: Super Bowl Ticket Run (1967-Present)
Well, our Ticket Registry is in its early stages but we already see interest in specific areas. The most popular ticket run in the hobby has to be a run of Super Bowl tickets. The tickets, generally speaking, are aesthetically beautiful. Some exhibit bold colors while others utilize hologram designs to catch the eye. In addition, the goal is clear in nature since there is only one game, one Super Bowl, each year. The importance of each ticket is raised to a new level since this is the only major sport that decides its champion in one game. Some of the tickets in this run are extremely rare in Full form, putting some trading card rarities to shame. The 1968 and 1978 tickets are super rarities and each ticket provides a major obstacle. Douglas Dreier has assembled a great run of Super Bowl tickets with a set rating of 10.23 – about 2.5 points higher than the next best run. Tickets offer a connection to the game that few collectibles can and ticket runs should experience growth on The Registry in the years to come.
ATF sets to be inducted into the Hall of Fame
1911 T205 Gold Border: Wendell Smith (The Smith T205 Gold Border Collection)
Wendell Smith received the award for Best New Set in 2003 – the Rookie of the Year – and, truthfully, it was just a matter of time before this set was going to make the full leap into The PSA Set Registry Hall of Fame – the pinnacle of Registry recognition. This set, a set that Wendell continues to upgrade when possible, is 100% complete with a GPA of 7.32. When you consider how tough those pesky gold borders are, this set represents amazing quality for the issue. Cobb, Speaker, Mathewson, Johnson, Young and a host of other Hall of Famers are here – now in a new Hall of Fame.
1911 Sporting Life (M116): Don Louchios
This is the first of two sets from our 2004 Collector of the Year that reached Hall of Fame status this year. This set, much like Wendell's T205 collection, was recognized last year during the 2003 awards. It received the honor of Best Pre-War Baseball Set of 2003. The set is full of Hall of Famers and home to two major rarities in McConnell (Chicago) and McQuillan (Cincinnati). There are very few sets that one could say will never be matched. If you talk to any hobby expert about this set, that is exactly what they will tell you. Consider this: Don's set rating is 9.19 (100% complete with a GPA of 7.97). The very next best set has a set rating of 2.86. That about says it all.
1933 Goudey Baseball: Don Louchios
As one of The Big Three, the 1933 Goudey set deserves its share of attention. Charlie Merkel, who owns the finest current set on The Registry, had his set inducted in 2003. Don's set is right behind Charlie's with a GPA of 8.14. To complete this set in PSA NM-MT 8 or better condition is a major accomplishment and deserving of Hall of Fame recognition. From the ultra-tough #1 card, Benny Bengough, to the difficult low numbers to the classic Ruth quartet or the legendary pre-war rarity in Napoleon Lajoie, this set has it all. In addition, this set boasts a tremendous amount of Hall of Famers including the likes of Jimmie Foxx, Mel Ott, Rogers Hornsby and Lou Gehrig among a slew of others. Don is at it again!
1952 Topps Baseball (Basic): Marshall Fogel and John Branca
Starting with a condition rarity and ending with another in Pafko (#1) and Mathews (#407), this set is widely recognized as the most important set in the post-war era and it's easy to see why. Still, to this day, the 1952 Topps baseball set is one that has few comparable issues in terms of pure eye-appeal. The large format and great colors helped Topps succeed with their first major issue. More than anything, this set is symbolic. It symbolizes a time long past. It symbolizes a time that evokes so much emotion for so many collectors. It symbolizes collecting in general, led by an individual specimen that may be the most recognizable card ever made – #311 – Mickey Mantle. Both Marshall's and John's sets, with respective GPA's of 8.26 and 8.25, deserved induction in 2004.
1954 Wilson Franks Baseball: John Branca
This is another case where you simply cannot imagine there ever being another set that will eclipse the quality of the current leader. The 1954 Wilson Franks are clearly one of the toughest post-war sets in the hobby. Packed with hot dogs, these colorful cards were subject to a host of condition problems. In fact, these cards were often produced off-center straight from the factory due to the super small borders. In addition, this set includes great stars like Roy Campanella, Bob Feller and Ted Williams – one of the hobby's top rarities in high-grade. John's complete set has a GPA of 8.20. The next best set in the category is considered high-grade for the issue and that set averages about PSA EX 5 to EX-MT 6 across the board. Need I say more?
Ted Williams Player Set (Basic): John Branca
Ted Williams is a favorite of so many collectors. He was a hero on the field and a hero off the field. Teddy Ballgame defended our country and, in the process, he lost about 5 full years of his prime. Nevertheless, he is still considered the greatest hitter who ever lived by most. From a hobby perspective, it is very fitting that Williams is featured on so many legendary cards. Virtually all of his cards are considered must-haves like the 1941 Play Ball, 1954 Bowman and 1954 Topps #1 and #250 cards. In fact, Williams had more cards selected for The Top 200 Sportscards in the Hobby than any other player, including Mickey Mantle. Oh, by the way, how appropriate that #9 is represented by all PSA Mint 9's here. Wow!
1957-58 Topps Basketball: Michael Rakosi
Michael Rakosi's focus on some of the top vintage basketball sets is well-known in hobby circles. This year, after having his fine 1948 Bowman Basketball set inducted into The PSA Set Registry Hall of Fame in 2003, Michael's 1957-58 Basketball set will follow its lead. As one of the toughest sets to complete in PSA NM-MT 8 or better condition, this issue has haunted collectors for decades. Print snow, centering and border toning are just a few condition obstacles this set endures. The 80-card set is also filled with so many major keys such as rookie cards of Bob Cousy and Bill Russell – the Russell being one of the true classics in the hobby. There are also a host of Short Prints and the first and last cards, Clifton and Schnittker, are virtually impossible in high-grade. Michael's complete set has a GPA of 8.15, making it the very first set on The Registry to reach PSA NM-MT quality across the board.
1964-65 Topps Hockey: Theodore Kotsiakos (Theo's 1964 Topps)
Last year, we awarded Theodore for his great set with Best Vintage Hockey Set during the year of the Tall Boy. This year, we felt it was time to honor his hard work by inducting his set into the Hall of Fame. Many collectors know about the great Tall Boy issues of the 1960's and 1970's but some may not know that the hockey issue is considered by many to be the toughest of all the Topps Tall Boy productions since these hockey cards were generally not distributed in nearly the same quantities as baseball or football. Theodore's set has a GPA of 8.12, which is clearly deserving of top recognition. The set is a classic and, considering the difficulty, the induction decision was easy to make.
1965 Topps Tall Boy Football: Levi Bleam (707 Sportscards - ltd – 1965 Topps Tall Boys)
The Topps Tall Boys have long been a favorite card style with collectors. These cards exhibit gorgeous colors and provide inherent difficulty because preserving these tiny "giants" of the hobby is a tough chore. This 176-card football issue carries with it a hoard of Short Prints, a super-challenging checklist (#176) and a nice selection of stars, including the legendary Joe Namath rookie card – a card that just might be the most recognizable football card in the hobby. Currently, this is the only complete set on The Registry to reach PSA NM-MT 8 quality across the board (a GPA of 8.00 exactly), which is a noteworthy accomplishment. Congratulations Levi and crew!
Collector Hall of Fame
Charlie Merkel – Last year, renowned collector Marshal Fogel took home our most prestigious award. This year, the attention turns to a man that has assembled another amazing collection, who was the recipient of the 2003 Best Collection of the Year award – Charlie Merkel. To say that Charlie Merkel has a great collection is an understatement. He is at the top of some of the most important sets in hobby history including 1915 Cracker Jack, 1932 US Caramel, 1933 Goudey, 1934-36 Diamond Star, 1952 Topps, 1948-1950 Bowman baseball and 1952 Bowman baseball. In addition, Charlie is near the top of so many other key sets like 1951 Bowman baseball, 1953 Bowman baseball and more. With so many key sets, Charlie's level of quality is simply amazing. It is also important to point out that Charlie is one of the few collectors that actually kept his original collection from childhood. Many of those cards are not registered today but he still owns them. I think Charlie has done a pretty good job of upgrading – don't you?