he sport of two men squaring off against one another, using their fists as weapons, can be traced back to Ethiopia, over 6,000 years ago. From there, it slowly spread to Egypt and eventually throughout the entire Mediterranean region. Ancient Crete also had a boxing-like sport, which developed around 1500 B.C.
Although the sport wasn't added to the ancient Olympic games until 666 B.C., some sort of boxing had been established amongst the Greeks well before that time. In one form of those early Grecian matches, opponents sat facing one another on stones, pounding away at each other until one finally keeled over.
The Romans added an even more brutal aspect to the organized fight game by including various bronze, iron and brass weapons. This resulted in a violent display of brutality, making it not a sport, but a bloody battle in which slaves were pitted against one another in gladiatorial contests that ended in death.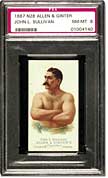 John L. Sullivan's 1887 Allen & Ginter card is considered to be the first important boxing card.
This horrific violence ultimately began to weigh on the minds of leaders of the Roman Empires who banned such events in Rome around 30 BC. With the advent of Christianity, pugilism all but disappeared from Europe until the late 17th Century when its resurrection took place in England.
A London newspaper first referred to a boxing match in 1681, and by 1689 bouts were a regularly scheduled event at London's Royal Theatre. These English Duke's bouts were by no means what we would recognize as boxing today. In fact, they were actually a mix of boxing and wrestling, where along with hitting with the fists, a fighter could grab his opponent, throw him to the ground and then jump on top of him.
In 1719, an expert fencer by the name of James Figg opened a boxing academy in London. Figg taught the finessed fencing techniques of parrying and ripostes to his boxing students and used this strategy himself to became a respected champion who never lost a bout. Having brought a new element and prestige to the sport, Figg's methods rapidly caught on, and boxing academies began sprouting up throughout Great Britain.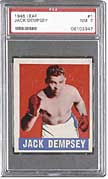 Jack Dempsey's 1948 Leaf card is a very important and difficult card.
A student of the Figg method, a young man by the name of Jack Broughton, then took the sport to the next level. Recognized as 'The Father of English Boxing", Broughton was the acknowledged champ from 1729 until 1750. Having gone on to establish his own fight academy, he is credited for writing the sport's first set of rules in 1743. He was also the creator of the first pair of boxing gloves, which he called "mufflers". These mufflers were used to protect the hands and face in practice only. When the real fight began, the gloves came off (hence the often-used term).
In 1814, the Pugilistic Society was formed and in 1938 they modified and formally adopted Broughton's rules to include a standardized 24-square foot "ring" and the interruption of action by short breaks known as "rounds". Meanwhile, on the other side of the Atlantic Ocean, sport fighting of various sorts had become common on the American frontier, although boxing as a recognized sport was non-existent.
The first two men who emerged as fighters in America were, not surprisingly, from England. The first was Bill Richmond who had settled on New York's Staten Island. Known as "The Black Terror", Richmond was the premier fighter in America until 1805 when he lost for the first time, to another Britt, Tom Cribb. It was the only fight Richmond would ever lose and when he finally retired from the fight game, he was 52-years old.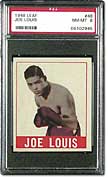 The Brown Bomber's '48 Leaf is one of the sports most sought-after cards.
The first great truly American fighter was Tom Molineaux, a slave who worked on a Virginia plantation until his boxing prowess won him his freedom. Molineaux left the plantation in 1809 and headed to England where he won two major bouts before losing to Cribb the following year. The first formal boxing match that can be confirmed in America was an 1816 bout that pitted Jacob Hyer against Tom Beasley. Hyer won the fight, claimed the American title and then retired from the ring. His son, Tom, took up where his father left off and beat George "Country McCloskey" McChester in a hugely publicized fight in 1841 that was billed as America's first heavyweight championship.
By the middle of the 19th Century, boxing had been banned in many cities throughout England, which saw English fighters head for the rings of America. The best of these scrappers was Yankee Sullivan who not only dished out beatings in the ring, but also dished out whiskey at the New York saloon he ran. During his prime, in the mid-1800s, he defeated every opponent he faced until he met up with Tom Hyer, who was billed as "The Great American Hope".
The Sullivan vs. Hyer bout took place in Rock Point, Maryland and saw Hyer walk away with the $20,000 purse at the end of the 16th round. The news of that fight had garnered such a high level of interest that its results were wired to New York Newspapers, making it the first sports story ever sent over the telegraph.
As boxing gained popularity, it also gained opposition and a number of states were following in England's lead and banning the sport. But despite the fact that it was labeled as being barbaric by some, America's first true championship fight took place on May 30, 1880 at Collier Station, West Virginia when Joe Goss, widely considered to be the English champion, faced a challenger from Ireland named Paddy Ryan. The fighters duked it out for over an hour and a half before Ryan finally KO'ed Goss in the 87th round!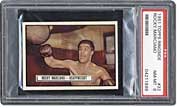 The biggest problem with this Rocky Marciano 1951 Topps Ringside is simply finding one.
Ryan was then challenged to defend his title by John L. Sullivan of Boston. The fight took place in February of 1882 and Sullivan snagged Ryan's title with a 9th round KO that took only 11 minutes. Sullivan continued to defend his title until 1892 when a fighter by the name of James "Gentleman Jim" Corbet walked away with the championship belt and a $25,000 purse.
One of Sullivan's greatest distinctions is that he was the first fighter to ever appear on a card. Produced by Allen & Ginter as #N28 in 1887, this card was a part of the 50-card "World Champion" set that was packaged inside cigarette packs. Tobacco stains are very common on this card that was printed on bright white card stock. Corner and edge wear are also a problem due to the way they were packaged. It is an extremely difficult card to find in any condition, and high grades command top dollar.
During the early years of the 20th Century boxing continued to grow in popularity throughout the United States and by the 1920s the sport saw its first real star – Jack Dempsey. Born into an impoverished family in Manassa, CO in 1895, William Harrison "Jack" Dempsey scrapped through his youth as an itinerant laborer and a club fighter. In 1919, he finally got the shot that every fighter dreams of – the chance to challenge the world heavyweight champ. In just four rounds, Dempsey brutalized Jess Willard to claim the title, and then reigned over the sport until losing the designation to Gene Tunney in 1926.
When Dempsey finally retired from the ring in 1927, he had a 64-6-9 record. He went on to experience some difficult financial setbacks, losing over $3 million dollars in the stock market crash. Recovering from the crash he operated a popular New York restaurant for many years and died on May 31, 1983 of natural causes. Fight card collectors agree that the two most important Dempsey cards are the 1948 Leaf #1 and the1932 U.S. Caramel #22.


While Muhammad Ali was The Greatest, he never had a mainstream card produced.
"The Leaf '48 Dempsey is a difficult card due to the fact that it was the first card in the set," said SMR Editor, Joe Orlando. "It's always that first card that takes the abuse of the rubber band and general exposure of being the top card of the stack." Beyond the card's numero uno status, these cards also suffer from toning, centering and print quality problems. "The borders on this issue can be found with an almost brown color and this can really hinder the eye appeal," said Orlando. The U.S. Caramel #22 is also a desired Dempsey card but doesn't rise to the level of the Leaf offering. "The '48 Leaf set was one of the most important boxing sets ever issued," Orlando said.
Another champ of the ring who was embraced by Americans was an Alabama sharecropper's son named Joe Louis. The heavyweight championship reign of Louis, from 1937 till 1949, is the longest of any man who has ever held the title and he is also credited for changing the way African-Americans were viewed in the athletic arena.
Born Joseph Louis Barrow in 1914, he began fighting as a young man under the name Louis, so his mother wouldn't find out.
By the time Louis had retired in 1951, with a 68-3 record, he had earned close to $5 million dollars and yet he hardly had anything to show for it due to his extravagances and generosity. Owing the IRS $1.2 million dollars in back taxes, interest and penalties, he suffered the humiliation of competing as a wrestler to help pay off his debts. Louis also had to fight off bouts of paranoia and a cocaine addiction before finally becoming an official "greeter" at Caesars Palace in Las Vegas. His final years were ones of failing health, and in 1981, at the age of 66, The "Brown Bomber" died in Las Vegas.


These trunks were worn by Ali in his first bought with Joe Frazier. Fight-used Ali items are rare and command huge prices.
When it comes to Louis there is one card that stands out as THE card – the 1948 Leaf #48. "This is a very tough card overall due to the fact that it has a variety of condition problems," said Orlando. "Toning, centering and print quality are all very inconsistent with this issue. It is clearly the key card in the '48 Leaf set and the bright background gives it great visual appeal."
When boxing fans list the greatest fighters the world has ever seen, no list would be complete without the man whose career spanned three decades and who embodied the sweet science of the fight game – Sugar Ray Robinson. Born Walker Smith Jr. in Ailey, GA in 1921 his family moved to New York when he was a kid. One day, while boxing in a Harlem gym he borrowed the Amateur Athletic Union card of a friend named Ray Robinson. From that day forward he never used his birth name again.
Robinson was a world welterweight champ who also held the middleweight title five times. He is considered by many to be one of the most talented boxers to ever enter a ring and earned his nickname when a newspaper reporter described his style as "sweet as sugar". Robinson's legacy was not made in the boxing ring alone. He was one of the first African-American athletes to become a major star outside of the sports arena. In the 1940s he was as much a part of the New York nightlife scene as Frank Sinatra and The Copa. He traveled everywhere with a colorful entourage that included his secretary, a barber, a masseur, a voice coach, a coterie of trainers, a beautiful woman, a dwarf mascot and his lifelong manager George Gainford.
As with so many of the great fighters, Robinson never knew when to hang up the gloves, and his extravagant lifestyle kept him in the ring far longer than was practical. When he did finally retire, at the age of 44, he walked away with a 175-19-6 record. In his later years, Robinson danced, sang and acted before being diagnosed with Alzheimer's Disease and diabetes. He died in Culver City, CA on April 12, 1989 at the age of 67.


One of the most important fight-worn items in existence is the robe Ali wore for The Thrilla in Manilla.
Sugar Ray cards include the #64 card in the 1948 Leaf set and the #43 card in the 1951 Topps Ringside set. "The '51 Topps Robinson card is the significant one," Orlando opined. "The '51 Topps Ringside is the most significant boxing set that Topps ever put out and along with his card, Robinson is also featured on the #34 card."
When the legends of the fight game are discussed, there is another name that is always quickly included – Rocco Marchegiano. What's that you say? You never hear of him? Well maybe you know him better as Rocky Marciano.
The Rock was born on September 1, 1923 in Brockton, MA. He grew up as a tough kid who was known as a street brawler. In high school Marciano excelled in football and baseball and his dream was to become a major league catcher. That never materialized and following graduation he went from one grubby job to the next until Uncle Sam came calling and he was inducted into the U.S. Army. It was during his military stint that the then 20-year old Marciano started representing his unit in amateur fights and when he left the service in 1946, he was signed on to play regional semi-pro baseball with the Taunton Lumber Team. He used that stage to once again realize his dream of becoming a professional ball player but, when all attempts failed, he resigned himself to pursue a boxing career. That would lead Rocky to a career that would ultimately see him win 37 fights by knockout and become the world heavyweight champ with a victory over Jersey Joe Walcott.
On April 31, 1969, at the age of 46, Rocky was killed in a plane crash. Despite the fact that he lacked the height, weight, speed and grace of Robinson and Louis, Rocky had heart, a powerful right hand and an amazing threshold to absorb punishment.
When it comes to Marciano there is only one card – the 1951 Topps Ringside #32. The biggest problem with the card is simply finding it, in any condition. "The '51 Topps Ringside is considered to be a mainstream set, but it did not get distributed very well," said Orlando. "And while boxing cards have never generated the interest that other sportscards have, during that time there was a lot of excitement surrounding boxing, so big name cards like Marciano were most likely handled a lot. That's why it's a very tough card to locate in top grades."
Finally, no story titled Lords of the Ring would be accurate without the inclusion of "The Greatest" – Muhammad Ali.
Born on January 18, 1942 in Louisville, KY as Cassius Clay, he began fighting at the tender age of 12. He continued to fight during his high school years and won two national Golden Gloves middleweight championship titles before graduating as a D student, 376th in a class of 391. What Cassius lacked in the academic arena he made up for in the fight ring where his lighting fast hands and footwork, coupled with his brash, self-promoting style, revitalized the waning sport of boxing. Perhaps the most important year in the rise of "The Greatest" was 1964, when against great odds he dethroned the heavyweight champ, Sonny Liston and then announced he had joined the Nation of Islam and would henceforth be known as Muhammad Ali.
Ali's popularity nose-dived with the announcement. Promoters who had been chomping at the bit for a rematch with Liston, shied away from him although he did go on to successfully defend his title seven times. In 1967, Ali ran into an opponent like none he had ever tangled with before – Uncle Sam. When he was drafted into military service he refused to step forward. "I ain't got no quarrel with them Viet Cong," he told the media.
When Ali's induction day came unheeded, it went along with his boxing license. The New York Sate Athletic Commission was first to deny him the right to fight and other commissions rapidly followed suit.
A court trial saw Ali found guilty and ultimately the case went to the U.S. Supreme Court where he prevailed. It was a major fight for Ali but the ones fans tend to remember far better are the famous bouts with Joe Frazier. "The Fight of The Century" between Ali and Frazier took place in 1971 at New York's Madison Square Garden which saw Ali's throne pulled out from under him as Smokin' Joe limped away with the title on a unanimous decision. The second Ali-Frazier meeting took place in 1974 in which Ali beat Frazier on a unanimous decision, but did not win back the title since Joe had lost it to George Foreman.
That fight set up one of the most famous matches in fight history – "The Rumble in the Jungle" in which Ali "Rope-A-Doped" Foreman for eight rounds before knocking him out. Ali had regained the title and eleven months later he traveled to the Philippines to once again meet up with Frazier for "The Thriller in Manila". The two boxers put a serious beating on one another, but when Frazier could not answer the bell for round 15, Ali was declared the winner.
Overconfident and out of shape, he fought Leon Spinks, a 1976 Olympic boxing champ who had only fought in seven professional fights. Spinks beat him on a split decision. Ali regained the title by beating Spinks seven months later. Winning a unanimous decision over Spinks, he became the first three-time world heavyweight champ. It would be his last victory. Larry Holmes and Trevor Berbick beat him in his last two fights leaving Ali with a career record of 56-5 when he retired in 1981.
Three years after his retirement, Ali was diagnosed with Parkinson's Disease, a neurological syndrome characterized by tremor, rigidity of movement and slowness of speech. "As unbelievable as it seems, Ali, who is perhaps the most important boxer ever, doesn't have a mainstream card." said Orlando. "He is featured on the #24 1971 Barratt & Co, card as Cassius Clay. That is, of course, the most popular card in what otherwise is an obscure set. Ali also appears on an early Exhibit card and a few commemorative cards that were put out in the 1980s. I think it points out why boxing cards have never really caught on when you consider that one of the world's premier boxers doesn't have a mainstream card."
Orlando continues to make his point when he says that no major companies are producing boxing cards today. "I believe it's because some of today's boxers are perceived as negative figures who hold little or no interest with collectors," he said. "The sport is rich with legends, but there is a stigma associated with modern boxing because it has very little respect. There's no questioning that the sport has taken a major hit despite having some marketable guys like Roy Jones and Oscar De La Hoya. That has a lot to do with the creation of so many titles... no one knows who is champ or what they are champ of."
Along with sportscards, other boxing memorabilia and collectibles include programs, posters, ring-used items and autographs. "Ali items are hugely popular," said Orlando. "He has been a willing signer for many years, so there's a lot out there, and yet, it's still in high demand. His ring-used equipment sells for outrageous prices and even gloves and shoes he has used in training are in demand. The fight-used equipment will always be the most popular. These are the items that are linked to a specific event in sports history. The items used in training are simply linked to the athlete himself."
As for vintage fight-used items, Orlando shrugs, "A pair of Louis' gloves, or a Robinson fight robe, or Marciano's trunks, would command top dollar. The problem with these items is that they are not just extremely rare, authentication is difficult if not impossible. It usually comes down to sheer provenance." Although actual vintage fight or training items are hard to come by, autographs of legendary fighters are very much available, albeit at hefty prices. "There's a solid base and a tremendous following for autographs of vintage fighters," said Orlando, "and there always will be. They were the original American gladiators."