By Steve Ryan

e is arguably the Babe Ruth of our era. The memorable swing, the memorable 1998 season, the name Mark McGwire became as much a household name as the Babe himself when he captured the emotions of baseball fans — and even non-baseball fans — around the country in shattering Roger Maris' single-season home run record. Who could ever forget McGwire raising his son into his arms at home plate? Who could ever forget McGwire and Sosa racing to the record homer-by-homer, day-by-day, before McGwire ultimately took the lead and the record? Who could ever forget the Maris family along the first base line and McGwire running over to greet them? And, now, even after only a few months since Barry Bonds replaced McGwire atop the record books, it's McGwire we talk about and his retirement from baseball.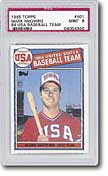 Mark McGwire's 1985 Topps Rookie Card has been trading at high dollar value in PSA 9 and 10s.
The baseball world — the sports world — has lost one of its top heroes. McGwire, a member of the 1984 United States Baseball Olympic Team, went on to become one of the "Bash Brothers" with Jose Canseco and the Oakland A's. He was part of a great team in the Oakland A's who won division titles in 1988, 1989, 1990, and 1992 with one World Series title in 1989. He was also part of the 2001 St. Louis Cardinals who went to the postseason. Unlike Roger Maris, who broke Babe Ruth's record for most single season homers in 1961 with 61 dingers but was never inducted into the Hall of Fame, McGwire is destined for the coveted Hall in Cooperstown, New York. In fact, he will most likely be inducted on the first ballot along with Cal Ripken Jr. and Tony Gwynn, both who also retired in 2001. (Baseball rules stipulate that a player cannot be eligible for the Hall of Fame until five years after his retirement). And even though McGwire suffered with knee injuries in the final season and hobbled to 30 homers and a dismal .187 average in his final season, the former Rookie of the Year in 1987 finished with a massive 583 career home runs, fifth on the career list.
Conveniently, the sportscard, memorabilia and autograph industry may benefit from McGwire's retirement and heroics. Here's how and why:


A vivid scene of McGwire saluting the crowd in his memorable, record-breaking season of 1998.
1) AUTOGRAPHS: In recent years, McGwire has shyed away from signing autographs in quantities. For those collectors of the popular 500 Home Run Club, Mac's signature has been the missing link in their collections. While most comparable legends like Bonds, Jeter, Ripken, Gwynn have signed mega-autograph deals with major trading card manufacturers like Donruss, Fleer, Topps and Upper Deck, there have not been any autographed baseball cards of Mark McGwire offered in packs of cards. McGwire has been featured on packaging for the card companies, but has not offered his inscription for sale... until possibly now. It has been rumored for a while that when McGwire retires he will ink a contract for his autograph with a major card manufacturer. Companies like Steiner Sports, Upper Deck Authenticated and others are surely already knocking on McGwire's door for what will be a highly coveted signature... in main part because of the rarity of his signature, not to mention the popularity of Mac himself. The only times McGwire has signed has been an occasional signature at the ballpark and for Manager Tony LaRussa's Foundation. McGwire's signature has also been a focus of forgerers over the years and McGwire is well aware of it, taking measures to keep his signature as limited as possible. For those reasons alone, McGwire's autograph will be highly sought after when it hits the market "officially" – especially for the numerous collectors of the popular 500 Home Run Club — much like his rookie card was the talk of town after breaking Maris' record.


McGwire signed more frequently in his early days with the Oakland A's.
2) ROOKIE CARD: A relatively "quiet" rookie card before 1998, Mac's race to the record brought renewed vigor to his 1985 Topps Rookie Card. During the 1998 season and since then in the trading card market, Mark McGwire 1985 rookie card has brought mega bucks for the high graded versions. Even over three years later and with Bonds breaking his record, Mac's first card is still highly coveted with PSA 10 versions selling well over $1,000, and PSA 9 versions selling for solid money as well. Mac's 1985 Topps Tiffany Rookie Card, the high glossy version of his regular rookie card and a tough find in perfect condition, has also been a favorite among card collectors.
Following McGwire's retirement, there was significant action in the industry and on Ebay surrounding McGwire's cards. Ebay itself featured over 7000 different cards and items of McGwire only days following the announcement. For comparison sake, there were only 4000 cards of Barry Bonds in the same day. Like most modern day players, McGwire's cards tail off in value over the years, but there are a few sleepers that have potential to increase in value if McGwire becomes more visible in baseball in the sports collectibles industry, especially the first cards that feature him in an Oakland A's uniform. Some of those "sleeper" first A's cards include: 1987 Donruss (#46), 1987 Fleer Update card (card # 76), 1987 Topps Tiffany card (#366). (Most card companies waited until 1987 for his first cards. Mac only played 18 games in 1986 after the Olympics but came out of the gate strong in 1987, winning Rookie of the Year honors and setting the record for most homers by a Rookie (49).


McGwire took on more of an intense look in his days with the St. Louis Cardinals.
3) GAME USED CARDS AND MEMORABILIA: Again, most current players have allowed their image and game used equipment to be featured on trading cards over their career, but not McGwire! While McGwire allows his image to be featured, McGwire and his agent have stood firm on not allowing his game used equipment (bats, jerseys, etc.) to be cut up and placed on trading cards. Hence, why not too many game used cards of McGwire – except for a few – have appeared in the marketplace. Going forward, McGwire will most likely sign a contract with a trading card manufacturer that allows for his equipment to be sliced and diced and placed on cards with his autograph. This, too, will help invigorate the market.
4) OTHER MEMORABILIA: Mark McGwire will go down in history as one of the great home run hitters of all time. When fans talk of the 500 HR Club years down the road, the names of Hank Aaron, Babe Ruth, Willie Mays, Mickey Mantle and Mark McGwire will be grouped together. Like those legends of yesteryear, McGwire's swing and menacing demeanor that threatened pitchers' every pitch will always be images to remember in baseball lore.
Big Mac, we'll see ya in Cooperstown in 2006.
---
Steve Ryan is Product Manager of Collectors Universe.