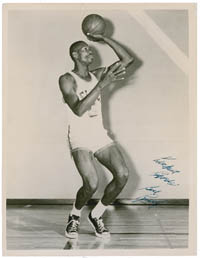 AMHERST, N.H.- Black History Month will be recognized by RRAuction in its February auction. In addition to more than 1,250 regular auction items are over 200 signed photos from the Exceptional Sports Collection of Jim Wiggins-one-of-a-kind photos and unique subjects bearing numerous vintage autographs. RRAuction has selected 14 high-quality signed examples of African-American icons from the sports world in celebration of their contributions.
Muhammad Ali has signed a youthful pose of himself, adding "World Heavy Weight Champion 1967." This was the same year that the champ refused conscription into the US Army, leading to his arrest and subsequent loss of his boxing title.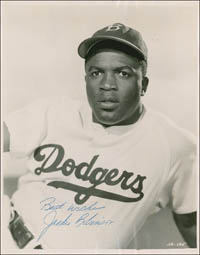 The grit and determination that enabled Jackie Robinson to break baseball's color barrier is in focus in an 8 x 10 portrait of the Los Angeles Dodgers hero-beautifully signed by the Hall of Famer.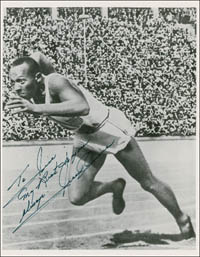 The legendary Kareem Abdul-Jabbar was captured early in his career with the Milwaukee Bucks, displaying his incredible span as he easily touches a basketball net. The remarkable pose is superseded only by his vintage autograph-"Lew Alcindor"-on the photo. Kareem joined the Bucks in 1969 and changed his name in 1971. His contemporary, Wilt Chamberlain, penned a vintage signature on a unique shot taken from above the rim as he did his thing with the Philadelphia Warriors. In another remarkably early and scarce practice pose, a young Bill Russell has signed an early 1960s photo.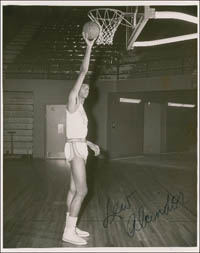 Other highlights include a photo signed by Emmett Ashford, baseball's first African American umpire; Satchel Paige during his stint with the St. Louis Browns; a photo of Kirby Puckett from 1986, the year he emerged as an outstanding member of the Minnesota Twins organization and earned his first Gold Glove Award; Cleveland Browns legend Jim Brown, who has added a vintage signature to his news service photo; individual images of tennis stars Arthur Ashe and Althea Gibson; Sugar Ray Robinson in the ring; Jesse Owens in the race that made him famous; and a youthful Michael Jordan-with hair-from his days in North Carolina.
The auction ends on February 9. For information, visit the RRAuction web site at www.rrauction.com or contact Bobby Livingston at bl@rrauction.com