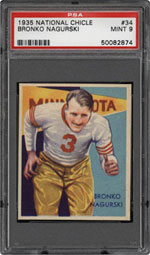 The finest 1935 National Chicle Bronko Nagurski card in existence has been sold for a record-setting price of $350,000 through a private transaction brokered by Memory Lane Inc.
The PSA 9 (Mint) graded card of the Pro Football Hall of Famer had been the centerpiece of a collector's number one all-time finest Hall of Fame rookie cards set listed on PSA's Set Registry. It was purchased by another collector on the east coast who has chosen to remain anonymous. It is the only PSA 9 1935 National Chicle Nagurski in existence.
The 1935 National Chicle Bronko Nagurski is the most valuable football card and was ranked 17th on the list of the hobby's most important sports cards compiled for publication in Collecting Sports Legends, a coffee table book chronicling the most important sports cards and memorabilia.
It is a difficult card to locate in any condition because it is part of the scarce high number series in a set that is rare in and of itself. Pro football was barely a blip on the radar screen of most sports fans in the 1930s and not many were printed or sold. Nagurski represents the hard-nosed, leather helmet play of the era and his hard charging image on the front of the card is instantly recognizable.
PSA has never graded a 1935 National Chicle Nagurski in a '10' and no PSA 9 Nagurski cards have emerged since, keeping the recently sold example as a one-of-a-kind vintage football card with no peer in PSA annals.
"This is a landmark sale and it was exciting to be a part of it," said Memory Lane's J.P. Cohen. "It shows that the high end vintage card market is not just thriving for baseball cards but for all scarce, high-grade cards from other sports as well. The demand for 1-of-1 cards like this is greater than ever and some feel that a private transaction is the best way to acquire the tough cards they need."
The sale of the Nagurski card is a prelude to Memory Lane's Second Annual Big Game Auction, a football-only event that opened January 22 and concludes February 5, the day before Super Bowl XLV. Hundreds of scarce and top grade football cards, game worn items and other football-related pieces in the auction.
The Nagurski card represents the latest high dollar transaction handled by Memory Lane, the leader in private sales of high-end cards. The company has also helped other iconic cards and memorabilia change hands including: T206 Honus Wagner ($925,000), 1951 Bowman Mickey Mantle PSA 10 ($600,000), 1956 Topps Baseball #1 All-Time Finest set ($550,000), 1952 Topps Mickey Mantle PSA 9 ($375,000), 1927 New York Yankees team signed photo ($350,000), 1954 Topps Hank Aaron Rookie Card PSA 10 ($250,000) and a 1948 Bowman George Mikan Rookie Card PSA 10 ($218,550).
Memory Lane continues to take consignments for its second Own it Now private sale catalog, set to be released later this winter. The company launched the program last year to allow sellers to set a fixed price for items rather than place them into an auction. Once a certain time frame has passed, unsold material is then open for offers. The first Own it Now event conducted last fall generated over $800,000 in sales. The consignment deadline for the next catalog is February 1.
For those who prefer the auction format, the company is also taking consignments for its upcoming spring auction that will include more high-grade sports cards and memorabilia of all types.
All of the company's sale and auction catalogs are printed in full color and available free of charge by contacting Memory Lane via their website or by phone, www.memorylaneinc.com or 877.606.LANE (5263).