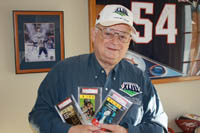 On January 15, 1967, a crowd of 61,946 gathered at the Los Angeles Memorial Coliseum for a sporting event that, for the first time, would pit a team from the long-established National Football League against one from the upstart American Football League to determine who would reign as champions of the newly merged entities.
At the conclusion of that game, as the individuals who had been on hand to watch the NFL's Green Bay Packers better the AFL's Kansas City Chiefs by 25 points filed out of the stadium, few, if any, were aware that they had just been a witness to history. In fact, as they sat through those four quarters of play in a stadium with 31,661 empty seats, many would have probably jumped at the chance to place a good chunk of change on the bet that the AFL would soon fold and there would never be a second match between the two leagues.
That game, instituted as a condition during the merger negotiations, saw the AFL fight to gain credibility by simply being on the same playing field with an NFL team, while the seasoned league felt the contest would handily prove their dominance and send the newbies packing.
By the following January, when Green Bay again took the championship crown, some felt the NFL's plan was coming to fruition and that the AFL was headed for oblivion. That, however, changed the following year when, in a game billed as the Super Bowl for the first time, a brash, young quarterback donning long hair, sideburns and white shoes followed through on his "guarantee" that his AFL team from New York would score a major upset over the NFL's revered Baltimore Colts. The following year, the AFL's Kansas City Chiefs again snagged the championship title – a win that sealed the deal for the annual "Big Game" that would go on to become an indelible American tradition.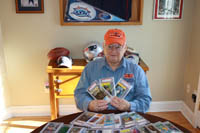 While it would have been a safe bet that no one who attended that first Championship Game back in 1967 would have ever dreamed that the Super Bowl would evolve into an event that would rival national holidays, another thing that would have never crossed the minds of those inaugural attendees was that they were the only people on the planet who would have the opportunity to do something that could never be done again by anyone else – go on to attend every Super Bowl.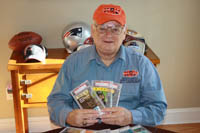 This year, as football fans prepare to sit back and enjoy the 45th playing of the Super Bowl in Cowboys Stadium, many may reflect on the names that have become so associated with the game's history – Vince Lombardi, Bart Starr, Joe Namath, Terry Bradshaw and Joe Montana.
Being as that this year's Super Bowl will be played in their home stadium, some may think of the Dallas Cowboys who have vied for the championship eight times. Others may think of Mike Lodish, a defensive lineman who played for the Denver Broncos and Buffalo Bills throughout the 1990s and has been there six times. Perhaps there will be those who will reflect on linebacker and defensive end Charles Haley who played for the 49ers and Cowboys from the late 1980s till the late 1990s – the only man who owns five Super Bowl rings, or the Pittsburgh Steelers legendary coach Chuck Noll who was just one piece of jewelry short of Haley.
Depending on one's age, team allegiance, historical knowledge, or overall fanaticism with the Super Bowl, many different memories will be stirred between the kick-off and the final gun of this year's game. But for a very special quartet of gents who will be watching the game from their seats in Cowboy's Stadium, their memories will be like no others. Don Crisman of Kennebunk, Maine, Larry Jacobson of San Francisco, Tom Herschel, who splits his time between Pennsylvania and Florida, and Bob Cook of Brown Deer, Wisconsin, will reminisce on not just being at the Coliseum for that first game back in 1967 – but also at every single ensuing Super Bowl – an accomplishment that makes them members of one of the most exclusive clubs in professional sports – The Never Miss a Super Bowl Club.
While each member of the foursome will leave this year's game with a 45-year history of being in attendance to watch the celebrated spectacle played out before them, this year things will be a bit different. Thanks to their appearance in a series of hugely successful Visa commercials, Don, Larry, Tom and Robert will themselves be celebrated spectacles.
The national commercials, which first aired last October during "FOX NFL Sunday," and were then seemingly omnipresent on television and social media sites, gave viewers the chance to meet the members of The Never Miss a Super Bowl Club, hear snippets of their unique memories, and have the opportunity to win Super Bowl tickets for the rest of their lives by simply having used their Visa card at some point through the last day of 2010.
Don Crisman, who will turn 75 this year and recently had PSA authenticate and grade his Super Bowl ticket collection, said that he is a bit self-conscious with all the attention he and his other club members have received thanks to the celebrity that has been bestowed upon them by starring in the Visa commercials.
"I'm sort of a coincidental celebrity," laughed Don. "I don't think there will be any Academy Awards coming my way any time soon," he added in his crisp New England accent.
Born and raised in Rhode Island, Don – a diehard and lifelong New England Patriots fan – moved to Denver in the early-1960s for a job in the telecommunications industry. "That was where my Super Bowl history began," said Don. "I had met a few guys through the purchase of my house in Denver who were football fans. We started going to Air Force Academy games and an occasional Broncos game together. There were five of us, and the year of the AFL-NFL merger we decided we would go to Los Angeles for the Championship Game. The tickets for that game were easy to come by. They were $12, the program cost a dollar, and there were quite a few empty seats in the Coliseum."
The following year, four of the guys who attended that first game decided to stage a repeat and secured tickets for the second AFL-NFL matchup. On January 14, 1968, the quartet made the pilgrimage to Florida's Orange Bowl to watch Bart Starr and the Pack also stage a repeat and retain their championship status by downing the Oakland Raiders 33 to14.
"The following year, for Super Bowl III, it dropped to just two of us – me and my friend Stan Whitaker," Don recalled. "And, it's hard for people to believe this but tickets were still not hard to come by. In fact, it was fairly easy to get tickets for those early games. Stan worked for a bank that did promotional work with the Denver Broncos so we were usually able to get tickets through his work. I think for the first 20 Super Bowls we only had trouble getting tickets once and that was for Super Bowl XVII where we really got scalped. For some reason we just couldn't find tickets for that game."
According to Don, Stan's job was to secure the tickets while he handled the hotel and travel arrangements. "Stan is no longer in our group," Don said with an emotional crack in his voice. "He is 89 now and has health issues." Don took a moment and a deep breath to compose himself. "Stan and I went to 42 straight Super Bowls and then he had to drop out – I still haven't gotten over that – it's just not the same without him."
While Stan is no longer in the club, he was responsible for bringing Tom Herschel into the group in the most serendipitous of ways. "Stan and I met Tom when we were in Los Angeles for Super Bowl XIV," said Don. "In the days leading up to the game, Stan and I went to see the taping of the Tonight Show with Johnny Carson. Now, around Super Bowl XII, we had officially adopted the name of The Never Miss A Super Bowl Club. We had buttons made – for just Stan and me, and he also had bumper stickers made for us that touted that we had never missed a Super Bowl. Well, while we were in line at the NBC studios in Burbank for the taping of the Carson show, Tom saw the bumper sticker on Stan's car in the parking lot. He walked up and down the line asking everyone if they owned that car. When he found us, he told us he had also never missed a game."
Two decades later, Super Bowl XXXIV in Atlanta saw Larry Jacobson granted membership after Don and Stan heard about him from a man who worked with the NFL Experience. "He had written a story about me and Stan," said Don. "And he told us about this fellow named Larry from San Francisco who had also never missed a game. So that's how we became aware of him and brought him into our group."
In 2003, the trio headed for San Diego for Super Bowl XXXVII where they picked up one last member of the club. "By that time we had been going to the Super Bowls long enough that we were getting media passes and appearing as guests on various radio shows and doing all sorts of interviews," Don recalled. "It was during that game that the public relations person from the Green Bay Packers introduced us to Bob – a fellow from the Green Bay area who also never missed a game. That's how we came to know him – and that's the story of how the four of us came together."
While Don and his club mates have enjoyed breathing the rarefied air that has wafted up from the fields of 45 Super Bowls, he admits there were times that the streak was close to being broken. "We actually came close to not going on a few occasions," Don admits. "In fact, for me, the whole thing almost ended before it even began. I almost missed the second game because I had been on a business trip. I had made arrangements for a friend of mine who owned a plane to get me to the cities where I needed to do business and then drop me off in Miami for the game. Well, while we were traveling from Georgia to South Carolina, the plane started to ice up and we were forced to land in an abandoned Air Force base in Spartanburg, South Carolina. After landing, we had to climb over a fence and then the state police got a hold of us, questioned us, and then let us go. We then went back to see if we could get the plane going again and there was still too much ice and rain for us to take off for Florida. All commercial airlines in the southeastern states were also grounded, so I ended up taking a train to Miami. I traveled all night and arrived in town just in time for the game."
Don said that he thought about ending their streak after Super Bowl XXXIII. "I almost decided to drop out and end it all because getting tickets had become so difficult and the cost of tickets had just gotten so high," Don revealed. "Stan and I had gotten desperate for tickets on a few occasions and had really been scalped badly a few times – I mean we paid ridiculously high prices – way out of our range. But just as we were thinking about packing it in, the NFL decided to set aside five seats for us at every Super Bowl that we could buy at face value. The NFL coming through is what kept us going."
Asked if any particular game or games stand out for him, Don said that his personal favorites were the contests that saw his beloved Patriots walk away with the Vince Lombardi Trophy. "While those games were my favorites, I would say that Super Bowl III was the game I'll never forget," said Don. "Back then, no one thought an AFL team had a chance to win. The AFL was looked down on as having a caliber of play and players that was lower than the top 25 college football teams So, when the New York Jets upset the heavily- favored Baltimore Colts and won Super Bowl III, it changed everything. I feel there is no doubting that Super Bowl III was the most significant football game ever played. Most people expected a blow out, but Joe Namath and the Jets changed that and then, the following year, Lenny Dawson and the Kansas City Chiefs also changed that perception and truly put the AFL in the same league as the NFL. That was when people knew the AFL would prosper and the turning point that made the Super Bowl a game that would become bigger than anyone ever imagined."
Speaking of things becoming bigger than ever imagined – Don, Larry, Tom and Bob have done that in their own right by starring in those Visa commercials that captured the nation's attention this past fall. According to Alex Craddock, head of USA marketing for Visa, the commercials have exceeded all expectations by resonating with people of all ages. "The Never Miss A Super Bowl Club commercials have been a hugely successful campaign for us for two reasons," Craddock opined. "The first is due to the fact that the guys themselves are engaging. They have an amazing story that has a powerful human element that people can relate to – especially passionate NFL fans. The second reason these commercials did so well was the promotion that offered Super Bowl tickets for life to those who used their Visa card. But it was the guys who really made them work. The ultimate goal of anyone in marketing is to excite and engage the people you wish to reach. These commercials, and the use of them in various social media channel such as Facebook, have really done that. These guys became a part of people's conversations. People are amazed at what they have done, and wish they could have done it."
As for the coveted tickets that gave Don the access to do what so many would have loved to have done, he said he still has every one of them. "I had my tickets in frames for many years," said Don. "I have every stub or full ticket from every game and over the years I have always enjoyed sharing them with people. Many of my tickets are in very good condition and I am aware that some of them are very valuable, but for me it is the memories connected to them that mean more than their monetary value."
That said, this past year Don made the decision to have PSA authenticate, grade and encapsulate his Super Bowl tickets. "At my age, I don't know what will become of them," laughed Don. "I will hand them down to my family, but have no idea what will happen to them after I am gone. But, whatever happens to them, I strongly feel that to have had them graded and encapsulated by PSA was the right thing to do to properly document them and preserve them."
PSA President Joe Orlando agreed with Don's decision and said he was extremely pleased that PSA had been selected to authenticate and grade the tickets. "We are very proud to have been able to pedigree Don's tickets," said Orlando. "These particular tickets are extremely unique because of what he has done – attend every Super Bowl and appear in those Visa commercials that have been so successful. These tickets, unlike any other Super Bowl tickets that exist, will always be different being as that they were from a man who actually attended every game. In the long-term, these tickets will have a premium value because they were his."
Orlando went on to say that while hobbyists associate authentication and grading with value, he is acutely aware that for Don, having his tickets authenticated and graded was done for a very different reason. "We all want to know what something is worth from a monetary standpoint," said Orlando. "But, we also know that sentimental value is a huge driving force when it comes to collectibles. Having a personal connection to an item is what takes it to a different level – beyond general collecting. That is the case with these tickets. Don didn't need to have these tickets authenticated and graded. He did it to preserve them and document them. It is an example of how people use our authentication and grading services for things other than simply adding monetary value to an item. For him, there is a huge sentimental value associated with these tickets and he simply had a desire to persevere these tangible reminders of all his incredible memories. The irony is that by having PSA grade them, the tickets will now be documented for generations to come, which will ultimately increase their value."
Despite the recent furor surrounding his Super Bowl attendance accomplishment, Don said he doesn't give the hoopla much thought. "We're just a bunch of football fanatics who have spent a lot of money to chase and live a dream," he said with a laugh. "The only thing I give thought to is that I hope I can achieve my goal of making it to five more Super Bowls. That's my goal – to have attended the first 50 Super Bowls. I'll be 80-years old by then and God willing, when that game is played, I will be there." He paused for a moment and a slight smile crossed his face. "And, if I'm really fortunate, my Patriots will be there, too."