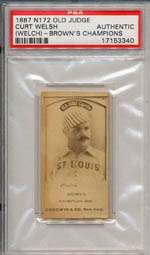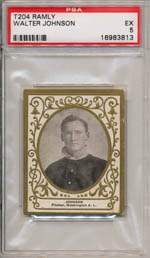 Clean Sweep Auctions opens 2011 with one of our most balanced auctions ever (closing date February 2, 2011), with extremely high quality material from the worlds of cards, autographs and memorabilia, covering all of the major sports. The auction begins with a solid run of baseball card sets and lots. Highlights include an Old Judge Brownie's Champions set, a 1907 Dietsche Tigers Set, a 1933 DeLong set, a 1934 Goudey set set and better condition examples of many of the Topps and Bowman issues from 1950 through 1972.
Individual baseball cards come next, and this is one of the absolute high points of this auction. We acquired two fairly significant and fresh collections of Old Judges. These are spread out over 22 lots to allow for maximum bidder participation. There are some attractive HOFers, many scarce teams and many ten-card lot for collectors.
We devoted our cover design to the featured item in this auction, a stunning collection of the lovely T204 Ramly issue. These are among the most condition sensitive and sought after issues of this era. The cards in this auction were from a set purchased decades ago, with some truly extraordinary cards. This is anchored by a superb Walter Johnson in a PSA 5 holder, one of the hobby's key cards. There are many Ex-Mt 6s, including HOFers. We normally are not much into population reports, but as these cards are so special, the PSA population is noted for each card where relevant. These have very low minimum bids and no reserves.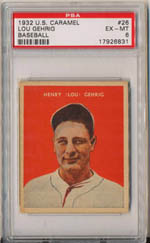 There are also two other very significant cards that need to be mentioned, a 1911 T3 Ty Cobb and a 1933 Goudey Napoleon Lajoie in a PSA 2 mk. In addition, we have our usual selection of pre-war graded cards, including a 1932 U.S. Caramel Lou Gehrig PSA 6. For collectors of Topps cards and other related issues from the 1960s, we have one of our largest selections ever of these cards. In particular, there are a large number of Mint 9 singles and also a very high grade 1969 Topps Super set (all PSA 8 - 10) offered as singles. These all have opening bids well below the SMR.
Baseball autographs come next, and this is another high point of the auction. We have some truly special items that never come around, including a signed 1972 Topps Roberto Clemente baseball card, a Joe Kelley 3x5, a great 1940s Brooklyn Dodger signed book w/57 signatures, a 1975 Carl Yastrzemski contract, a 1924 World Series program signed by John McGraw and Bucky Harris, a Hack Wilson check, seven different Babe Ruth signed items, including a 3x5 in a PSA 10 holder and several items signed by Lou Gehrig and Thurman Munson. For the modern collector, we have a very substantial collection of the highest quality items from the late 1990s Yankees, all also with very low minimum bids.
Football collectors can choose among fresh sets of 1934 National Chicle, 1948 and 1949 Leaf, among others. Football autographs include a very rare Walter Kiesling check. Collectors of hockey cards will see complete early C55 and C57 sets, a 1934 Ice King set and the 1951-2 and 1952-3 Parkhurst sets.
Baseball memorabilia is among the best we have offered. We have a wonderful selection of early pins, including several Cameo Pepsins, Stenzel's Rooters and much more. Also notable is a Mickey Mantle World Series home run full ticket collection, a terrific Roger Maris 61st home run ticket and scorecard, an amazing circa 1970 Willie Mays game used hat and related equipment collection and Derek Jeter game used cleats from 1996.
Autographed baseballs conclude the auction, including a superb early to mid 1920s Babe Ruth in quotes single signed baseball, a very rare Hugh Casey single signed ball, a great 1924-25 Yankee team ball with Ty Cobb and many high quality Yankee and other team balls from the 1940s through 2004. Auction closes February 2, 2011. Be sure to visit www.cleansweepauctions.com to register and bid today!