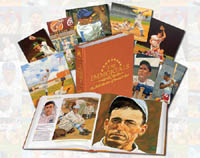 Legendary sports artist Dick Perez has recently released "The Immortals – An Art Collection of Baseball's Best," a magnificent book that serves as a retrospective of his incredible career, featuring over 1,400 reproductions of his inspired works.
While nothing may every topple love and romance as the preeminent inspiration for music, poetry, paintings, sculpture, film and other disciplines of art, the world of sports has come close as an inspiring lure for many artists. From the Olympians and gladiators of ancient Greece and Rome, to the men and women who dominate modern-day sports, there has always been a strong romantic pull for artists to capture the essence of both the athlete and the storied venues that have served as their stage.
It was the majesty of the ancient discus thrower that inspired the Greek sculptor Myron to create "The Discobolus" sometime between 450 and 460 BC. It was the heartbreak that only a diehard sports fan knows, that inspired poet Ernest Thayer to write of Mudville's mighty Casey striking out in 1888. And, in 1910, it was a newspaper writer by the name of Franklin Pierce Adams, who artistically lamented the prowess of a trio of Cubs players named Tinker, Evers and Chance whose skill denied his beloved Giants of victory. In more recent times, it was the belief in redemption, and the eternal hope that our dreams can come true, that inspired the creation of a Philadelphia club fighter named Rocky Balboa, and an Iowa farmer named Ray Kinsella.
When you think about it, there is really no surprise that sports hovers so close to love and romance for inspiring artists being as that the two share so many qualities. From the heights of passion and excitement, to the depths of disappointments and loss, sports, like love, springs eternal, giving us the hope that no matter how badly beaten we are, there is always the opportunity for another chance to win – another game in which to find redemption – another season for the fulfillment of our dreams.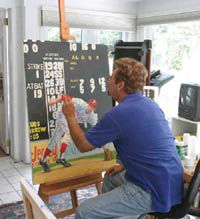 If you harbor an appreciation for athletic-inspired art, there is a good possibility that the name Dick Perez may be familiar to you, and a definite certainty that you have seen the amazing work of this legendary sports artist.
Recognized as one of the top artists to ever create images inspired by the world of Major League Baseball, Perez served as the official artist of the Baseball Hall of Fame for well over two-decades. Through his talent and brushes, Perez has created the portrait of every Hall of Famer, (and continues to paint each new inductee's official portrait) that is displayed in the hallowed halls of Cooperstown throughout the player's induction year.
An integral part of the Philadelphia Phillies organization since 1972, Perez is the team's official artist, creating the art for the team's yearbooks, posters, prints and sales and promotional literature. His work has also been honored with numerous design awards including his creation of the official centennial logo of Baseball's National League, and the 1983 World Series program cover. His co-creation and partnership in Perez-Steele Galleries, a renowned publisher of sports-inspired art, resulted in the creation of a unique body of work that is regarded as some of the finest baseball art of the 20th Century. He also served as the official artist of the Donruss Card Company, painting the enormously popular and successful Diamond King series in the 1980s and 1990s, and is currently creating paintings for art cards published by the Topps Company.
While Perez's work is perhaps most associated with the National Baseball Hall of Fame, his paintings are also housed in private collections. His works have become coveted collectibles in the sports memorabilia arena, and today Perez art owners include many major corporations, Major League Baseball teams, former First Lady Nancy Reagan, and former President Bill Clinton. He has done hundreds of commissioned works over the years, and has branched out from baseball, producing paintings inspired by football, basketball, tennis, soccer, golf, boxing, the Olympics and hockey. In 1998, Perez made a complete departure from sports when he was commissioned by the Pennsylvania State Bar Association to paint the official portrait of Robert N. C. Nix, Jr., retired chief justice of the Pennsylvania Supreme Court.
Having done numerous nationwide exhibitions of his work, 2004 saw Perez honored with a solo exhibition at the prestigious Pennsylvania Academy of the Fine Arts Museum in Philadelphia. His exhibition, "Art At Home Plate – Philadelphia Baseball Legends on Canvas," included 32 original paintings commissioned by the Phillies to be the centerpiece of a permanent exhibition for the new Citizens Bank Park.
For art and sports lovers alike, Perez has captured the true essence of America's Pastime. By coupling his artistic talent with a deep love and understanding of baseball and the men who have played the game, Perez has made a remarkable contribution to the richness of sports art. Former Baseball Hall of Fame President Edward W. Stack once said of Perez: "He crystallizes our love of (baseball) and does so by marrying his consummate craftsmanship with a visual point of view in which all the elements of subject, form, color and texture sire a freshness of image unique to this artist. Dick Perez is truly a Hall of Fame artist and we are honored that he is our friend."
Dick Perez was born in 1940, in San Lorenzo, Puerto Rico. When he was six-years old, his family made the decision to move to the United States where they settled in the Harlem section of New York City. After completing high school, Perez went on to study art at the Philadelphia College of Art (now The University of the Arts) and the University of Pennsylvania.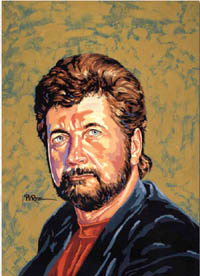 "Sports Market Report" recently caught up with Perez who shared insight on his life, his art, and his new book. We began by asking him about his beginning:
Dick Perez (DP): After living my first six years in Puerto Rico, we left when my father passed away. My mother moved us, first to the Bronx, and then on to Harlem. Because of where I grew up, I became a big fan of the three New York teams – the Yankees, the Giants and the Dodgers. The late-1940s and early-1950s were the greatest time to live in New York if you were a baseball fanatic. There was no better place in the country to be than in New York City with three great teams, of which one or two were in the World Series most every year.
Sports Market Report (SMR): It sounds like baseball played a very important role in your life when you were young.
DP: I was a baseball fanatic! I loved the game and saw it as a portal to the American experience. All my friends played baseball and the game connected me with them, despite the fact that I was challenged with the English language. Baseball was truly my childhood passion.
SMR: Did you have the opportunity to actually attend games?
DP: I did go to games, but it was very infrequent. Even though the prices of tickets were cheap back then, we didn't have that kind of discretionary income. I did go to Yankee games and once got to go to see the Dodgers play at Ebbets Field. Sadly, I never got to see the Giants play at the Polo Grounds. When I did get to go to games, it was the most awesome experience. I vividly remember walking into Yankee Stadium for the first time and seeing that great expanse of green right in the middle of a city. I was more a Yankee fan than a fan of the other teams and, when I first walked into that stadium, it just floored me. Going to those games really stands out in my childhood memories.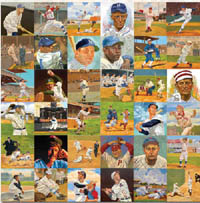 SMR: At what age did you discover that you had artistic talents?
DP: Well, artistic talent does not really run in my family. Neither of my parents was artistic, although my father's brother had some talent. As for me, I began to realize I was able to draw in elementary school, but it wasn't really until I got into junior high school that I stared drawing in the margins of my notebooks. I had always enjoyed drawing and did it quite a bit, but it was never something I thought of as a life's pursuit. I wanted to become a professional baseball player. I did everything I could to accomplish that dream – playing in numerous organized sandlot teams. The problem was I was left-handed. So, as for infield positions I was limited to playing first base. I didn't have a great arm, so that left the outfield and pitching out. And I was a terrible hitter. (Laughing) So when you put all of those problems together, it pretty much told me that a professional baseball career was no going to happen for me.
SMR: When did you decide that you would pursue a career as a professional artist?
DP: When I was in my late teenage years. We had moved to Philadelphia and it was there that I really began my studies in art. But, I still wasn't really considering art as a career. I was still considering a lot of different things, but I kept coming back to the fact that I loved to draw. I always felt that being an artist was like being in show business. It is very difficult to make it and it has a lot to do with meeting the right people, which I fortunately did. After studying graphic design at a commercial art school, I went on to open my own advertising agency. I also started working as a designer doing logos and such for a publisher, and from there became an art director – that was when I started to do more illustration.
SMR: What type of illustrations were you doing?
DP: Mostly commissioned work. I was an illustrator – which has always been kind of looked down on in fine arts circles because it is felt that illustrators do work for commercial purposes and most of it is prescribed.
SMR: Hey, wait a minute – wasn't the Sistine Chapel ceiling a commissioned work?
DP: (Laughing) Yes! You're right. Michelangelo was commissioned to do that and it certainly didn't hurt his career. But I can understand why the art world somewhat looks down on artists who do commercial work. I mean, you may be asked to paint Babe Ruth and perhaps you have no such inspiration, or just don't feel like painting Babe Ruth. But, if you have been hired or commissioned to do that painting, and you are being paid for it, well then you paint Babe Ruth and by doing that you are going to be tagged as being a commercial artist. Whereas fine artists paint by inspiration – by virtue of what moves them on any given day. Of course, that's what every artist strives for.
SMR: Dick, your new book is really something special – just magnificent. It is something that will become a treasured part of people's art and baseball collections. You must be extremely pleased with the way it turned out.
DP: Well thank you for your kind words. Yes, I am very proud of the book. It is the apex of my life and my work – the most important thing I have ever done. It is first, a retrospective of my life's work and, secondly, it is completely my own product in that I was unfettered by anyone telling me what to do or include. Everything in the book was my decision and my choice.
SMR: In preparing the book you obviously had to go through years of your work. What thoughts did you have as you looked back over your creations?
DP: When I looked at some of the things I have done, I appreciated them with the distance of time. I thought there was some really good work but, in some cases, I didn't associate myself as the creator. I know that is odd to say but sometimes what I do just happens automatically or magically. Here's an example of what I mean – I did a watercolor of John McGraw who managed the New York Giants at the turn of the 20th Century. When I finished that painting, I remember looking at it and not being able to believe that I did it. Everything just fell into place. Perhaps, that just comes with experience – you just know what to do instinctively. So, while I am for the most part very involved with my creative process, at times, I feel I am removed from the final product.
SMR: Did going back over your work give you a perspective of how you have evolved as an artist over the years?
DP: When I look at my earlier work, I can clearly see a development of my work and, fortunately, I see that I have gotten better. There is no doubting that my recent work is my best work – although, maybe every artist thinks that. When Picasso was asked if he had a favorite painting he always said that his favorite painting was his next one.
SMR: You have become renowned for painting sports subjects. Is there something different about capturing the essence of sports that is different than painting say, seascapes or wildlife?
DP: Sports art is about the subject more than it is about the work. Here's another example of what I mean. I once did a painting of Mike Schmidt and I was really happy with the way it turned out. Well, it ended up hanging in the gallery at the Baseball Hall of Fame and, one time I was there in the gallery, I noticed a little boy walk up to the Schmidt painting. He looked at it and said 'Wow!' Now, most painters would have taken that as someone who was amazed with their work. But when you are a sports artist you don't know if that is the case and many times you find that it isn't. When that little boy said 'Wow!' I didn't know if he meant Mike Schmidt "Wow!" or my painting "Wow!" Now, that said, I have also had a lot of response from people who have mentioned the work as opposed to the subject. So, when that happens, it does make me feel better.
SMR: You have been commissioned to paint the portraits of many men you have never met. Is there a difference for you in the creative process when you are painting a player you have met and know like Mike Schmidt, as opposed to painting Honus Wagner or Babe Ruth?
DP: When I do a painting of a player who is long gone, I try to do as much research as possible. Take for example Grover Alexander. He lived a hard life. He drank a lot. He had wrinkles and looked haggard and beat when he was still relatively young. So, when I paint a guy like that, I want to express that he had a rough life. But I can also think of a time that I ran into a picture of Ty Cobb with a big smile on his face and thought that would make for an interesting painting. I did a painting of Cobb lying on a field relaxing with a big smile on his face. I've had many people see that painting and tell me they had never seen Cobb smiling. I agree with that. He was always pictured looking rather grim because he had a reputation for being a real son of a gun. So, at times, I have strayed from what the public image of a player may be.
SMR: Have you ever painted a player who felt you didn't capture them to their personal liking?
DP: I have had some players tell me they thought I painted them looking too young. Then there was Bob Feller, who didn't like that I used the number 14 on his uniform because his number had been 19 throughout most of his career. I did that because I had been assigned to do a set of art cards that depicted great moments in various players' careers. Well, one of Feller's great moments came during his rookie year when he pitched a no-hitter and, at the time, number 14 was the number he was wearing. But, aside from that, I have received mostly positive compliments from the people I have painted. I've always been flattered by the comments I have received from players I have painted except for one time. I did portraits for a set of cards, and Charles Feeney, who was the president of the National League, was unhappy with my portrait of Mel Ott. In my entire career, that was the only real negative comment I ever got.
SMR: Back to your book – this is no simple little book of paintings. This book is a major work of art unto itself.
DP: The book is a continuance of what I started back in the 1980s – doing paintings of Hall of Fame players and capturing the art of the game of baseball. Doing this has been my way of sharing with people my passion for the imagery of the game – the movement, the ballet, the great faces like Warren Spahn and Yogi Berra. I have a passion for those things – and so does the collector who spends good money on something that pertains to the game or a particular team or player. I felt that because I have done so many pieces of art that pertain to baseball, I wanted them to be put together so they would forever be available to those who share my passion for the Hall of Famers and the history and evolution of the game of baseball. I see it as a history book that tells the story of baseball in a visual fashion.
SMR: It is a beautiful coffee table book, but folks should be warned – you should have a pretty sturdy coffee table because it is a hefty tome.
DP: (Laughing) It is a big book. There are over 1,400 pieces of art in this book and, out of that, there are 400 that are new paintings I did specifically for the book over the past two-and-a-half years. I published the book myself because I did not want to take it to a big publisher. Because of my background, I know quite a bit about production and printing, so I knew I had the knowledge to put this book together. I also wanted to have complete control over it.
SMR: That was important to you?
DP: Very! I really enjoyed producing this book because no one directed me as to what to do. These are just paintings that I felt I wanted to do – in my own way. I really enjoyed doing the more recent painting because I had the chance to explore all the things I have always wanted to explore about the game – the various eras, including the dead ball era, which is my favorite. I studied the types of uniforms that were worn in different eras – the equipment that was used – the old stadiums and their signage. Those were all the things I really wanted to explore. This was my chance to go back into the past and learn about the players that played from the turn-of-the-century to the 1940s. That was my favorite era of baseball, and that was the era of my favorite players. I enjoy doing narrative paintings. I like doing paintings that say something. I like to relay the ballet of the game – the beauty of the game. The result is a one man execution of a product that I believe will be enjoyed by anyone who really loves baseball.
SIDBAR
"The Immortals – An Art Collection of Baseball's Best"
This magnificent retrospective of the work of sports artist Dick Perez includes paintings of 292 Major League Baseball Hall of Famers. The book also contains all of the original art from the Hall of Fame Art Post Card sets and includes works that were done only for display at the Baseball Hall of Fame, and were not produced, nor will ever be produced, as cards. This book is the only opportunity to view these paintings. Among the 1,400 images, you will also find 402 new, never-before-published paintings, and the entire 15-year collection of the Donruss Diamond Kings cards.
To order "The Immortals – An Art Collection of Baseball's Best" visit: www.dickperezimmortals.com You may also purchase Dick Perez prints and original art work by visiting:
www.dickperez.com