Centennial, CO - In what seems to be an ongoing occurrence Mile High Card Company established a firm record with their recently concluded November 26th auction by posting a strong $2,821,569.00 in sales. Leading the way was the sale of the #1 All Time Finest PSA Set Registry 1914 Cracker Jack Near Complete set, which commanded an impressive $502,775.00!
"As a firm we are exceptionally pleased with the overall results of this sale and we saw an impressive amount of interest and demand for great material", said Brian Drent, President of Mile High Card Company. "From the historic offering of the famed 1914 Cracker Jack set to items such as a rookie era 1955 Louisville Slugger game used bat from Roberto Clemente featuring his nickname "Momen" collectors everywhere are still clamoring for great items"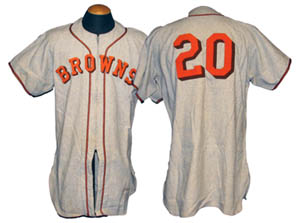 "This auction was really a great representation of the adage that if tremendous material is offered collectors will surely take note, and this showed through with the immense passion of our customers," added Drent. "MHCC will certainly continue to honor our clients' passion by providing the very best and highest caliber items in all of our auctions."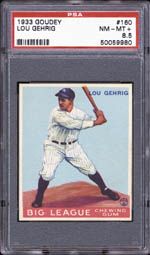 The auction also displayed exceptionally strong prices in nearly every facet. One of the overall highlights was the breakup of the #5 All Time Finest PSA Set Registry 1933 Goudey Complete Set which netted an astounding $431,987.00 as well as the sale of a completely graded 1911 T205 Near Complete Set which found a new home to the tune of $74,458.00.
Further Highlights include but are certainly not limited to the following: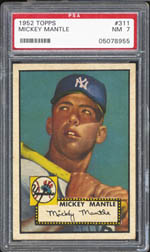 1869 Peck And Snyder Cincinnati Red Stockings PSA Authentic
$22,730.00
1911 T205 R. Hoblitzell No Stats PSA 6 EX/MT
$19,976.00
1932 US Caramel #26 Lou Gehrig PSA 7 NM
$14,402.00
1933 Goudey #144 Babe Ruth PSA 8 NM/MT
$18,667.00
1933 Goudey #92 Lou Gehrig PSA 8 NM/MT
$12,951.00
1933 Goudey #161 Lou Gehrig PSA 8.5 NM/MT+
$24,068.00
1952 Topps #311 Mickey Mantle PSA 7 NM
$42,938.00
1968 Topps 3D Roberto Clemente PSA 9 MINT
$25,061.00
1971 Topps #300 Brooks Robinson PSA 9 MINT
$6,635.00
1951 Al Widmar St. Louis Browns Game Used Jersey
$14,936.00
1981 Rickey Henderson Oakland A's Game Used Uniform
$5,476.00
1955 Topps #164 Roberto Clemente PSA/DNA EX/MT 6
$6,628.00
Exceptionally Rare 1955 Roberto "Momen" Clemente Louisville Slugger Game Used Bat PSA GU9
$48,415.00
1958 Topps #62 Jim Brown PSA 9 MINT
$29,257.00
1950 Bowman #1 Doak Walker PSA 8 NM/MT
$5,969.00
1966 Topps USA Test #35 Bobby Orr PSA 8.5 NM/MT+
$70,702.00
1966 Topps #35 Bobby Orr PSA 8 NM/MT
$8,140.00
1924 Champs Cigarettes King Clancy PSA 8 NM/MT
$10,950.00
According to Mile High Card Company founder and President, Brian Drent, "we had over 250 new and actively bidding registered users, which is more new customers than we've ever had for any particular auction. Our numbers were strong, sure, but I think that in itself is a good sign for the hobby. I know it's definitely a good one for us."
Mile High Card Company has distinguished itself among elite auction houses as a specialist in the sports card market, consistently realizing record-setting prices for the world's finest sets and high-grade singles that, in many cases, far outdistance the competition. As a follow-up to this highly successful event, MHCC is currently planning a Spring 2011 premier catalog auction, and is actively seeking consignments. Continuing its successful Consignor Incentive Program, the top consignor to its Spring 2011 auction will receive a 7 night Alaskan Cruise for two plus airfare. To consign your treasured material to the hobby's most consistently reliable auction house, or to register with the company and receive free catalogs for future events, please visit www.milehighcardco.com or call Mile High Card Company directly at 303.840.2784 (8:00-5:00 MST M-F).