Laguna Niguel, Calif. - Kirk Gibson's iconic home run bat from Game 1 of the 1988 World Series sold for $575,912 and his jersey went for $303,277 in SCP Auctions' October/November auction which concluded early Sunday morning.
"We are again impressed with the overall interest in sports memorabilia," said David Kohler, President of SCP Auctions. "From Babe Ruth's personal humidor to items from Gibson's miracle moment, we continue to see a strong demand for sports collectibles."
"This auction offered the greatest depth and highest caliber of material throughout every collecting category that SCP Auctions has ever featured in an Internet sale and we certainly appreciated the passion our clients demonstrated for the material in our sales," added Kohler. "We'll continue our goal of delivering high-quality auctions with a wide variety of material for all ranges of collectors."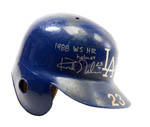 In addition to the historic bat and jersey, the auction also included Gibson's 1988 World Series batting helmet ($153,388), NL Most Valuable Player Award ($110,293), World Series trophy ($45,578) and World Series road uniform ($9,664). Proceeds from the sale of the World Series trophy and MVP award will benefit the Kirk Gibson Foundation to continue his support of Michigan State University athletic programs and to help fund his partial scholarship programs at Clarkston (Mich.) High School and Waterford (Mich.) High School, in honor of his parents, who were educators at those schools.
Other highlights of the auction included the sales of a 1934 Babe Ruth professional-model bat used by Ruth to hit career home run #702 ($137,865), a Ty Cobb H&B sidewritten professional model game-used bat ($75,330), a newly-discovered 1953 Mickey Mantle New York Yankees game-worn, autographed road jersey ($62,256), a 1980 Bjorn Borg Wimbledon finals (vs. McEnroe) match-used racquet ($24,450), Ruth's personal cigar humidor ($41,434) and a Pete Rose "corked" game-used bat ($10,632)
The Ruth bat was used to walloped his 702nd career round-tripper on July 22, 1934, among the finest Babe Ruth gamers known. Enhancing its extraordinary appeal is the fact that it has been signed by Ruth as well as 15 of his 1934 New York Yankees teammates.
The Ty Cobb bat was used during the height of his reign as baseball's most feared and dominant competitor. A superior specimen in all respects, it has been documented by the most renowned independent bat experts as one of the finest examples among the scarce population of Cobb game bats known.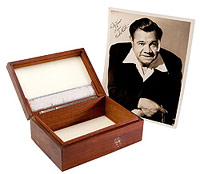 Ruth's personal cigar humidor came with the letter of provenance from Claire Ruth, in addition to a Babe Ruth-inscribed oversized photo of Ruth with a cigar. Given that many of Ruth's personal effects are now part of the Baseball Hall of Fame and the private nature of the family, few pieces of memorabilia with direct lineage to his estate have ever been made available to private individuals. An exception was made when Claire Ruth bestowed Babe's personal cigar humidor upon longtime family friend Cy Jones, along with several other of the Babe's significant personal memorabilia items.
Many items from the esteemed Ron Futrell collection realized extraordinary prices. Ron Futrell was a man driven to succeed in all facets of life, including building a world-class collection of sports cards and memorabilia. As a boy, Ron's hobby of collecting baseball cards started in a shoebox. His success in business later in life allowed him to indulge his lifelong passion for collecting to the fullest. Two of the specific categories that captivated Ron and became cornerstones of his collection were elite sports advertising pieces and 1952 Topps. Highlights from the Futrell Collection include:
C.1910 REACH TIN LITHO BASEBALL ADVERTISING DISPLAY SIGN sold for $7,788
EXTREMELY RARE 1928 HARRY HEILMANN LUCKY STRIKE CIGARETTES LARGE ADVERTISING BANNER sold for $18,368
RARE 1950'S WILLIE MAYS CHESTERFIELD CIGARETTES ADVERTISING SIGN sold for $5,026
1932 US CARAMEL #14 TY COBB NM-MT PSA 8 sold for $9,343
1933 GOUDEY SPORT KINGS #3 NAT HOLMAN NM-MT PSA 8 sold for $7,720
1933 GOUDEY SPORT KINGS #8 WALTER HAGEN NM-MT PSA 8 sold for $8,283
1933 GOUDEY SPORT KINGS #17 JACK DEMPSEY NM-MT PSA 8 sold for $4,339
1933 GOUDEY SPORT KINGS #24 HOWIE MORENZ NM-MT PSA 8 sold for $5,020
1939 PLAY BALL #26 JOE DIMAGGIO MINT PSA 9 sold for $8,294
1951 BOWMAN #1 WHITEY FORD ROOKIE NM-MT PSA 8 sold for $13,363
1951 BOWMAN #305 WILLIE MAYS ROOKIE NM-MT PSA 8 sold for $10,278
1952 TOPPS #1 ANDY PAFKO (BLACK BACK) NM-MT PSA 8 sold for $46,772
1952 TOPPS #9 BOBBY HOGUE (BLACK BACK) NM-MT PSA 8 sold for $3,944
1952 TOPPS #20 BILLY LOES (BLACK BACK) NM-MT PSA 8 sold for $4,339
1952 TOPPS #79 GERRY STALEY (BLACK BACK) NM-MT PSA 8 (1/3) sold for $5,019
1952 TOPPS #307 FRANK CAMPOS (BLACK STAR VARIATION) NM-MT PSA 8 (1/3) sold for $25,725
1952 BOWMAN #101 MICKEY MANTLE MINT PSA 9 sold for $12,438
1956 TOPPS BASEBALL NEAR COMPLETE SET (339/342) GRADED ENTIRELY NM-MT PSA 8 (#19 ON THE PSA SET REGISTRY - 8.00 GPA) sold for $31,890
1958 TOPPS #150 MICKEY MANTLE MINT PSA 9 sold for $9,349
1951 BOWMAN FOOTBALL #20 TOM LANDRY ROOKIE MINT PSA 9 sold for $3,114
1948 BOWMAN BASKETBALL COMPLETE SET OF 72 sold for $8,088
Collectors competed vigorously throughout every category of the auction with strong prices realized across a broad range of cards and memorabilia. Other highlights include:
1996 NBA 50 GREATEST PLAYERS AUTOGRAPHED LIMITED EDITION LITHOGRAPH sold for $45,578
IMPRESSIVE 1944 TY COBB AUTOGRAPHED LOUISVILLE SLUGGER SIGNATURE MODEL BAT (PSA/DNA GEM MINT 10 AUTO.) sold for $40,388
1933 GOUDEY #106 NAPOLEON LAJOIE NM PSA 7 sold for $38,588
1912 WORLD SERIES (NEW YORK GIANTS VS BOSTON RED SOX) FULL TICKET sold for $4,467
1909-11 LENOX T-206 TY COBB (BAT OFF SHOULDER, BROWN BACK) GOOD sold for $35,498
1916 M101-5 SPORTING NEWS #90 WALTER JOHNSON (BLANK BACK) NM-MT PSA 8 (1/1) sold for $11,306
1925 KNUTE ROCKNE'S PRESENTATIONAL HUMIDOR SIGNED BY ROCKNE, GLENN "POP" WARNER AND OTHERS sold for $26,895
1966 EDDIE MATHEWS ATLANTA BRAVES GAME WORN ROAD JERSEY sold for $26,668
1971 PETE ROSE CINCINNATI REDS AUTOGRAPHED GAME WORN ROAD JERSEY sold for $22,796
1948 ORIGINAL PHOTOGRAPH "THE BABE BOWS OUT" BY NAT FEIN (PSA/DNA TYPE I) SIGNED BY FEIN sold for $15,568
1956 TOPPS U.S. PRESIDENTS COMPLETE PSA GRADED SET (#1 ALL-TIME FINEST SET ON THE PSA SET REGISTRY - 8.81 GPA) sold for $15,051
1958 TOPPS ZORRO COMPLETE PSA GRADED SET (#1 ALL-TIME FINEST SET ON THE PSA SET REGISTRY - 8.26 GPA) sold for $9,124
1962 TOPPS CIVIL WAR NEWS COMPLETE PSA GRADED SET (#4 ON THE PSA SET REGISTRY - 8.82 GPA) sold for $14,520
BABE RUTH SIGNED 11" BY 14" PHOTOGRAPH sold for $13,344
ALBERT PUJOLS 2008 AUTOGRAPHED GAME-USED BAT sold for $3,876
SCP Auctions is currently accepting consignments for their next Internet auction event. Call (800) 350-2273 for more information on how to participate or visit www.SCPAuctions.com.
About SCP Auctions
SCP Auctions, Inc. has been a leader in brokering and auctions of important sports memorabilia and cards since 1979. The Southern California based firm conducts online auctions 3 times a year. SCP Auctions has handled some of the most significant individual items and prominent collections in their field, such as the record-setting sale of Babe Ruth's bat used to hit the first home run in Yankee Stadium ($1.265 million), the original 1919 Contract of Sale of Babe Ruth from the Red Sox to the Yankees ($996,000), and the estate collections of Hall of Famers such as Honus Wagner, Tony Lazzeri, Bob Cousy, Wilt Chamberlain, Casey Stengel, Pee Wee Reese, and Ernie Banks. Interested bidders can call (800) 350-2273 or visit SCP Auctions online at www.SCPAuctions.com for more information on how to participate.