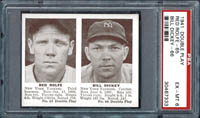 The 1941 Double Play offering remains an enigmatic set from an enigmatic year.
Let's face it - when it comes to baseball, there's something unique about years that end in the numeral '1.' Here are some examples:
1921 saw construction begin on Yankee Stadium, along with the first radio broadcast of a baseball game on Pittsburgh station KDKA. Ten years later, the first night game between major league teams was played in February, way down south in Texas, while later that year, the St. Louis Browns and Chicago White Sox managed to play a 12-inning contest without recording a single strikeout... a record that still stands.
1951 featured the famous come-from-behind triumph of the New York Giants as they claimed the National League Pennant in a three-game playoff with the Brooklyn Dodgers, culminated by Bobby Thomson's 'shot heard round the world.' The 1961 Yankees blitzed the American League and set several records en route to another World Series win, the most famous of which was Roger Maris' 61 home runs.
In 1971, the powerful Baltimore Orioles had four twenty-game winners on their staff, won 101 games, finished 12 games ahead of the second-place Detroit Tigers, yet still lost to the upstart Pittsburgh Pirates 4 games to 3 in the World Series. A decade later, major league baseball experienced its first-ever player strike, resulting in a shortened season and an extra round of playoffs.
But, the most interesting 'year that ends in one' has to be 1941. The world was on the verge of war, the United States was still recovering from the Great Depression, and two legendary ballplayers captured the nation's attention with a pair of hitting records that may never be broken.
Two all-time classic films, Orson Welles' Citizen Kane and The Maltese Falcon, packed them in at movie houses, while kids and their parents flocked to see Walt Disney's Dumbo. Up in the Black Hills of South Dakota, the Mt. Rushmore sculptures of U.S. presidents were finally completed by Gutzon Borglum and 400 stone masons after 14 years.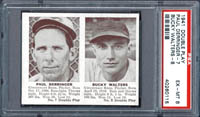 Franklin Roosevelt was sworn in for a third term as president, and later signed a bill designating the fourth Thursday in November as Thanksgiving Day. The first commercial FM radio station in the country, W47NV, signed on March 1 from Nashville, Tennessee, and the Wisconsin Badgers topped Washington State 39-34 to win the eight-team NCAA men's college basketball tournament.
In the market for a new house? In 1941, the average home price was about $4,000, while gasoline sold for 12 cents a gallon and a new car would set you back all of $850. A penny went a long way back then and, if you had a few in your pocket, you could go to the candy store or five-and-dime and pick up some packs of Double Play 'official baseball photo cards.'
Double Plays were printed and distributed by Gum Products, Inc., a little-known company based in Cambridge, Massachusetts. This 75-card set featured many of the best-known ball players of the day in wax packs with two cards and a stick of gum for a penny each. This was the first and last issue for Gum Products, which largely fell off the radar until its assets were acquired by the New England Candy and Confectionary Company (NECCO) in the early 1980s.
In retrospect, the 1941 Double Play set is a perfect snapshot of the good old days of baseball: Two eight-team leagues and one post-season playoff that just happened to feature two of the most iconic teams of all time – the Brooklyn Dodgers (100-54), and the New York Yankees (101-53).
BASEBALL: A NATIONAL DISTRACTION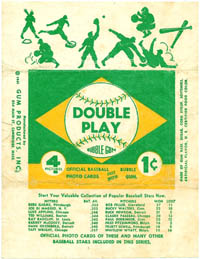 Things didn't look very good in early 1941. Germany had been at war for a year and a half, conquering most of Western and Eastern Europe and bombing England for several months before launching an ill-fated invasion of Russia in June. German submarines began attacking U.S. shipping in the North Atlantic, and the battleship Bismarck wreaked havoc on the British fleet for a few weeks until finally it sunk off the coast of France in June.
Japan was becoming increasingly incensed at our punitive trade measures, enacted in response to the invasion and subjugation of China. Relations steadily deteriorated with Tokyo throughout the year until December 7, 1941, when the Imperial Japanese Fleet attacked Pearl Harbor, finally drawing America into the global conflict.
Even though Roosevelt had signed the Lend-Lease agreement with Great Britain, the U.S. was still officially neutral in the global conflict as spring training began. Not surprisingly, Americans largely turned their attention away from the constant bad news from overseas, focusing instead on their national pastime.
And baseball didn't let them down. Three separate major league records were established in 1941, starting with Taft Wright, an outfielder with the Chicago White Sox. On May 20th, he set an American League record by driving in at least one run in thirteen consecutive games.
Next up was the Yankee Clipper, Joe DiMaggio, who managed to hit safely in 56 consecutive games before the Cleveland Indians stopped him cold on July 17. Young slugger Ted Williams hovered right around the .400 mark all season long, finishing up with a .406 average by capping off a season-ending doubleheader against the Philadelphia A's with six hits in eight plate appearances.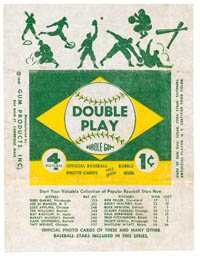 1941 was a significant year in baseball for other reasons. The Chicago Cubs organization installed a pipe organ at Wrigley Field to entertain fans, while the New York Giants became the first team to use plastic batting helmets during a June 6 doubleheader. Hall of Famer and long-time broadcaster Dizzy Dean hung up his cleats at the end of the season, his once-formidable pitching arm shot at the young age of 31.
1941 will also be remembered for the passing of beloved Yankee icon and Hall of Famer Lou Gehrig, who died on June 2 of amyotrophic lateral sclerosis, just shy of his 38th birthday and only two years after his illness forced him to retire from the game.
When the regular season was over, Williams found himself the American League leader in six statistical categories, including batting average, slugging percentage (.735), runs (135), and on base percentage (.551). Joltin' Joe managed to snatch away the RBI (125) and total bases (348) crowns, along with the 1941 Most Valuable Player Award. Williams still grabbed headlines by winning the 1941 All-Star game with a dramatic walk-off, three-run homer, driving in (who else?) DiMaggio.
That year's World Series was a classic, with the Bronx Bombers capturing the flag 4-1 over the perennial runner-up Dodgers. Holding a 2-1 Series lead after three one-run games, the Yanks came from behind to take Game 4 on the famous dropped third strike by Dodgers catcher Mickey Owen. At the time, the Dodgers had a 4-3 lead with two outs in the top of the ninth, but Old Reliable Tommy Henrich alertly dashed to first base on Owen's error. A steal, two hits, and a walk later, the Dodgers were finished by a score of 7-4.
THE SET
Even though it is a small set, the 1941 Double Play collection is loaded with Hall of Famers. No less than 34 of them are featured, often pictured alongside "who's that?" and "remember what's his name?" players. The card design is minimalist, giving each player a small rectangular portrait and providing the briefest of personal information, including height, weight, birth date, and 1940 stats.
Although there are 75 cards in the set, each photo is numbered separately, resulting in a total of 150 subjects. The first 80 cards are laid out in a horizontal format, while cards 81 through 99 feature vertical In Action poses of many of the same players. The cards measure 2 ½" by 3 1/8" and were printed using a reddish-brown color on white, with blank backs.
Double Play cards aren't nearly as attractive as Gum Incorporated's 1941 Play Ball color set, and the head shots come up short to the action poses in the similarly plain 1941 Goudey set. But you took what you could get for a penny and, more often than not, you'd pull out a famous player.
Ted Williams appears on two separate cards, first with his portrait (#57) sharing space with Red Sox outfielder Jim Tabor (#58), and then in a batting pose (#81) paired up with fellow HOF'er Joe Cronin (#82). Joe DiMaggio only appears once in the set, with his famous grin on card #63 parked alongside Charlie Keller's befuddled stare (#64).
Other HOF Yankees include Lefty Gomez (#61) and rookie Phil Rizzuto (#62), Bill Dickey (#66), Joe Gordon (#83), and Red Ruffing (#85). The Dodgers were well-represented with Owen (#15), Joe Ducky Medwick (#21), Pistol Pete Reiser (#18), rookie Pee Wee Reese (#23), and manager Leo Durocher (#142).
And they just keep coming, from Billy Herman (#3) and Ernie Lombardi (#11) to Johnny Mize (#39) and Enos Slaughter (#40); from Hank Greenberg (#52) and Charlie Gehringer (#54) to Luke Appling (#70), Bob Feller (#78), Mel Ott (#89), Joe Cronin (#59) and Jimmie Foxx (#60). The oldest active pitcher, 41-year-old Lefty Grove, occupies card #105 with fellow HOFer Bobby Doerr (#106), while the soon-to-be youngest Cleveland Indians manager Louis Boudreau pops up on card #132.
The Waner brothers, winding down their respective careers, both made it into the set. 38-year-old Big Poison Paul Waner, playing for the Dodgers, shares a card (#16) with the unfortunate Owen (#15), while 35-year-old Little Poison Lloyd Waner (#119) was wrapping up his days in The Show with the Boston Braves.
Although not a resident of Cooperstown, Indians third baseman Ken Keltner (#79) is remembered for his two brilliant putouts that helped end DiMaggio's streak at 56 games. Johnny Vander Meer, who remains the only pitcher to toss back-to-back no-hitters, makes an appearance in card #5, while St. Louis Cardinals outfielder Terry Moore – one of the fielding stars of the 1942 World Series - smiles back at us from card #37.
THE STATS
As sets go, 1941 Double Play isn't that widely collected. There are only 13 sets in the PSA Registry, and the highest graded set (Donald Spence's Lone Star Collection) has a GPA of 8.01. All other sets fall below 8, and only four of the top 10 sets are complete as of this writing. Contrast that with the 1941 Play Ball set, which has 57 registrants and five completed sets, all exceeding an 8.07 GPA!
Double Plays are truly tough to find in nice condition. PSA has only graded a total of 2,852 examples as of mid-May, with just 450 of those cards (16%) receiving grades of NM-MT or higher. Of that total, 399 are PSA NM-MT 8s, 28 are PSA NM-MT+ 8.5s, and 23 are PSA Mint 9s. (There are no PSA Gem-Mt 10 examples from this set.)
The most popular cards are (not surprisingly) the DiMaggio/Keller duo with 142 examples graded, and the Williams/Cronin In Action combo, graded 110 times. The former combo has seen ten PSA 8s and a solitary PSA 8.5 awarded (no 9s), while the latter has earned just seven PSA 8s with nothing higher.
The Ted Williams headshot on card #57 is also popular, having been submitted 99 times for a total of eight PSA 8s, two PSA 8.5s, and a solitary PSA 9. Batting in the #4 spot is the Grove/Doerr card with 77 submissions, resulting in 16 PSA 8s (the most of any card in the set) and 1 PSA 9. Right behind it is card #77/78, with Indians pitcher Joe Krakauskas alongside that 'other' Indians hurler, Bob Feller. This card has been slabbed 77 times with nine PSA 8s issued and nothing higher.
Other popular cards include the Reese rookie (70 submissions for three PSA 8s, one higher), the Cronin/Foxx duo (69 entries for six PSA 8s, nothing higher) and the Gomez/Rizzuto pair (66 subs for just five PSA 8s, and nothing higher.) Red Rolfe (#65) and Bill Dickey (#66) have earned nine PSA 8s and a single PSA 8.5, while the Hank Greenberg/Red Ruffing In Action card has traveled to PSA headquarters 55 times with just five PSA 8s to show for those efforts (and, of course, nothing higher.)
There are a few Low Pop cards in the set, notably the first entry - #1 Larry French and #2 Vance Page. Only 19 of these have been submitted and high grade examples are scarce, with just one PSA NM 7 and a pair of PSA 8s in the PSA database. Card #45/46 Danny Litwhiler/Merrill May is also a tough one, with 19 total submissions that resulted in five PSA 7s and two PSA 8s. (And you guessed it – nothing higher!)
THE VALUES
Comparatively speaking, 1941 Double Play cards are a bargain for being nearly 70 years old. The SMR value for a collector-grade set is between $4,000 and $6,200, while a high grade set would set you back at least $12,000. In contrast, the 1941 Play Ball cards of DiMaggio and Williams alone currently SMR for $3500 in EX-MT 6 grade.
Not surprisingly, the most valuable Double Play card is the Williams/Cronin combo ($2,500 in PSA 8), followed by the Williams/Tabor entry ($2,300) and the DiMaggio/Keller duo (also $2,300). Pee Wee Reese' rookie card is valued at $750 in PSA 8, while the Lefty Gomez/Phil Rizzuto pairing is appraised at $925.
The Cronin/Foxx card is right behind at $815, while teammates Grove and Doerr are tagged at $700. Other high-ticket Double Plays include Krakauskas/Feller ($550 in PSA 8), Rolfe/Dickey ($500), Newsome/Greenberg ($500), Mize/Slaughter ($550), and Ott/Young ($500).
How about auction values? A PSA 8.5 example of the Williams/Tabor card gaveled down at $3,120 in the January 2010 Legacy Rarities auction. The rest of the set (all PSA graded) featured ten PSA 8s, including the Feller and Grove cards, five PSA 7.5s including Mize/Slaughter, and fifteen PSA 7s. Among the latter were Paul Waner, Mel Ott, Hank Greenberg, Cronin/Foxx, Williams/Cronin, Greenberg/Ruffing, Frank Crosetti, and Leo Durocher. This set brought $6,960 at the gavel.
Legendary Auctions recently featured several uncut sheets of Double Play cards earlier this year that sold as a lot for $3,258. These cut-apart sheets were once part of a single uncut sheet, and many of the cards were in nice condition. As expected, there were some damaged cards around the edges and in the corners, but the sheets still made for a very nice collectible.
Building a collector-grade set of Double Plays is not an insurmountable challenge. There are always a few Double Plays at every collectibles show, and they're also available online. A quick check on eBay, while this article was being prepared, revealed 47 examples for sale in varying condition, raw and graded.
A friend recently unearthed an original collection of Double Plays that had been stored in a basement for several decades. Only five cards were missing, and 62 cards were sent in for grading with the majority receiving grades between PSA VG-EX 4 and EX 5. (A handful of EX+ 5.5s and EX-MT 6 grades also resulted.) Even in VG-EX 4 condition, the Williams and DiMaggio cards still command a $200 SMR value, making that particular basement expedition well worth the time and effort!
A SNAPSHOT IN TIME
1941 Double Play cards offer an affordable alternative for collecting many of baseball's all-time greats from one of the most significant years in baseball and world history. After World War II started, production of baseball cards essentially ground to a halt for six years. By that time, many of these stars had hung up their gloves for good.
Even though the number of completed Double Play sets substantially lags that of 1941 Play Balls, there is evidence that interest is picking up in this overlooked, 70-year-old set. Granted, you will have to hunt high and low to find many of the cards.
But isn't that why we collect in the first place?
The author wishes to acknowledge the invaluable contributions and assistance of Dale Whetherill, Greg Bussineau of Legacy Sports Rarities, and Lyman Hardeman of Old Cardboard magazine for their assistance in preparing this article. Please note that the Population Report figures and SMR prices quoted are those as of press time.