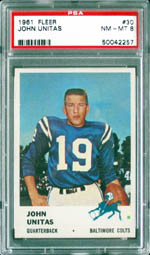 One can't help but be inspired by Johnny Unitas's arduous road to football stardom.
Originally selected by his hometown Pittsburgh Steelers in the ninth round of the 1955 NFL draft, the young pivot was cut before he tossed a single game pass. The dejected quarterback returned home to work for a construction company and toil with the semipro Bloomfield Rams for $6 a game.
Before this blow, Unitas had dealt with heartbreak before. He was just four years old when his father died of pneumonia, forcing his mother to become a bookkeeper to support her four children. Unitas would later say he learned more about courage from his mother than he did from any coach.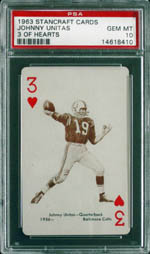 Blessed with his mom's resiliency, Unitas paid his own way to a Baltimore Colts' tryout camp in 1956, where he would impress legendary coach Weeb Ewbank and win the back-up quarterback job. Unitas remained on the sidelines until the season's fourth game when starting signal-caller George Shaw broke his leg. Unitas threw an interception on his first pass and fumbled on his next two possessions, but with their options limited, Baltimore stuck with Unitas and his play would improve. In his third game, he guided the Colts to an upset win over the Cleveland Browns.
Assuming the starting role in 1957, the young Steeltowner completed 24 touchdown passes and led the franchise to their first winning season. Showcasing his trademark crewcut, Unitas garnered a reputation for his poise under pressure and was one of the few quarterbacks to call his own plays. At no time was his poise more evident than the 1958 NFL Championship Game, a contest often referred to as "The Greatest Game Ever Played."
The first championship showdown to go into sudden death overtime, this storied match unfolded at Yankee Stadium in front of a raucous crowd and a swelling TV audience. Fans and viewers were awed as Unitas orchestrated an unlikely drive that would tie the game in its dying seconds and then work his magic again in overtime to lead the Colts to victory.
For an encore, Unitas would pilot the Colts to another championship in 1959, prolonging a streak that would see him toss a touchdown pass in a record 47 consecutive games. The 10-time Pro Bowler would also win a Super Bowl with the Colts in 1971.
In all, Unitas suited up for 17 NFL seasons, 16 with Baltimore and one with the San Diego Chargers, retiring with 22 NFL records, including most yards (40,239) and TD passes (290).
"I personally would rank him as the greatest quarterback of all time," said Rick Hamilton, who has collected the Basic and Master Unitas sets on the PSA Set Registry with his son, Neil.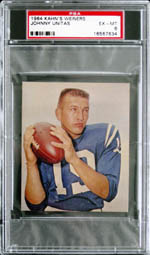 For his efforts, Unitas was elected to the Pro Football Hall of Fame in 1979 and could often be seen on the Baltimore Ravens' sidelines prior to his death in 2002. He remains one of the most beloved sports figures in Baltimore and across the United States.
Evidence of this can be found in the popularity of his Basic (19 cards) and Master (43 cards) sets on the PSA Set Registry.
Aside from his appreciation for Unitas's talent, Rick Hamilton was further inspired to collect the football legend's cards after he met Unitas at a small, one-room card show in Philadelphia about 15 years ago.
"He was a really down-to-earth, nice guy," recalled Hamilton, who had a couple of photos autographed.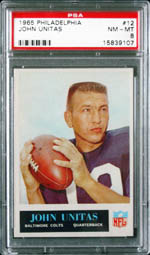 Hobbyists agree that Johnny U's 1957 Topps rookie (#138) is his Holy Grail card. This popular, double-printed single boasts a headshot and an action photo of the NFL great.
"From what I've read, the rookie was double-printed, so there's not a shortage of them. I think there are 140-some PSA NM-MT 8s and there's only six PSA Mint 9s," noted Dave Wyse, owner of the registry's top Basic and Master sets. "They're out there, but a PSA 8 still usually brings over $1,000."
Neil Hamilton says that centering issues sometimes hamper this card.
"The '57s are notorious for poor centering and for having print spots on them," he said.
A PSA 9 sold for $20,785 in a Memory Lane, Inc. auction in February 2010.
One major obstacle to obtaining Unitas's cards in flawless form is that six of his Basic Set singles are the first cards in their respective issues, a position that leaves them vulnerable to extra wear.
"People wrap their sets in rubber bands and the card No. 1 would have that rubber band mark on it," noted Eric Wells, who owns the registry's No. 4 Unitas Master Set.
One such card is Unitas's 1959 Topps single. On top of being the first card, it also showcases the Unitas photo against a yellow background that accentuates print flaws. Further adding to its condition woes is the trivia question on the back that encourages collectors to rub a coin over a blank area to uncover the answer.
"Pushing on a piece of cardboard from the back with a coin would have to leave some marks in it," noted Wyse.
There has yet to be a PSA GEM-MT 10 example and there are just three PSA 9s. A PSA 8 garnered $751 on eBay in October 2009.
Statistically, Johnny U's 1960 Topps card is his most elusive Basic Set single in pristine condition. Of the 442 evaluated, the highest recorded grade is PSA 8. On top of being the first card in the set, this single boasts fragile green borders on its back and a scratch-off section similar to the 1959 card. Neil Hamilton adds that poor centering also plagues this card.
Wells says the black borders on Unitas's 1962 Topps card make it almost impossible to obtain in top grade. Also the first card in the set, there has yet to be an example grade above PSA 8. One PSA 8 sold for $1,986 at auction in December 2006.
The yellow and red borders on the front of the 1963 Topps Unitas (#1) pose the same condition woes. Of the 304 evaluated, there are no PSA 10s and just three PSA 9s. One PSA 9 fetched $4,339 at auction in April 2007.
Similarly, the yellow borders on the front and the red borders on the back of the 1967 Philadelphia single (#23) are also prone to chipping.
"That card is very hard to get," said Rick Hamilton. "You just don't see them around."
There's just one PSA 9 example (with nothing grading higher). A PSA 8 garnered $246.50 on eBay in December 2009.
Another elusive single in high grade is the 1971 Topps Unitas (#1). Its fragile red borders are vulnerable to flaking. Only eight PSA 9s (with nothing grading higher) exist, with one of them selling for $1,002.28 in a Mile High Card Company auction in March 2009.
Two of the most difficult Master Set Unitas cards to track down in top condition are his 1963 and 1964 Kahn's issues.
"Those cards are tough to find in any condition," said Wells.
Wyse agrees.
"Even the cards they have added to the Master Set more recently aren't as tough as the Kahn's cards," he said. "You don't see a lot of those at all."
Reportedly distributed with wieners, these oversized cards were often thrown away, and those that have survived sometimes showcase staining. The sole PSA 10 of the 1964 version fetched $2,400 at auction in August 2008.
Another Master Set single that's elusive in top condition is the 1971-72 Dell card (sometimes referred to as a stamp). This collectible was part of a 48-card insert folded into the center of the 1971-72 Dell Pro Football Guide. Each card measures 1-3/4" by 3" and had to be hand-cut from the original sheet. Neil Hamilton points out that the Unitas is particularly difficult because it's located right along the fold of the guide. Just five of these have been submitted and the highest grade doled out has been PSA EX 5.
The Toughest Unitas Basic Set Cards to Find in PSA 9 or Higher
Card
Total PSA Submissions
Total PSA 9
or Higher Examples
Percentage of Submissions
PSA 9 or Higher
1960 Topps #1
442
0
0%
1962 Topps #1
321
0
0%
1957 Topps #138
1,528
6
.3%
1967 Philadelphia #23
169
1
.6%
1959 Topps #1
468
3
.7%
*PSA Population Reports statistics as of June, 2010.
Competition for these condition sensitive Unitas cards can be fierce.
"I consider Unitas to be like the Mickey Mantle of football," said Neil Hamilton.
Neil's father, Rick, agrees.
"The value of his cards has just not gone down. His rookie card, even in a PSA NM 7, holds its value very well," he said.
All of this is proof that even eight years after his death and, more than 36 years since his last professional pass, Johnny U continues to inspire.
Please feel free to contact Kevin Glew at [email protected] if you have any additional information or comments. Dave Wyse, Neil & Rick Hamilton and Mile High Card Company provided pictures for this article. Please note that the Population Report figures quoted and Set Registry rankings reported are those as of press time.