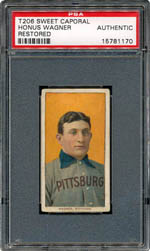 More than 1,400 lots are offered - highlighted by a Mickey Mantle game-worn jersey, Babe Ruth memorabilia, and a T206 Honus Wagner - in SCP Auctions' largest auction to date.
Memorabilia from Kirk Gibson's electrifying walk-off home run during Game 1 of the 1988 World Series, a Pete Rose "corked" bat and a game-worn Mickey Mantle jersey highlight SCP Auctions' fall auction set to end November 13.
Comprised of several important single-owner collections and a comprehensive array of additional memorabilia and cards, the 1,400-lot offering is the firm's largest and most impressive Internet sale to date. Bidding is now open to registered bidders and will conclude Saturday, Nov. 13. For more information on how to participate, visit www.scpauctions.com or call (800) 350-2273.
The auction will include Gibson's bat, batting helmet, home and road uniforms, World Series trophy and Most Valuable Player award. Proceeds from the sale of the World Series trophy and MVP award will benefit the Kirk Gibson Foundation.
"This auction offers the greatest depth and highest caliber of material throughout every collecting category that SCP Auctions has ever featured in an Internet sale," said SCP President David Kohler. "In addition to the significant single-owner collections, every turn of a page in the catalogue reveals another significant offering. From a newly discovered 1953 Mantle jersey to a T206 Wagner the selection of quality material is unparalleled."
Another iconic item on auction is a 1985 Pete Rose autographed Mizuno "corked" game-used bat. In 1985 Rose had been traded from the Expos back to the Reds the previous season and was on the last legs of his career. Playing first base, and serving as the last player-manager in baseball, Rose remained unyielding in his pursuit of Ty Cobb's hallowed record of 4,191 hits. Before the season, Rose had a box of about 30 black Mizuno bats specially made for him. His trademark quick swing not nearly as quick as it used to be, Rose ordered his bats a little lighter than usual to shorten up his motion. The bats were 34 inches long, and weighed 32 ounces. In honor of his quest for 4,192 hits, they were dubbed the PR4192. The auction will include one such example of Rose's Mizuno professional model PR4192.
In addition, a newly-discovered 1953 Mickey Mantle New York Yankees game-worn and autographed road jersey will be featured. The jersey has never before been offered publicly and has been consigned by a man who received it from a former major league scout during a tryout in the 1950s. When his big-league aspirations went unfulfilled, the consignor opted for the restaurant business. This keepsake remained in the sole possession of the consignor for nearly half a century and was even displayed on the wall of his Southern California eatery for many years.
Two items from Babe Ruth, the greatest power hitter in baseball history, are up for auction – one from his playing life and one from his personal life. The first item is the bat with which Ruth walloped his 702nd career round-tripper on July 22, 1934, among the finest Babe Ruth gamers known. Enhancing its extraordinary appeal is the fact that it has been signed by Ruth as well as 15 of his 1934 New York Yankees teammates.
The second is Ruth's personal humidor that comes with the letter of provenance from Claire Ruth and Babe Ruth -inscribed oversized photo of Ruth with a cigar. Given that many of Ruth's personal effects are now part of the Baseball Hall of Fame and the private nature of the family, few pieces of memorabilia with direct lineage to his estate have ever been made available to private individuals. An exception was made when Claire Ruth bestowed Babe's personal cigar humidor upon longtime family friend Cy Jones, along with several other of the Babe's significant personal memorabilia items. Among Babe Ruth's many indulgences, was his well known fondness for cigars.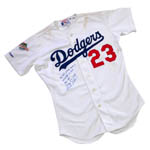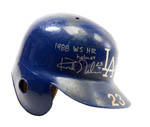 Featured throughout SCP Auctions' Oct. 27-Nov. 13 Internet auction will be some of the most iconic sports cards from every era and sport. None will be more recognizable than a beautiful example of the famed T206 Honus Wagner. This particular specimen of one of the most famous collectibles in the world has undergone professional restoration to appear in impressive VG-VG/EX condition. It has been encapsulated by PSA as "Authentic."
Other featured collections include: The Ron Futrell Collection of Important Sports Card Sets and Singles, The Ron Futrell Collection of Vintage Sports Advertising, The Cy Jones Collection – Part II, featuring significant Babe Ruth memorabilia, The Norman Oberto Collection of High-Ranking Sports and Non-Sports PSA Registry Sets, and a Significant Single Owner Collection of Roberto Clemente Memorabilia.
Each of the 1,400-plus items is featured in SCP Auctions' full-color catalog as well as on the SCP Auctions website at www.SCPAuctions.com