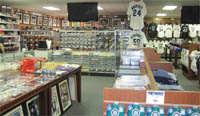 No matter where you go in the United States, if you cross the threshold of a retail sportscard and memorabilia store you tend to find a lot of similarities – signed photos and posters, cases filled with slabbed cards, and various pieces of sports equipment that carry the signature of a legendary player. While some shops are small, no frills "mom and pop" operations, and others give the appearance of being a well-designed sports museum, the one thing these stores tend to have in common is that they were built on a foundation of love for the things they offer.
Next time you stop in a sports store, ask the proprietor a few questions and the chances will be more than good that you will learn it was the owner's own passion for cards, autographs, and sports in general that served as the shop's cornerstone.
That is certainly what you will find when you cross the threshold of Mill Creek Sports in Mill Creek, Washington.
Located 20 miles north of downtown Seattle, the city of Mill Creek was originally a planned community built around a golf course and country club. Incorporated in 1983, the city has rapidly grown to a population of just under 19,000, and now includes a retail, restaurant and residential mixed-use complex called Mill Creek Town Center.
Operating in this cozy Pacific Northwest community since 1991, Mill Creek Sports recently celebrated the grand opening of their new retail store that is twice the size of their former shop. Specializing in PSA/DNA authenticated autographed material, Mill Creek Sports was the brainchild of Scott Mahlum whose business stemmed from his own personal desire to own a program or card signed by a hand that caught, threw, or hit an official American or National League ball.
Born and raised in the Seattle area in the late-1960s, Scott began collecting sportscards at an early age. "I was a serious card collector as a kid," said Scott. "I really got hooked and loved buying and selling cards even when I was very young. I was always most attracted to rookie cards. I really got into that craze. I would always speculate on who I thought would be the next big rookie. I always focused on the modern guys of the era. When I was a kid, I didn't really relate to the history of the game as much as I did with the hot players of the time. Looking back, I wish I had done it differently because back then you could get Mickey Mantle cards for like $20!"
As a teenager, Scott's interest in collecting sportscards began to wane as his interest in collecting autographs grew. "When I was a teenager, I spent most of my time chasing autographs," he laughed. "I wasn't big on getting autographs of the Seattle Mariners players because they never had any real stars during those years. Instead, I would always go after players from the visiting teams. I would hang out at the ball park and at hotels chasing autographs and it became a real passion. Then I started selling them. The first show I ever set up and sold at was in 1979 – when I was just a kid. After that I started doing more shows and selling more autographs."
After high school, Scott went on to the University of Washington where he graduated with a degree in accounting and finance. "After I finished college, I interviewed for a few jobs," Scott recalled. "When I found out what they were paying, I decided working for someone else wasn't for me, so I opened up my own shop."
While the Mariners may not have had the biggest names when Scott was growing up, by the time his business was in full swing, that had changed. "Ken Griffey came along in 1989 and that was a huge craze," said Scott. "I got to know him pretty well and we started doing signings with him. He has signed thousands upon thousands of things for me during his years in Seattle, and I bought all of his game-used equipment from those years."
Soon thereafter, the names of Alex Rodriguez and Randy Johnson showed up on the Mariners roster. "Seattle had a pretty good run of players during the 1990s," said Scott. "That was when we really got into game-used items. We were among the first to offer game-used memorabilia directly from a player. That worked out really well for us. We were, I believe, also among the first to have players sign letters of authenticity for their own game-used stuff."
Scott said that he believes game-used items really resonate with collectors. "The stuff that is iron-clad – that is accompanied by nice letters – is in big demand, and goes for big money," Scott said. "People love game-used stuff for the same reason I do – it gives you the chance to get closer to the heroes and stars of baseball. The closest you will ever be able to get to Babe Ruth is to hold a bat that he held and swung, or something he signed. That's what people love – collecting something that has a personal connection to a legend and, by far, baseball has the most collectors – the most history – and the biggest superstars in all sports. So, when you think of men like Ruth, and Mel Ott, and think that you can actually hold and own something that they actually held and used, or something they signed – it's the closest you can get to them."
Scott's understanding of just how passionate collectors can be when it comes to owning game-used items comes from his own love for game-used bats. "I'm a big game-used bat collector and I love them," said Scott. "I'm always on the lookout for a nice game-used bat," he continued as his eyes drifted over to his computer screen where he was following a Willie Keeler game-used bat being offered in an online auction. "I know of only two or three Keeler game-used bats that exist," he said. "If I get the Keeler bat, I may give it to Ichiro Suzuki. Ichrio is a big signer with us right now. We've have an exclusive deal with him for the past six years, and I know he's a big fan of Keeler."
Asked if he has favorites in his bat collection, Scott is quick to point out the lumber he loves the most. "About five-years ago I finished my 500 Home Run Club game-used bat collection that I really love," he said. "I have Hank Aaron's 695th home run bat which is definitely one of my favorites, and I also have Alex Rodriguez's second home run bat. I had the chance to buy his first home run bat but I didn't go for it (because) it wasn't the model A-Rod usually used. But, looking back – I wish I had bought it."
Today, with the experience that three decades in the hobby brings, Scott said he feels he has a good handle on what collectors are looking for, what is important to them, and what will be desirable in the future. "Authentication is the biggest thing for our customers," Scott opined. "Everything was in such a gray area 10 to 15 years ago – there was a real lack of confidence in the hobby, and customers were unsure of what they were getting. Today, while there are still things in the hobby that need to be cleaned up, thanks to PSA/DNA it's a lot better. Frankly, we have a lot of customers who won't buy something unless it has been authenticated by PSA/DNA, and in many cases, a sale will be based on if the item passes the authentication process with PSA/DNA."
Scott said that he is extremely happy that today's collector is savvier and better educated. "Over the years, I have seen collectors become much more educated," said Scott. "The Internet has played a big role in that – there is so much information out there – it's just a huge database. Collectors can also go to PSA/DNA's Web site and type in the number of an item they have authenticated, see it pop up, and have immediate confidence in it. We love that collectors really care about what they are getting, and that they do research into what they are buying."
Mill Creek Sports has adopted a policy that they will not sell an autographed item that has not been authenticated buy a third-party authenticator. "We have partnered up with PSA/DNA, so about 95 percent of the autographed items we sell are PSA/DNA authenticated," said Scott. "We don't do any of our own authenticating. You won't find a Mill Creek Sports hologram on anything. At one time, we thought about doing that, but we kept coming back to the fact that we believe in PSA/DNA, and our customers believe in them. We have their representatives up here every six weeks or so to authenticate our stuff as well as stuff for our clients. When people walk into our store and see that our items are PSA/DNA authenticated, they have immediate confidence in us. That is because they have confidence in PSA/DNA. They know what they are buying is real and authentic. It's been a fantastic partnership for us."
When asked to play prognosticator and make a call on what items he believes will be in demand as time goes by, the names of two legends immediately roll off his tongue: Hank Aaron and Willie Mays. "I think that items pertaining to Aaron and Mays are really undervalued right now," said Scott. "Maybe, to some extent, it is because unlike many of their peers, they are still alive. But, right now, their cards and their autographs are way undervalued compared to say those of Joe DiMaggio or Mickey Mantle. Mantle's autograph currently books for three times what Willie Mays does. I personally think there is a good argument to be made that Mays was a better all-around player than Mantle. But Mays was never a Yankee, and he only played in New York for a short time – I think that may also have something to do with it. But, as the years go by, I think their stuff will jump in demand and price. I really believe Mays and Aaron items are great investments."
Scott also said he believes that as the years go by, the timing of when a signature was created will become a bigger factor in its desirability and value. Just as with items signed by any United States President that have a far greater value if it they were signed while they were actually in office, serving as President, Scott thinks items signed during a player's playing days will become more in demand.
"I just mentioned Hank Aaron and Willie Mays," said Scott. "They are a perfect example of what I am talking about. Aaron and Mays have done a ton of signings over the years, and they are still signing today. So, if you want their autographs, you can get them. But what I think you are going to start seeing is that collectors are going to become more interested in things that were signed during their actual playing days. I think that is something that is going to catch on because then, the signature is not just a mass-produced thing that was done at a signing years after they retired, but rather a piece of history that was signed right before they ran out on the field for practice, or right after they finished playing a game. I also think you will start to see that there are not a lot of Hank Aaron or Willie Mays or Stan Musial single signed baseballs from their playing days – the 1950s through the 1970s. Back then, fans were more apt to get programs signed. If they did get a ball signed, they would usually not stop at one player. They tried to get as many players as possible to sign it. So, I think single signed balls from the playing era of Hall of Famers will come into demand. I also think rookie era items will become very desirable. Maybe a program signed by Mays during his rookie season, or something signed by Aaron during the season he broke Ruth's home run record. If things like that can be found and authenticated, I think there will be a huge demand for that kind of stuff."
Scott believes those types of items – many that have never yet surfaced on the market – may begin to show up over the next 10 to 20 years. That feeling stems from what is a current concern in the hobby. "Over the last 15 years or so, our hobby has lost almost all the younger collectors," said Scott. "Boxes of cards, and even single packs, have become out-priced for kids. Plus the hobby can't compete with the Internet, and social networking, and video games. A $50 video game will give a kid hundreds upon hundreds of hours of entertainment. In the card or autograph hobby, $50 won't get you much of anything. Think about it, today there are single packs that go for $100. Today, I see maybe 20 percent of the kids I saw in my store when we first opened almost 20 years ago, and the ones who I do get in my store don't collect sportscards. They collect Magic and Yu-Gi-Oh – that kind of stuff. There are just too many other things that are more affordable for kids to be involved with right now than sportscards and autographs. This is a situation that everyone involved in the hobby has given thought to – how to get kids engaged. But after all the thought I've given it over the years, I don't have an answer, and I don't think anyone has an answer or something would have been done. I just think one of two things will happen. Younger kids will grow into the hobby when they inherit their father's or grandfather's collections. When that time comes, they will either start collecting themselves, or they won't care much about it and they will put the stuff up for sale. They will sell it to guys like me, or put it up for sale at auctions. That's why I think there will be a lot of new stuff surfacing in the future, and that will be great for the hobby."
Along with running his successful business and collecting game-used bats, Scott is also very involved in activities with his wife, Kris, 17-year old daughter, Nicole, and 14-year old son, Derrick. "I used to coach my son's Little League team and we reached the semi-finals of the Little League World Series," Scott said proudly. "The last game I ever coached was at Howard J. Lamade Stadium in South Williamsport at the Little League complex. That was great, although my business definitely suffered during those days due to the fact that we were playing six and sometimes seven days a week. Outside of that, we have always enjoyed traveling as a family. We own a couple of condos – one on the Washington coast and one in the mountains in a town called Leavenworth which is a Bavarian village. We really enjoy getting away. However, with my kids now in their late teens, they are getting to the age that they don't really want to go on trips with mom and dad."
Asked if his kids inherited his collecting gene, Scott laughed. "My daughter is a real girly-girl who couldn't care less about sports. She's as girl as it gets, so she has no interest in what I do. My son does collect cards. He's a gambler who likes to open boxes. I always try to explain to him that he has about a five percent chance of getting something worth more than an unopened box and that if he's looking for a specific card he should just buy it and not be going through boxes of cards hoping to find what he's looking for. But he loves the hunt – the thrill of opening the boxes and the packs."
Today, as Scott and his staff get established in their new location, he hopes their larger store and expanded inventory will better meet his customer's needs. "Having recently moved into a store that is twice as big as our last one, we are expanding into carrying sports apparel," said Scott. "We will offer a full line of jerseys, jackets, sweatshirts, hats, shirts and everything else for the sports fan. We're getting into being a fan store as well as being a collector's store. As for cards – while we do carry cards, our primary business is autographed items, wax packs and wax packs boxes. We do carry some 1950s and '60s cards, but you won't find a huge inventory of slabbed cards at our store."
Scott said that at Mill Creek Sports, they deal with collectors from all over the country, especially autograph collectors. Asked why a collector from New York of Florida would deal with him rather than someone local, Scott said it has a lot to do with price. "I think what collectors find is that our prices are more than competitive," said Scott. "There is a reason for that. We are a small operation. We only have five employees, so we don't have to double or triple our money on items to keep afloat. Over the years, our way of doing business has been to work on smaller profit margins, and to keep things moving. Besides price, the items we carry speak for themselves. We do a lot of in-store signings, and while we do have current players come in, we mostly focus on Hall of Fame players. We have had well over 100 signings in our store over the past 10 years. We have had Bob Gibson, Willie Mays, Reggie Jackson, Jerry Rice, Magic Johnson – it has been really great to bring athletes into our store. That has really set us apart from any other sports stores in the Pacific Northwest. We had Randy Johnson at the kickoff of our new store. We also had PSA/DNA on the scene doing authentications at our grand opening. That worked out great. We have plans to set up a lot more signings with big name athletes and PSA/DNA. We are also in the process of redeveloping our Web site so that it will be much better – a lot simpler to use."
While Scott is determined to continue to keep up with the growing demands of his clients, he said he is also constantly on the lookout for great game-used bats to add to his personal collection. Asked if his wife, Kris, is understanding of the financial investment he has made in amassing his collection of legendary lumber, Scott laughed. "Honestly, I don't know if she knows what I have spent on some of the things I have bought," he said. "But since day one, she has always been supportive of my collecting." He paused for a moment and reflected on what he said. "Hey," he continued with a laugh. "As long as I give her the paycheck every week, she doesn't care what I buy."
For further information you can visit Scott Mahlum at Mill Creek Sports, 15704 Mill Creek Blvd. #5, Mill Creek, WA 98012, contact him by phone at (425) 742-8500, or visit their Web site at: www.millcreeksports.com