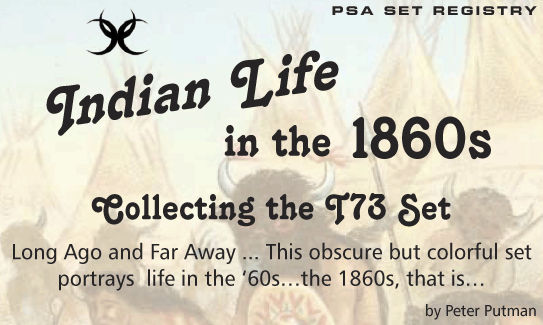 For collectors who started collecting sports cards the usual way – opening wax packs and chomping down slabs of bubble gum - it must have been quite a revelation to learn that trading cards were originally packaged with cigarettes. (It certainly was a revelation for me!)
If those collectors were intrigued enough to investigate further, they would have discovered a whole world of tobacco cards that featured everyone from famous boxers to baseball players, actors, and other celebrities. Annie Oakley, John L. Sullivan, Cap Anson, Buffalo Bill Cody, and Ty Cobb – all of them appeared on cigarette trading cards at one time or another, starting in the late 1880s.
These trading cards weren't just placed into cigarette packs as an incentive. According to several accounts, stiff cards were originally included to protect the cigarettes from being crushed. Originally blank, the cards soon appeared with information about the manufacturer, ostensibly to promote future sales. Why waste the ad space?
It was only a matter of time before tobacco companies moved to hand-colored trading cards as an incentive to buy more packs. Popular subjects included rowing, boxing, baseball, golf, billiards, and riflery. Even stars of stage and screen made an appearance in these sets, although the bulk of tobacco card issues favored athletes – specifically, baseball and boxing, sports favored by men puffing away on cigarettes and cigars.
Tobacco companies ranged far and wide in search of themes. Ships were very popular, along with presidents, birds, fish, musical instruments, cowboys, automobiles, airplanes, state and national flags, soldiers, and animals. The beautiful Allen & Ginter sets produced in 1888 showcased 'The World's Beauties,' 'Perilous Occupations,' and even 'World's Dudes' (I kid you not). In fact, it's hard to think of a theme that hasn't been used for cigarette cards.
Flights of Fancy
Ten years into the 20th century, much of the United States was still unsettled country dominated by farmland, open prairie, and dense woods. Oklahoma had only become a state three years earlier, while Arizona and New Mexico weren't admitted until 1912. Most of the nation's population still lived east of the Mississippi River, and 'highways' were largely unpaved roads, if not wagon ruts.
Even so, the country was undergoing a radical transformation from a largely agrarian society to an industrial one. The Wright Brothers had completed their famous flight at Kitty Hawk, starting the race to the skies. Automobiles and trolley cars were dodging horse-drawn carts on city streets. Telephones were being connected in upscale homes, 'talking machines' played the latest music from cylinders and discs, and fast, sleek ocean liners competed for the coveted Blue Riband, awarded for the fastest trans-Atlantic crossing.
Against that backdrop, the American Tobacco Company created an attractive but obscure set of trading cards. Simply titled Indian Life In The '60s (designated T73 in the American Card Catalog), these cards appeared in packs of Hassan Cork-Tipped cigarettes in 1910. They played off the general fascination with the legendary 'frontier days of America'– a fascination augmented by traveling Wild West shows, such as those operated by Buffalo Bill Cody.
These shows, and their Eurocentric perspective on the conquest of the American west, elevated the mythology of native Americans to a new level, focusing largely on the culture of Plains Indian tribes – elaborate headdresses, hunting buffalos, archery and riflery skills, face-painting, medicine men, and horseback riding competitions.
Not surprisingly, the 50-card Indian Life set picked up on many of these themes. But it also included scenes that had roots in other Indian cultures, such as those of the Pacific Northwest. Some of the cards had relatively mundane titles, such as Indian Medicine Man and Squaw Gathering Grapes. Others were more risqué (Love Making) or controversial (Puppy Stew).
The Details
Each card in this set measures approximately 2 ¼" x 3 ¼", with a full-color illustration and black text title on the obverse and a small copyright line along the lower right border. Illustrations are found in both horizontal and vertical orientations.
The reverse of each card contains a title and description for each scene. The bottom third reads 'Hassan Cork Tip Cigarettes – The Oriental Smoke,' along with the tagline 'The Largest Selling Brand of Cigarettes In America.' The factory number and district is also listed. As was often the case with cigarette cards, there is no numbering sequence, so collectors had no way of knowing how many cards made up a complete set.
Many of the vignettes portray scenes of hunting, some with adverse results. Examples would be Attacked By A Lion, where a brave is being mauled by a mountain lion. Another card shows two Indians on horseback, reaching to rescue a fallen tribesman in A Dash To Save Scalp Of Fallen Comrade. (Some of the titles were pretty wordy.)
A Spilt Indian shows a brave taking a full header off a bucking horse (ouch!), while two young boys flee a raging bear in Chased By A Grizzly Bear – Indian Boys. But life also had its fun moments, such as Race Of Young Bucks, Indian Boy Playing With Pet Crow, and Gambling With Bone (perhaps foreshadowing present-day tribal casinos!).
A few titles would be real head-scratchers, if not for the detailed explanations. On The Scent Of Tobacco explains that, "The Indian power of sight and smell is wonderful... they will scent the tobacco or coffee in a camp for many miles and have been known to find their way to a camp by this means." Really - how hard could it have been to smell cigarettes and coffee out on the open prairie?
The reverse of Squaw Offering Food To Dead Babe features an Indian woman "... making an offering of food to her dead babe, which is placed in a tree wrapped in the skin of some animal that has been killed for that purpose." (The baby was wrapped in an animal skin, not the tree.) Runaway Lovers shows us a young couple eloping on horseback "... pursued by the family of the young squaw, leading them on a chase through the Bad Lands."
Dude Of The Village displays "... an over-dressed fop, not differing very much in character from the dude or fop among civilized people... He has taken no scalp and cannot sport an eagle feather. He has never done a brave deed, and while the braves despise him, he is satisfied in thinking himself beautiful and believing that he is greatly admired by the young women of the village." Sounds like a few present-day celebrities!
Although most of the cards portray aspects of Plains Indians culture, there are some exceptions, such as Salmon Fishing On Columbia River and Calling Back The Moose. Others touch on future societal problems for Native Americans, such as Whiskey Hunters, which explains that, "One of the most noticeable effects of the Indian's contact with the white race is the craving they soon develop for intoxicants."
At first glance, Puppy Stew seems like a harmless-enough title – that is, until you read the description: "The flesh of dog was highly esteemed as a food by the Indian, and that of puppies regarded as a great delicacy and was saved for the children or used on feast days." Ugh!
By the Numbers
In contrast to other, more recent non-sport sets, Indian Life In The '60s cards are scarce. There have been a total of only 451 cards graded by PSA, with 10 PSA NM-MT 8s and 47 PSA NM 7s awarded. The majority of grades (344) fall in the range of 4 to 6, which means that assembling a collector-grade set is more realistic than a high-grade version.
The Set Registry lists six entries, three of which are 100% complete. However, the highest-rated set has a weighted GPA of only 6.22, and that set contains only two PSA 8 cards. The #2 set has a GPA of 5.96, while the #3 contender is sitting at 5.62.
With an average of only nine examples of each card graded by PSA, there aren't any "tough" cards - they're all tough! The scarcest example is a wrong-back variation of Stalking The Antelope where the reverse contains the description from Stalking Deer.
The most commonly graded card is Love Making with 15 specimens having passed through PSA's offices, earning one PSA VG 3, six PSA EX 5s, seven PSA 6s, and a single PSA 8. Dude Of The Village is the second most-popular card, having gathered two PSA 3s, one PSA VG-EX 4, four PSA 5s, four PSA EX-MT 6s, and a solitary PSA 8. All other cards have at least one PSA 6, PSA 7, or PSA 8 exemplar.
Valuing Indian Life is hard to do because the cards are so scarce. A quick check on the Internet revealed that, on average, PSA 4 examples were priced from $20 to $30, while PSA 5 cards fell between $35 and $50. PSA 6 slabs are much scarcer and were priced between $60 and $80. Individual ungraded cards were available for as little as $6 in good to very good condition.
At the time of this writing, a PSA Good 2.5 copy of Horse Racing offered for $20, while a PSA 3.5 Puppy Stew was tagged at $45. A PSA 5-slabbed version of the same card was ticketed at $74, while a similarly graded Love Making had a $34.00 sticker. Based on those prices and a check of listings on eBay, assembling a complete graded set with an average grade of PSA 5 would probably set you back somewhere between $2500 and $3500.
A Different Challenge
There is a certain naïve, romantic quality to the artwork found on tobacco card issues that harkens back to a simpler time. The Indian Life set provides an excellent snapshot of early 20th century illustration techniques, combining them with a somewhat anachronistic but still entertaining social commentary on the lives of Native Americans.
If you are looking for a break from collecting baseball or football cards, or are thinking about starting a non-sports collection, Indian Life is definitely worth the chase. The cards are scarce enough to keep you looking through binders at shows and scouring eBay auctions, but not prohibitively expensive if you are willing to do some hunting. And at just 50 cards, it's not so large that it will scare you away.
Good hunting!