This auction features some incredible lots with Hall of Fame autographs, cards, and other related memorabilia.
Premium Lot Highlights: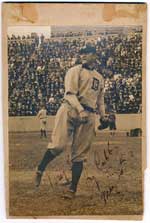 Ty Cobb Signed T206 Tobacco card with signed Letter of Correspondence and Postal Receipt
Mickey Mantle Signed Actual Homerun Ball(#458) hit April 25th, 1965 PSA/DNA LOA
Babe Ruth & Lou Gehrig Dual Signed Barnstorming Ball w/Photos PSA/DNA LOA
NearMint Babe Ruth Single-Signed Autographed Baseball PSA/DNA LOA
Ed Walsh Autographed T205 Gold Border Tobacco Card PSA/DNA
Christy Mathewson c.1913 World Tour Real Photo Postcard Newly Discovered 1/1
Other Fine Auction Lots include:
Pre-War Cards:
Christy Mathewson 1911 T205 Cycle Back '1 Loss' Error Card
Joe Jackson M101-5 Sports News Suplement
Autographed Items:
Mel Ott Single-Signed Baseball
Satchel Paige Single-Signed Baseball, near mint
Collection of c.1916-1917 Signed photos w/Wagner, Cobb, Bender, and Jennings
Pristine Jackie Robinson Autographed 'Wait Till Next Year Book
Mantle/Maris Dual Signed Ball
Sam Crawford Signed Letter to a Fan
c.1989 Rookie Year Ken Grifffey Jr. & Sr. Dual Signed Mariners Jersey
Babe Ruth Single-Signed Baseballs and much more!
The 15-minute rule begins 9:00 CST on October 14th. To learn more about Imperial Sports Auctions, register and bid, or inquire about future auction consignments, please visit us online at www.imperialsports.net or call 210.745.2925.