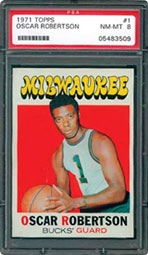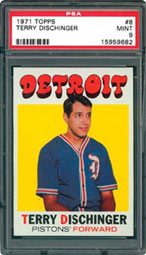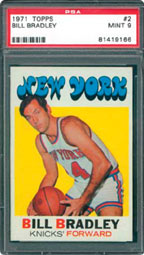 Flaunting bright colors, psychedelic lettering and some impressive Afros, cards from the 1971-72 Topps Basketball set offer a groovy trip back to the Disco Era.
"The design just screams early '70s," said David Glickfield, who owns the No. 5 Current Finest set on the PSA Set Registry.
Don Miskinis, who has assembled the No. 3 registry set, concurs.
"The design is very appropriate for the era," he said. "It kind of reminds me of The Mod Squad."
Fittingly, this is also the first Topps issue to include pasteboards from the American Basketball Association (ABA). Singles #145 to 233 are devoted to the circuit best known for its red, white and blue ball and wacky promotions.
"One of the big reasons I like this set is because of the ABA cards," said Art Sainsbury, who owns the registry's No. 6 Current Finest set.
The cards in this set were reportedly printed on two sheets. The 89 ABA singles (#145 to 233) were featured on the second sheet, along with 31 NBA cards that were also on the first sheet. The most notable card to appear on both sheets is the Pete Maravich (#55).
Pistol Pete is one of the 144 NBA cards that comprise the first part of this set (1-144). At 233 cards, this was Topps' largest hoops offering to that date. To complete this set on the PSA registry, collectors must acquire two versions of the first checklist (#144). One version showcases a copyright line that extends to the listing for card #108, while the copyright on the second incarnation extends to #110. Neither version commands a premium. After releasing tall boy issues in 1969-70 and 1970-71, the renowned card manufacturer unveiled smaller, standard-sized cards for its 1971-72 series.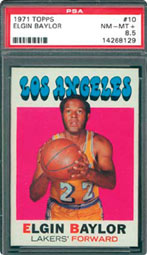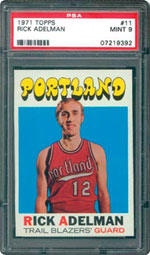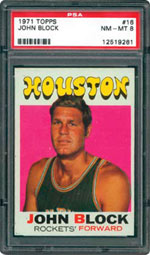 "I appreciate action shots of players, but I really like the 1971-72 cards because they focus individually on the player," explained Miskinis. "You're not looking at a whole bunch of stuff going on in the background. You just get the shot of the player."
As with the previous two Topps issues, some NBA players appear to be wearing their jerseys backwards. Though it hasn't been confirmed, the popular belief is that if the jersey displayed the team's nickname or logo, then the player would forfeit their fee from the card company to the team. The same scenario didn't apply to ABA players. Many of them are photographed in jerseys exhibiting their team nicknames.
The white-bordered card fronts also feature the team's city and nickname, as well as the player's name and position, while the predominantly yellow and blue backs include the card number, personal data, biographical information, stats and a cartoon posing a quiz question.
These cards were distributed in 10-card, 10-cent packs with a piece of gum and a Topps Trio sticker (described later in this article).
"It is one of the rarest Topps basketball unopened issues. I have only owned one box of 24 packs in the last 10 years," said Steve Hart, owner of the Baseball Card Exchange in Lynwood, Illinois.
Steve Taft, a well-known basketball dealer in Agoura Hills, Calif., says there are also vending cases of this product.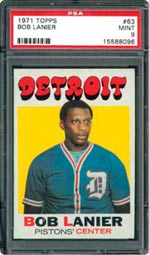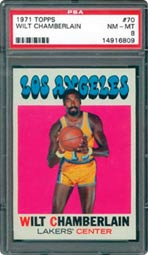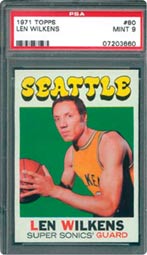 Spencer Haywood (#20), Nate Archibald (#29), Dave Cowens (#47), Bob Lanier (#63), Rudy Tomjanovich (#91), Larry Brown (#152), Rick Barry (#170) and Dan Issel (#200) are among the rookies in this set. The key card, however, is Oscar Robertson, the set's first card.
"It's a really hard card to find in a PSA 9," said Greg Gehman, owner of the registry's No. 2 set.
Sainsbury agrees.
"It's a real, real tough card in a PSA 9," he said. "I haven't seen one appear on eBay in probably eight years or so."
The additional wear and tear associated with being the set's first card accounts for its condition sensitivity. So far, 231 Robertsons have been graded and there has yet to be PSA GEM MT 10 and there are just three PSA MINT 9s.
Another difficult Hall of Famer to find in flawless form is Elgin Baylor (#10). Miskinis says poor centering hampers this card. Of the 268 submitted, there are just six PSA MINT 9s, with no examples grading higher. One PSA 9 sold for $270.18 on eBay in September 2009.
Other key stars in this offering are Jerry West (#50), Pete Maravich (#55), Wilt Chamberlain (#70) and Lew Alcindor (#100). A PSA MINT 9 Alcindor sold for $384.23 in a Goodwin & Co. auction in May 2009.
Two of the toughest commons to track down in high grade are John Block (#16) and Shaler Halimon (#89). With just 36 copies sent in, the Block single is the least submitted card according to the PSA Population Report. It's Halimon, however, that collectors deem particularly evasive in top condition.
"That's the toughest card to find as a collector," said Sainsbury.
Glickfield agrees.
"I had more difficulty with that card that anyone else," he said.
Glickfield says the centering on the Halimon makes it difficult to track down in flawless form. There has yet to be a Halimon card grade as high as a PSA MINT 9. A PSA NM-MT 8 sold for $113.61 on eBay in March 2008.
As with the Halimon card, poor centering hampers many cards from this issue.
"The biggest centering problem that I have found is on the leader cards," said Gehman.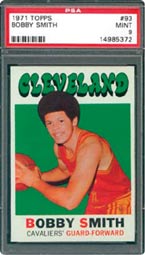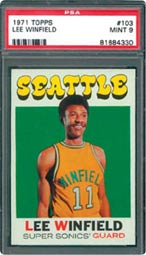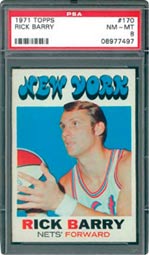 With one inserted in each 1971-72 pack, the Topps Trios stickers also remain highly coveted. In fact, some of these stickers command more than their regular 1971-72 Topps singles. These standard-sized singles boast fragile black borders, with the player's name in yellow and the team name in white. Twenty-two of this offering's 26 cards feature three-player sticker panels, while three cards boasting the ABA team logos and another showcasing the NBA team logos account for the remaining four cards. The ABA singles feature an "A" after their card number.
These stickers were printed on 77-card sheets. The NBA team logo card was featured 14 times on the sheet, by far the most of any single from this issue. Eleven cards were showcased three times each, while 13 singles only appeared twice. Rick Barry (#13A), Oscar Robertson (#34), Lew Alcindor (#39) and Wilt Chamberlain (#43) are the most prominent players featured only twice.
"People would peel these stickers off and stick them somewhere," said Miskinis.
Glickfield recalls doing this as a child.
"We would take those stickers off and put them on our bed," he said.
Sainsbury adds that the black borders also make these stickers condition sensitive.
"The black borders chip very easily," he said.
Comparing Prices of Regular 1971-72 Topps Cards to Topps Trios Singles
Player Name
Price of PSA 8 Regular 1971-72 Topps Card
Price of PSA 8 1971-72 Topps Trios
Rick Barry
$53.88 (eBay, March 2009)
$122 (eBay, March 2009)
Oscar Robertson
$150 (eBay, March 2009)
$201 (eBay, March 2009)
Lew Alcindor
$60 (eBay, January 2009)
$145 (eBay, April 2009)
Wilt Chamberlain
$65.99 (eBay, March 2009)
$85.55 (eBay, May 2009)
The Topps Trio stickers add another interesting dimension to this memorable '70s set. With its psychedelic design and impressive roster of stars, it continues to be very popular.
"I've never had any trouble getting rid of '71-72s. They sell fast. I just think it is one of the more popular Topps sets, as far as basketball goes," said Glickfield.
Please feel free to contact Kevin Glew at [email protected] if you have any additional information or comments. Don Miskinis provided pictures for this article. Please note that the Population Report figures quoted and Set Registry rankings reported are those as of press time.