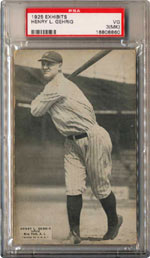 The current Clean Sweep auction opens with a startling array of rare, high quality and desirable baseball cards. Really an auction unto itself, the featured item in this auction is a truly remarkable collection of 19 different Old Mill cabinet cards from 1910. A very rare issue, we have not handled a single example of this issue in our 20 years in the hobby until now. They are being offered as one lot as we did not have the heart to break up this unique collection. Other notable baseball card offerings include sets of N184 Kimball (full set of 50), N43 Baseball (5/6), 1888 Scraaps, 1889 Number 7 Cigar, 1934 Batter Up, 1953 Glendale Meats and a run of Topps and Bowman sets and near-sets from 1952 through 1972. Many of the Topps sets are very fine Near Mint sets assembled 10-20 years ago. Baseball cards continue with 80 Old Judges previously unknown to the market, a Mayo set broken into lots and a fine S110 silk premium.
Baseball cards continue with some enormous group lots and collections. These are from a 30-year old collection, and are among the largest offerings of these years that we have seen with all of the star cards intact. We also have similar offerings in the basketball, football, boxing and hockey sections. If at all possible, we highly recommend anyone interested in these lots come in for a preview. Graded baseball cards come next, and this is the largest section of its type that we have ever offered. We have high quality 19th century HOF cards, including a remarkable PSA 6 N43 Buck Ewing. There are many desirable tobacco and candy cards, W600s of Cy Young and Jimmy Collins, a run of high quality T210 Series 8 cards, some fine T211 Red Suns, a pair of T5 Pinkerton HOFers and two great Honus Wagner cards: a 1915 Cracker Jack 4 and a 1917 Collins McCarthy 3. Another special single card is a 1925 Exhibit Lou Gehrig Rookie card in a PSA 3 mk holder.
Baseball autographs are always a high point in any Clean Sweep Auction, and the current auction is no exception. We have a great run of scarce and rare single signed balls, including Harry Agganis, Ty Cobb, Joe Gordon, Bucky Harris, a double-signed Gil Hodges, Harry Hooper, Elston Howard, Cal Hubbard, Walter Johnson, Sam Rice, Branch Rickey, Ray Schalk and Pie Traynor. Team balls include a rare 1912 Red Sox reunion ball, a 1925 Senators, 1937 Padres w/Ted Williams and 1942 - 1944 Cardinals high quality balls.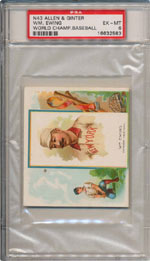 We have some significant signed black and white HOF plaques, including Baker, Lajoie, Kid Nichols, Ott, Jackie Robinson and Al Simmons. We have our usual deep selection of HOFers and rarities on 3x5s, GPCs and album pages as well. Special highlights include the best Babe Ruth GPC we have ever handled and a Johnny Evers GPC signed Tinker to Evers to Chance. Baseball autographs continue with three terrific Babe Ruth signed photos: an 8x10 of The Babe on the fairway, an original Tour of Japan signed photo and a remarkable Burris Jenkins original oversize artwork from 1947.
Presidential autographs come next, and include documents signed as President by James Monroe, John Quincy Adams and Andrew Jackson. A Winston Churchill TLS from the 1920s is among the many interesting historical lots, and the rather eclectic entertainment autograph section includes a fine Bela Lugosi signed 8x10.
The other major sports follow, with basketball collectors able to choose from a superb Wilt Chamberlain signed contract from 1958, a Michael Jordan signed program from 1981 and a clean 1957-8 Topps set. Our boxing section is our best ever, with a large selection of desirable pre-war card sets; these include a Mayo boxing set, stunning PSA7s from the lovely E79 Philadelphia caramel issue and more.
Our football section includes better grade sets and near-sets from the 1950s and the 1960s, and notable autographs include Curly Lambeau, Brian Piccolo, Dan Reeves and Jim Thorpe.
Baseball memorabilia concludes the auction, with many interesting items including some rare early postcards, tickets from the 1926 and 1928 World Series and a 2008 Phillies World Series ring.
Bid Today! This auction closes on Wednesday, September 29, 2010, 2010. Bids are welcome by phone (516) 338-8557 Monday through Friday 9 a.m. - 5 p.m. EST. You may also bid via Clean Sweep's website at: www.cleansweepauctions.com.