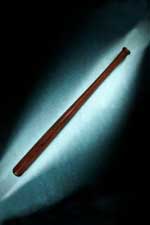 BALTIMORE, MD A filled-to-capacity auction room inside the Sports Legends Museum at Camden Yards on Aug. 5 helped to fuel one of the 2010 National Sports Collectors Convention's most action-packed evenings as Heritage Auctions' Signature(r) Sports Collectibles Auction "Platinum Night" delivered bids in excess of $1.8 million for a carefully selected offering of almost 70 of the hobby's greatest treasures. All prices include 19.5% Buyer's Premium.
Topping the list of iconic offerings was the last game used bat from the career of pioneering Hall of Famer Adrian "Cap" Anson, which set a world record for 19th century lumber with a final price of $286,800.
"We had expected bidding competition to be fierce for this piece," said Chris Ivy, Director of Sports at Heritage Auctions, "but we nearly tripled our pre-auction estimate. The consignor is thrilled, to say the least, and we are as well."
The first installment of the important Christy Walsh Collection likewise drew the widespread interest Heritage expected for such an historical offering, with the original sports agent's personal signed photograph of Babe Ruth and Lou Gehrig achieving a stellar price of $83,650. An identical tally was notched by the exceptional Babe Ruth single signed baseball presented within the event, flirting with the highest result ever realized at auction.
An auction lot that drew gasps from the huge bidding audience as much for price as for rarity was the $65,725 result for the extraordinary Mordecai "Three Finger" Brown single signed baseball, a figure representing many multiples of hobby price guide values. Fellow Dead Ball Era pitching legend Christy Mathewson became the centerpiece of the collection of an advanced autograph collector to the tune of $35,850 for a charming handwritten letter and pair of signatures provided to a family of fans in Pueblo, Colorado.
Further highlights include, but are certainly not limited to:
19th Century Baseball Silk Ribbons Display of 62: This extraordinary "attic find" is one of the most thrilling early baseball discoveries in hobby history, a stunningly comprehensive collection recalling the earliest days of the organized game. Only a handful of these ribbons have ever surfaced in the collecting world prior to this archive's emergence, with most appearing here as the only known examples. Realized: $26,290.
1909-11 T206 American Beauty "Home Run" Baker PSA NM-MT 8 - Pop 1-of-1: Old school baseball is filled with colorful nicknames but a select few stand head and shoulders above the rest, and Frank Baker is the prototypical example of this, as most fans to this day know of him simply as "Home Run" Baker. Offered here was a stunning example of Baker's lone entry in the massive T206 White Border tobacco insert card series which required no less than three seasons of circulation. Realized: $21,510.
1923 V100 Willards Chocolate Complete Set (180) - #1 on the PSA Set Registry: At public auction this is a first time a 180-card complete set of V100 Willards Chocolate Co. baseball cards has ever been offered. Almost 90% (89.9% to be precise) of the offered cards equals the highest grade recorded to date certainly cannot be denied. Some "Pop 1-of-1 with none higher" highlights are baseball Hall of Famers Ty Cobb, Eppa Rixey, Frank Frisch, Tris Speaker, Miller Huggins, George Sisler, and Babe Ruth. Price realized: $71,700.
Heritage Auctions, founded by Steve Ivy and Jim Halperin, is the world's third largest auction house, with annual sales more than $600 million, and 500,000+ registered online bidder members. For more information about Heritage Auctions, and to join and gain access to a complete record of prices realized, along with full-color, enlargeable photos of each lot, please visit HA.com.
Want to get the up-to-the-minute updates and breaking news stories about Heritage Auctions? Get them as they happen at: Twitter.com/HeritagePress; Twitter.com/JimHalperin; Facebook: Heritage Auction Galleries. To view a compete archive of Heritage press releases go to: HA.com/PR. To link to this press release on your blog or Website: www.HA.com/PR-1885.