"Brooks never asked anyone to name a candy bar after him. In Baltimore, people named their children after him."
Gordon Beard, Sportswriter
It's hard to imagine a baseball player more revered on and off the field than Brooks Robinson.
Deemed the Human Vacuum Cleaner for his hot corner heroics, the amiable Arkansas native played his entire 23-year career with the Baltimore Orioles.
"Brooks is a community-minded guy," said Mark Winter, who lives in Baltimore and owns the No. 2 Basic and Master Robinson sets on the PSA Set Registry. "He's just very, very personable and loved. I don't think there's anybody who's loved as much in Baltimore as Brooks is."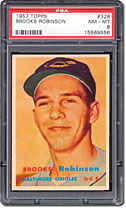 Mark Miller, a lawyer in Baltimore and owner of the registry's No. 4 Robinson Master Set, agrees.
"Brooks is very popular. In fact, at least among the over-40 crowd, his popularity probably surpasses Cal Ripken's," he said.
With two World Series rings, 15 all-star selections, 16 Gold Gloves, the 1964 American League MVP Award and a plaque in Cooperstown, Robinson's baseball resume is impressive. But, the Orioles legend is not the type to boast about it. He remains humble and gracious, as proud of his work with the boy scouts as he is of his World Series rings.
"I met Brooks on a golf course along with Johnny Unitas in the late 1980s. They both signed a golf scorecard for me that day, which has since been encapsulated by PSA. He was very friendly, took his time with me, shook my hand and showed his appreciation that I was a big fan of his," explained Mike Wynne, who owns the registry's No. 5 Basic Set.
Scott Saunders, who has assembled the registry's top Master Set, also fondly recalls meeting Robinson. The former police officer was serving as security at a charity function that Robinson was speaking at. Prior to the engagement, some of Saunders' colleagues had mentioned to Robinson that he was a big fan and was retiring soon.
"The first thing Brooks said to me when I met him was, 'Hey, we've got to get a picture taken. You're retiring soon, aren't you?' Just for him to remember that, I was really impressed. That's the kind of guy he is," said Saunders. "Meeting him made me glad that I collect his cards."
Spurred by Robinson's on and off the field heroics, a number of hobbyists – like Saunders – are pursuing the Hall of Famer's Basic (22 cards) and Master (46 cards) sets on the PSA Set Registry.
"I had the Brooks Robinson Rawlings Little League glove when I was young. I also played third base. He was just somebody I looked up to on and off the field," explained Saunders.
Wynne also admired Robinson during his youth.
"I distinctly remember attending the game when the Orioles retired his number on September 18, 1977 – Thanks Brooks Day. I went home with a copy of the famed Norman Rockwell print titled 'Gee, Thanks Brooks' rolled up and all wrinkled under my arm," he said.
Dan Helwig's No. 7 Basic Set has also been inspired by feelings of nostalgia.
"I've been a fan of the Orioles and Brooks Robinson since I was young," he explained. "I'd say that Brooks Robinson and Jim Palmer would be my all-time favorite players. They're Hall of Famers that played their entire careers with the Orioles, and they were on the team back in the heyday, when the Orioles were winning the World Series."
Though less rare than many of his Basic Set cards in high-grade (30 copies have been deemed PSA MINT 9 or higher), Robinson's 1957 Topps rookie (#328) regularly fetches more than $3,000 in mint grade.
"The prices realized for prime examples of his rookie card, just in the last year, have increased nearly 20%," noted Wynne.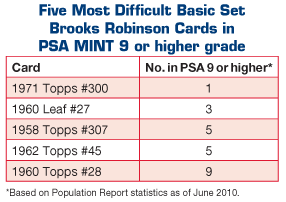 The savvy collector says that the coloring on this card often presents problems.
"I have spent many sleepless nights thinking about this card – finding the grade (corners) and the centering desired is the easy part – it's the color and the focus that will drive you nuts," said Wynne.
Robinson's 1958 Topps card (#307) is much more elusive in top condition than his rookie. Of the 888 submitted, there has yet to be a PSA GEM MT 10 and there are just five PSA 9s. Saunders says poor centering plagues this card.
"You really don't see the 1958 card come up in PSA NM-MT 8 much," said Miller. "You could go on eBay and you could probably find rookies in PSA 8 in a Buy It Now format, but you rarely see the 1958 card in PSA 8."
A PSA 9 copy sold for $3,919.64 in a Mile High Card Co. auction in August 2007.
Robinson's 1960 Leaf card (#27) is also difficult to track down in flawless form. Just three copies have received the vaunted PSA 9 grade, and one of these commanded $610 on eBay in January 2010.
"Finding a PSA 8 or better of that card is quite a challenge," noted Helwig. "The centering seems to be off on it."
Also elusive in pristine condition is Robinson's 1962 Topps single (#45).
"The 1962 Topps card is very, very difficult because of the woodgrain borders," noted Winter.
Just five have been deemed PSA 9s, and the sole PSA NM-MT 8.5 sold for $400.78 on eBay in November 2009.
One of Robinson's most renowned singles is his 1967 Topps card (#600). Both a high-number and a short print, this card is highly coveted across the hobby. Of the 774 submitted, there are 19 PSA 9s (and one 10). A PSA 9 garnered $1,034.40 in an SCP Auctions sale in February 2010.
Wynne notes that the first PSA 9, 1971 Topps Robinson (#300) was recently uncovered. With black borders prone to chipping, this card is evasive in top grade. The same condition issues hamper the 1971 O-Pee-Chee card (#300). Boasting the same design as the Topps card, this pasteboard was printed in Canada in much smaller quantities. Saunders owns the sole PSA 8 copy. No examples have graded higher. O-Pee-Chee cards from this era are generally plagued by miscuts.
"I don't know what O-Pee-Chee was using to cut the cards, but they were never straight. They had rough edges," said Saunders.
The six Topps Venezuelan cards in the Robinson Master Set are even more difficult to find in top condition than the O-Pee-Chee cards. Poor card stock is one of the reasons for their condition sensitivity. Albums were distributed for many of Venezuelan sets, encouraging collectors to stick their cards inside of them. As a result, many of these singles showcase glue damage or have paper missing.
"The Venezuelan cards are really tough," said Saunders. "I haven't purchased those, but if you look at my Master Set, I'm trying to get everything in PSA 8, 9 or 10. Most of the Venezuelan cards, you see, are in PSA 2 or 3. They're in rough shape."
The 1971 Topps Greatest Moments Robinson (#9) is also difficult to find in flawless form. Measuring 2-1/2" by 4-3/4", these oversized cards feature career highlights of the top players of the era.
"The cards are modeled after the 1971 Topps cards. They have black borders that are very susceptible to chipping," said Saunders.
Of the 54 submitted, there has been one PSA 9, with nothing grading higher. That PSA 9 sold for $5,776.80 at auction in December 2006.
It's clear that even more than three decades after his retirement, Robinson remains extremely popular.
"I've never ever heard anyone say anything bad about Brooks Robinson," said Winter.
Wynne expresses similar sentiments.
"Brooks is a hometown hero, genuinely a good guy, a true ambassador of the game, a class act, and in my opinion, the greatest third baseman of all time," he said.
---
Please feel free to contact Kevin Glew at kevin.glew@sympatico.ca if you have any additional information or comments. Scott Saunders and Mike Wynne provided pictures for this article. Please note that the Population Report figures quoted and Set Registry rankings reported are those as of press time.