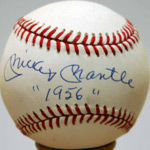 The current auction is a unique, almost entirely under $500, autograph and memorabilia auction offered by Clean Sweep Auctions. The cover of the catalog is devoted to inscribed baseballs, which is one of the strong points of the auction. The auction opens with a vast selection of high grade single signed baseballs. Deceased players come first, and throughout this and other sections, there are many relatively unique inscribed baseballs, and also lots of 3 - 12 baseballs of some players (please note that all baseballs from these lots are pictured on the web site). Better deceased singles include Connors, Dahlgren, Dickey, Flood and two Billy Martins.
Hall of Fame single signed baseballs come next, and there are an amazing 100 different lots to choose from. There are many immaculate baseballs, four different Mantles and many fine little lots. We continue with multi-signed baseballs, including a 1948 Oakland Oaks displayable as an Ernie Lombardi single, two 300 win balls, Nestor Chylak on a ball and Joe DiMaggio with the person who gave up the final hit of his 56 game hitting streak. Team balls conclude baseballs, and this is another loaded category; we have 70 different team balls in the auction, from the 1930s through the 1990s. In particular, there are many absolutely superb condition team balls from the 1940s through the 1960s. Also of note are the following Championship Balls: 1964 Cardinals, 1967 Cardinals, 1984 Tigers, 1990 Reds and 1992 Blue Jays. We have some clean All Star balls as well.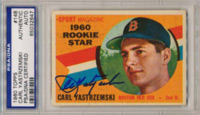 Signed bats come next, and this is our biggest run ever, with 26 different lots, including Koufax and Ted Williams. We have many interesting autographed cards, including some 1920s Exhibits, 1960 and 1961 Fleer, a 1961 Topps Maris All Star signed card and many key HOF signed Rookie Cards. We have our usual deep selection of signed 8x10 photos (125 lots), including toughies Averill, Goslin, two Greenbergs, Hafey, Bucky Harris and Maris.
The auction continues with a solid run of signed Yellow HOF Plaques, with two Deans, Flick, Hartnett, Hooper, Manush, Paige and Wheat. Day one ends with a deep selection of signed postcards.
Day two begins with a huge selection of signed album pages, 3x5s, GPCs and cuts. These categories are chock full of premium condition HOF and key star signatures. Notables include: Fred Clarke, Cochrane, Eddie Collins, Duffy, Nellie Fox, Joe Gordon, Lazzeri, Luque, Mack, Branch Rickey, Jackie Robinson, Al Simmons, Honus Wagner, Bobby Wallace and Tom Yawkey. The auction continues with some interesting signed letters and documents, including Sam Breadon, Ken Hubbs, Bill McGowan, Irish Meusel, Billy Southworth and George Weiss.
Other sports come next, starting with basketball. For basketball collectors, we have a great lot of vintage signed NBA photos, a terrific Michael Jordan UDA 8x10, a Bird/Magic signed card and a Bird signed jersey. Football continues to be a very strong category for us and we have some great publications: a complete run of
1930 - 1953 Illustrated football, many scarce NFL Championship programs from the 1950s and 1960s, better late 1960s playoff programs and a run of the elusive Super Bowl programs from the early 1970s. For football autograph collectors, we have a veritable treasure trove of better HOF and deceased player autographs on many mediums. We have a nice selection of clean hockey and golf autographs as well.
Baseball memorabilia concludes the auction. This section contains many fresh pre-1920 postcards, new pins from the 1930s and 1940s and some clean Hartland statues. We also have some game used equipment. Collectors of baseball publications can choose from many World Series Programs from the 1940s and the 1950s, a possible Roger Maris 61st home run program, a superb 1962 Mets yearbook and many very early Mets scorecards in great condition.
Bid Today! This auction closes on July 28-29, 2010, 2010. Bids are welcome by phone (516) 338-8557 Monday through Friday 9 a.m. - 5 p.m. EST. You may also bid via Clean Sweep's website at: www.cleansweepauctions.com