The cookie crumbled quickly for the enterprising Fleer Corporation in 1963.
In their first attempt to challenge Topps' monopoly on current player cards, the ambitious manufacturer substituted a cherry-flavored cookie into their packs in place of bubble gum. Without gum, Fleer believed they had uncovered a loophole that would allow them to participate in this lucrative market.
Unfortunately, Topps proved to be a "tough cookie" when it came to preserving their stranglehold. The card giant successfully launched a lawsuit against Fleer that limited their competitor to a single, 67-card series (66 numbered cards, plus one unnumbered checklist).
But despite its brief life span, the 1963 Fleer set still enjoys a devoted following more than four decades later.
"I think what appeals to me is the stars that are in it, the history of it and the size of the set," explained Dick Weigle, whose two sets are tied for fourth all-time on the PSA Set Registry.
"The size of the set (67 cards) appealed to me," noted Gene Frantz, who has also built two Registry sets.
Allan King, who once owned the Registry's No. 2 All-Time Finest set, was drawn to this issue for similar reasons.
"The reason I put it together in the first place was that it had 67 cards, I thought this might be the only set where I have a chance to be No. 1 on the Registry," he said.
The white-bordered card fronts showcase a photo, name, team, position and a small cartoon player inside a diamond design. Backs boast personal data, biographical information, the card number, 1962 and lifetime stats and green borders.
Steve Vowell, who also owns two Registry sets, says these green borders are fragile. When putting together his sets, he would ask to see a scan of the back of the card, before he bought it. On top of being susceptible to chipping, the green borders tend to fade or bleed into the white space on the card back, added Weigle.
With a few exceptions, cards are sequenced by league (American League, followed by National League) then alphabetically by team and player. Joe Amalfitano (#36) is sequenced with his former Houston '45s teammates, even though he was dealt to the San Francisco Giants on November 30, 1962. He's photographed in his Houston uniform, but the text on the card indicates he's a Giant. The fact that Fleer didn't switch his position in the set indicates that the Philadelphia-based company had virtually finalized this issue by the date Amalfitano was dealt (November 30, 1962).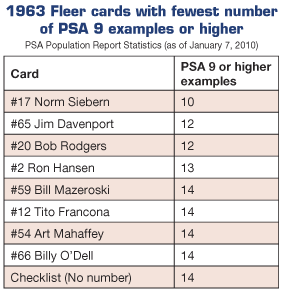 The three Milwaukee Braves players included – Frank Bolling (#44), Warren Spahn (#45) and Joe Adcock (#46) – are also not in alphabetical order. The most notable card to be out of sequence, however, is Willie Mays (#5), who – like Amalfitano – is not included with his Giants teammates. The most popular theory to explain this is that Mays was not signed until late in the production process and when he was finally on board, Fleer made room for him by bumping a common Baltimore or Boston player from the series.
Cards were distributed in five-card, five-cent packs that included the aforementioned cookie. King says these packs are difficult to find today. Vowell opened two packs about 10 years ago.
"The cookies were petrified. In one of the packs, it was more cookie dust than anything but the other was like a rock, a crumbled rock," he said.
Critics of the 1963 Fleer set point out that it doesn't showcase Mickey Mantle, Stan Musial, Yogi Berra, Hank Aaron, Whitey Ford and Duke Snider or rookie cards of Pete Rose, Tony Oliva and Willie Stargell. But Fleer did manage to include singles of Hall of Famers Brooks Robinson (#4), Willie Mays (#5), Carl Yastrzemski (#8), Don Drysdale (#41), Sandy Koufax (#42), Warren Spahn (#45), Roberto Clemente (#56), Bob Gibson (#61) and Orlando Cepeda (#64).
"It took me awhile to get a really nice Koufax card," noted King. "That might be my favorite card in the set, because Koufax was my favorite player growing up. That card shows Koufax smiling and throwing the ball. It's a terrific card."
The Fleer set also contains the only Maury Wills rookie (#43). The speedy Dodger didn't appear in a Topps set until 1967. It was rumored that Wills had a long-running feud with Topps after the company declined to sign him earlier in his career. In an interview with Sports Collectors Digest in 2000, Sy Berger, a longtime Topps executive, denied the existence of such a rift. Berger said that Wills was simply overlooked by one of his representatives before Fleer signed him. Wills' rookie is, arguably, the highlight of this set. One of the two PSA GEM MT 10 copies sold for $4,812.80 in a Mile High Card Co. auction in March 2009.
The Joe Adcock (#46) is generally considered one of the most difficult cards to track down. An unnumbered checklist was reportedly substituted for this card in the set's final press run. A PSA MINT 9 Adcock fetched $920.02 in a Mile High Card Co. auction in March 2009.
But it's the unnumbered checklist that replaced Adcock that might be the most coveted pasteboard from this issue.
"The checklist is much tougher to get than the Adcock in high-grade because the checklist was checked by collectors. People would do what the checklist was meant for and check off the cards," explained King. "There are definitely a lot fewer high quality checklists than there are Adcock cards."
Centering is also an issue with the checklist, adds Frantz. Of the 485 checklists evaluated, there has yet to be a PSA 10 and there are just 14 PSA 9s. A PSA 9 sold for $3,795.25 in a Mile High Card Co. auction in March 2009.
Aside from the checklist, hobbyists say the most difficult cards to uncover in flawless form are common players. The set's first card, Steve Barber, for example, is notoriously tough to track down in top condition.
"The Barber is very difficult. It's just one of those cards that got damaged a lot because it was either at the front or the bottom of the box, and it took most of the corner wear when people pulled it out to look at it," said Weigle.
Frantz says poor left-to-right centering also hampers this card.
"Finding it both centered and in good shape is hard," he said.
High-grade Barber cards regularly sell for more than similarly conditioned Hall of Famers like Bob Gibson.
"I paid $500 for the first (PSA 8) Barber that I had," said Vowell.
There has yet to be a PSA 10 Barber and there are just 18 PSA 9s. A PSA 9 sold for $750 on eBay in December 2009.
Billy O'Dell, the set's last card, is similarly elusive. A victim of the additional wear and tear suffered by being the card at the bottom of the pile, this pasteboard has only 14 examples that have graded PSA 9 or better. The second (Ron Hansen) and second-last cards (Jim Davenport) are also condition sensitive for the same reason. Just 13 and 12 copies of each respectively have been deemed PSA 9 or higher.
The card with the lowest number of PSA 9 or higher examples, however, is the Norm Siebern (#17). Of the 261 submitted, there has been one PSA 10 and just nine PSA 9s. A PSA 9 commanded $222.50 on eBay in August 2008.
Aside from the fragile green borders on the backs, poor centering is the most common flaw with cards from this issue.
"Most of the centering problems were top-to-bottom," noted Vowell.
These condition woes, along with the low population cards and demand for the superstar singles, combine to make this short-lived, 67-card set a "tough cookie" to assemble in high grade.
---
Please feel free to contact Kevin Glew at [email protected] if you have any additional information or comments. Gene Frantz provided pictures for this article. Please note that the Population Report figures quoted and Set Registry rankings reported are those as of press time.