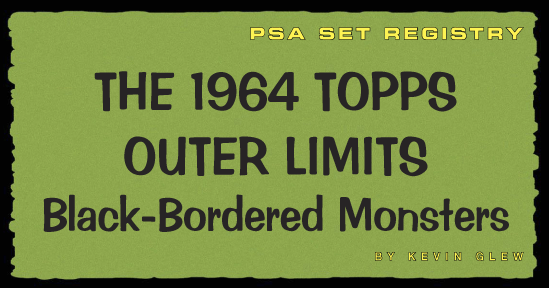 The Curse of the Fragile Black Borders could be the name of an Outer Limits episode.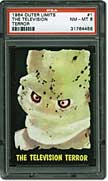 Unfortunately, it's a plague that's all too real for 1964 Topps Outer Limits enthusiasts.
"These cards are extremely tough because of the black borders," said Brian Karl, who owns the top set on the PSA Set Registry. "They chip so easily."
John Hemphill, who owns the Registry's No. 2 set, agrees.
"The black borders show every little flaw. If you've got a nick, it becomes stark white on the black edge," he explained.
Some hobbyists have resorted to using a black marker to conceal the chipping, a practice that renders the card essentially worthless.
"If you're buying raw cards, that's definitely something to look for," said Hemphill.
You can generally spot cards that have been touched up by examining the side of the card for any sign of black. The side edges should be completely gray.
Finding pristine black borders is the biggest challenge to completing this 50-card issue in high-grade. Of course, purchasing and maintaining a collection of these cards was not easy for kids when the set was initially released. As with the 1962 Topps Mars Attacks set, some parents objected to the creatures featured on these pasteboards. They feared the images would traumatize their children.
So, as they did with other controversial non-sports offerings, Topps used their Bubbles Inc. alias in the copyright line on these cards.
Originally airing for 49 episodes on ABC from 1963 to 1965, The Outer Limits was a Twilight Zone rival, famous for its opening in which a narrator warned, "There's nothing wrong with your TV set. Do not attempt to adjust your picture." But, despite its influence on the sci-fi genre, the show's ratings were never very good.
"I think that when it came out, like Star Trek, the ratings weren't that great, but later on, people said, 'Hey, I'd love to be able to see that show again.' It probably has a bigger following now than it did back then," said Hemphill.
Karl is one of the people who became a fan after the original series was off the air.
"I started to watch The Outer Limits as I got older. I was too young when it first came out, so it wasn't something I watched, but I appreciated it later on," he said.
On top of the fragile black borders, card fronts boast colorized photos from the TV series and a caption. The card number is on the back inside of a meteor design, alongside the caption and a story explaining the picture.
Hemphill points out that the photos came from 19 different episodes, including 18 episodes from the first season. He notes that the only second season episode featured is the Keeper of the Purple Twilight, which is showcased on cards #27 to 29.
Bob Florio, who owns two registry sets, points out that several well-known actors portrayed monsters in this series and are featured in this set. For example, Robert Culp, of I Spy fame, is the alien featured on cards #4 Terror from Space and #5 Man From Galaxy "X." Well-known character actor, Warren Oates, is the Man with Super Sight on cards #16 and 17 and Mission Impossible star, Martin Landau, is featured on the Clay Man cards (#45 to 50). Robert Duvall also starred in a season-one episode called The Chameleon that's showcased on cards #24 to 26.
But, while the images are from the TV series, the stories on the card backs are not related to the show. One explanation for this has it that renowned Topps copywriter, Len Brown, re-wrote the stories to appeal to a younger demographic. Another theory suggests that while Topps had secured rights to the show's images, they were unable to negotiate the rights to use the story lines.
Cards were distributed in one-cent and five-cent packs with gum. Five-cent packs say Monsters From Outer Limits on them. The Jelly Creature, the Sea Beast and the Ice Man are a few of the chilling monsters featured in this series. They're joined by pasteboards exhibiting aliens from Mars and Mercury.
Florio says that the Non-Sports Bible indicates that six cards (#3, #23, #32, #40 and #46) were produced in larger quantities than the other cards in this series, while 23 cards (see chart with this article) are considered short prints. These short prints tend to command a premium.
The set's first card, The Television Terror and last card, Destruction of the Clay Man, are two of the most difficult singles to find in pristine condition. Just seven and five copies respectively of each have graded PSA NM-MT 8 or higher.
"The No. 1 card is very popular. For one thing it's very tough to get in high-grade, but it also shows a scene from the first episode called The Galaxy Being," noted Hemphill.
Karl agrees.
"The first card and the last card are the toughest because they're the ones that took the most abuse when kids decided to elastic band them together," he said.
With just 45 submissions each, card #6 The Jelly Creature and #41 Fearful Foe – both short prints – are the lowest population cards according to the PSA Population Report.
"No. 6 is very a tough card," said Hemphill. "I was lucky to get that off eBay in PSA 8 a couple of months ago. There have only been two PSA 8s and one PSA 8.5."
One PSA NM-MT 8 sold for $222.50 on eBay in June 2009.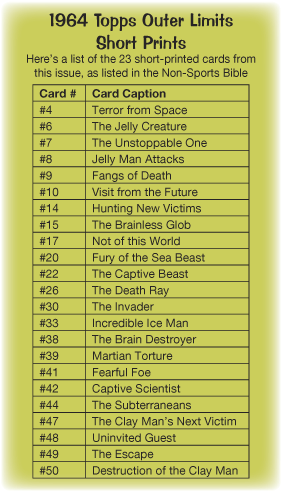 Aside from the first and last cards, the Non-Sports Bible also lists several other cards that generally command more than commons, says Florio. The singles that sell for a premium include #9 Fangs of Death, #33 Incredible Ice Man, #45 The Clay Man and #49 The Escape. Three of these cards are short prints and all of them are close-ups of memorable monsters from the show.
A Canadian version of this set was also printed. Hemphill says the backs of the Canadian cards say "Printed in Canada" rather than "Printed in U.S.A." and the copyright says "© T.C.G." for Topps Chewing Gum rather than "Bubbles Inc." Though reportedly more difficult to track down than their American counterparts, these singles generally don't command a premium.
"I haven't found that the Canadian set has generated as much interest," said Hemphill, adding that he purchased some Canadian cards for half the price he would normally pay for the American cards.
An A&BC version of this set was also produced in England (as indicated in the copyright on the card back). These singles are scarcer and slightly smaller than the regular Topps cards, but don't command a premium.
Like the TV series, the 1964 Topps Outer Limits cards are more popular now than they were upon initial release. Florio points out that in August 2009, Legendary Auctions sold a set with a 7.88 GPA for more than $10,000. Since this time, Florio has noticed that more high-grade copies of these cards have been documented on the PSA Population Report.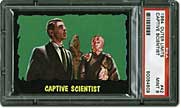 "This is just a guess, but I think that people saw the price that the set realized in that auction and they have decided to get their cards graded," he said.
"I think the Outer Limits set is popular to a point but, because it's so tough, some people don't collect it," added Karl. "On the other hand, I think a diehard collector is going to collect this set because it is tough to find high-grade examples. I think you dig into some of these sets because they're tough and you take it on as a challenge."
And as more collectors embrace the challenge this set offers, The Curse of the Fragile Black Borders will live on.
---
Please feel free to contact Kevin Glew at [email protected] if you have any additional information or comments. A special thanks to Bob Florio for his extra efforts on this article. Brian Karl provided pictures for this article. Please note that the Population Report figures quoted and Set Registry rankings reported are those as of press time.